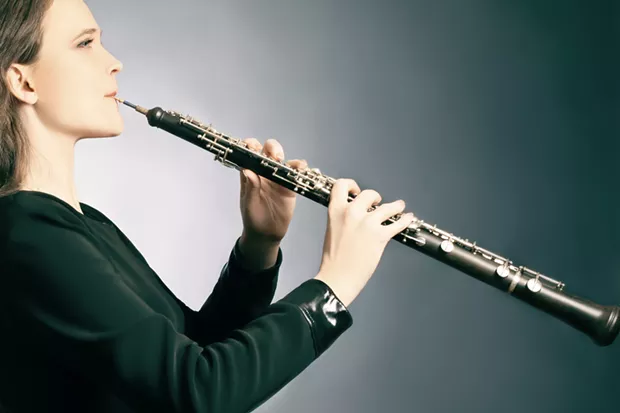 The contentious rivalry between local ensembles Yoko Oboe and Oboe She Didn't finally came to a close this year, making peace to create the new supergroup
Oboes On Top
. This loving homage to the oboe, fronted by notable local dentist Caroline Becker, is comprised of the previous groups' six tenor oboists (excluding holdout "Double" Reid Ciopelli for obvious reasons). You'd think the newly-formed sextet would opt for some harmonic range, but playing the oboe has never been about following rules. The all-tenor approach produces a stirring, borderline punitive timbre that calls to mind elementary school recorder recitals. Whether raising the roof with their no-holds barred reprise of "YMCA," or riling up pep rallies with their disturbingly militaristic rendition of "Seven Nation Army," O.O.T. now joins the ranks of Los L'Oboes and Oboe G.Y.N. among definitive entries in Pittsburgh's storied oboe history. Thank God the two former rivals buried the hatchet this year. Let's hope the violence is finally over this time.
2016 was
Frobert
's last year on earth, but it was also among his most prolific. This year, the local outsider-folk auteur Frank Austin was featured in Vice and Pitchfork for his single "Don't Smell My Coffin"; he finally broke into the college radio top ten with his 16th solo effort
Frobsolescent
; and Austin made his (much maligned) debut on
Last Call With Carson Daly
(spawning the famous "For shame, Carson!" meme). True to his curmudgeonly reputation, Austin maintained his moratorium on Pittsburgh media in 2016, which began 1990 when a young reporter from the
Pittsburgh Press
asked why he recorded solely on tape. His response: "Because tape is what I have!" Austin has never been confused for an amiable personality, but his music did the talking for him. Songs like "Crafton," "Phone Bill" and "Let's Make It Up" show that while some of his output was hard to swallow, at his core Austin was a brilliant, soulful songwriter capable of profound beauty. After 40+ years in the business — first with the seminal art-rock outfit JK Applesauce, and then with the lo-fi punk legends Toosh — Austin died at 71 from a severe heart attack in August. While the tributes were many and heartfelt, we know he'd just prefer us to keep listening to his music. Proceeds from album sales will go towards maintaining his Crafton home where he recorded every record of his career. With the help of his sister, the novelist Carrie Austin, 22 Grant will be renovated into the Frobert Museum in early 2018.
Don't be fooled by the name:
Kids of Death
is neither youthful or morbid. Comprised of a trio of childless uncles, KOD is a veritable institution of Pittsburgh eighties pop, what might've been called "normcore" had the term existed back then. The guitars were undistorted, the chords were unjazzy, the tempos were unfast and the lyrics were virtually devoid of metaphor. As singer Chip Grolsch told
CP
in 2011, "We started as a punk band, but we weren't very good and we weren't very punk. The punk crowds were kinder back then because there was so much less of it. We got by, made a couple records and a couple people bought them. But as we went on, we started to realize we didn't want it. Piece by piece, our sound got cleaner and simpler and less aggressive over the years. By the time we put out
Steal City
in '86, we started going by KOD and so most people had no idea we'd ever been anything but a pop group. The rest is history." That history got the celebration it so sorely deserved this year when KOD performed
Steal City
in full at a 30th Anniversary party at Mr. Smalls. Let's hope they're around for another 30.
The world was introduced to the enigmatic force of nature known as
AcoustiCarol
at an open mic at Club Cafe in 2003 and needless to say, it's never been the same. Carol Otis' haunting falsetto needs no instrumental accompaniment, as she proved with her 2016 a cappella masterpiece
Blue Jean Butterfly
. Two minutes of the sultry "Dream Lotion" is enough to make a believer out of anyone. Though best known for her controversial performance of Exile's "Kiss You All Over" at Mayor Peduto's inauguration in 2014, which our own Charlie Deitch described as "upsettingly sexual," Otis continues to defy expectations and break down walls well into her 70s. With
Tim Tom
(an album of Tom Waits and Tiny Tim covers) due in 2018, AcoustiCarol is proving once again that when it comes to music, no rules are unbreakable.
Here Comes Geoff
finally broke through the cardboard ceiling this year with his minor novelty hit "(Let's Order Beers From) The Pretty Waitress," introducing his Rust Belt roadie charm to a whole new generation of listeners. Geoffrey Weleski is the lone member behind Here Comes Geoff, but his fans are many and rabid. According to his website, the "Ladies' Night Lancelot" has performed at every bar in the city since first debuting in 1987. The legend goes that the 19-year old Weleski started bringing his acoustic guitar to the South Hills watering hole, Bolts (now closed), uninvited, and would sing songs in exchange for beer. He was underage, out of tune and incapable of maintaining any semblance of rhythm, but he was a hit. The "Happy Hour Hendrix" was born. Today, Weleski boasts a discography of 11 live albums (including the legendary
Geoff at Jergels
), thousands of shows, and three albums of originals. On the heels of "Pretty Waitress," 2016's
Here Again
proves Weleski is more than a jukebox, more than a barfly baritone, more than he was given credit for over his 25+ year career. Geoff is finally here and he's not going anywhere.
After years of speculation,
D.U.C.K.L.i.N.G
. finally spilled the beans on the meaning behind their bandname. Don't Underestimate Christian Kindness, Live in New Glory was a shocker for many of the city's theistically unaffiliated, but that didn't slow this Fox Chapel fivesome's rise to metalcore royalty with their single, "The Hand That Feeds." It didn't stop there. The outfit's sophomore effort
ReawaKinding
produced a half dozen hits popular in Australia, not least including "During The Flames," "Hangman" and "She Is Risen." With a third release,
DUCKLiNG Psings Psalms
, due in May 2017, this born again quintet is sure to rise again and again and again on the charts for years to come.
In a year replete with great losses to music industry, there was a sliver of a silver lining in the return of the iconic weirdo-rock collective
JK Applesauce
. The release of
Rectangle Penis
in July marked the end of a 33 year drought, following the departure of founding member Frank Austin in 1983. With the remaining founders deceased (Megan Lally, Justice Price, Jenny Watts, Matt Ang, Dino Washington, Claire Nunez, Davy "Bones" Walker) or in prison (Jack Watts, Bobby Mueller, Pete Gore, Leslie Berger), only Mark Appel lives on to carry the freak flag for this influential art-rock powerhouse. As Appel told Margaret Welsh in July, "JK Applesauce is bigger than me, bigger than Frank or Leslie or Dino or any of us. Our mission was and is simple: to invoke perfect discomfort, to manifest discord, to make melody cancerous and consonance a shivering fawn. JK Applesauce is poison and it's delicious." Well. However you want to describe it,
Penis
is a tour de force. "Scrimshaw Saul" is as close as the album comes to a single, but time has aged their funky aesthetic well, updating their lo-fi production with a more palatable sound. Of course, "palatable" is relative when it comes to JKA, but it's nice to know that this monster of rock oddity is capable of evolving while maintaining its edge. As Appel sings on the title track, "Stop eating my cameras, I'm sick of looking at your shit, your rectangle penis is yesterday's news, tomorrow is another it."