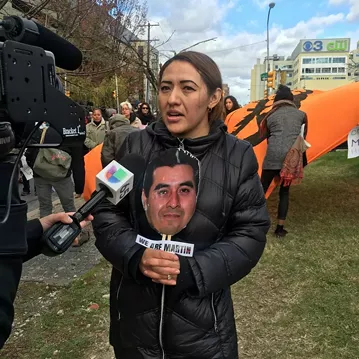 Last week, advocates fighting for Martin Esquivel-Hernandez, a Pittsburgh undocumented immigrant from Mexico who is currently facing possible deportation,
took to the Downtown Pittsburgh streets
to demand U.S. Immigration and Customs Enforcement (ICE) release Esquivel-Hernandez, so he can return home to his wife and three kids, one of whom is an American citizen.
Now ICE is hinting this isn't going to happen. ICE officials issued this statement to
Pittsburgh City Paper
when asked if they had plans to release Esquivel-Hernandez: "ICE intends to take custody of the individual after the full resolution of the pending federal charges, to include any potential conviction and subsequent prison term."
Esquivel-Hernandez has no prior criminal record and has been a volunteer in the Latino community since arriving in Pittsburgh. He attempted to enter the country illegally four times to be with his family, before finally succeeding in 2012. He has been
charged with felony re-entry
, but his lawyer is currently negotiating for a lesser sentence. If negotiations succeed, the only thing keeping Esquivel-Hernandez from being released from a private prison in Youngstown, Ohio, is ICE maintaining a detainer on him.
On Nov. 21, the Esquivel-Hernandez family and his advocates from Latino-rights group Casa San Jose took their request directly to the ICE field office in Philadelphia to demand that ICE regional officer Thomas Decker release Esquivel-Hernandez.
"Martin is a man that has always found ways to help others without thinking of himself," said Esquivel-Hernandez's wife, Alma Brigido, in a press release. "Thomas Decker and ICE, you use your power for injustice, depriving us from having the possibilities to support our families. We are all the same, you all have families, so do we."
More than 50 rally attendees, including 14 from the Pittsburgh area, protested outside the ICE office and held a 30-foot orange banner reading "Bring Martin Home." Gabriel McMorland, of the Pittsburgh advocacy-group the Thomas Merton Center, attended the Philadelphia rally and said that ICE officials didn't address the protesters, but he was confident their message was made.
"ICE did not come outside," says McMorland. "But I think they knew we were there. Our banner was bigger than a minivan."
Esquivel-Hernandez traveled
5,000 miles on an eight-month ordeal to reunite
with his family, sleeping in abandoned homes, crawling through thorny bushes and avoiding rattlesnakes. The U.S. Attorney's office of Western Pennsylvania, deemed him a "flight risk" in court documents, and he has been detained in Youngstown for six months.
McMorland disagrees that Esquivel-Hernandez is a flight risk. "This is a man who has risked his life to get here," says McMorland. "I struggle to imagine who can be less of flight risk. He risked his life multiple times to be with his family in Pittsburgh. Why would he leave?"
The rally was supported by Pennsylvania Immigration and Citizen Coalition, a statewide immigrant-rights group. The rally also marched to Arch Street Methodist Church in Philadelphia, where another Mexican undocumented immigrant, Javier Flores of Philadelphia, has taken up asylum to avoid deportation. Flores has a wife and three children, all of whom are U.S. citizens.
"We recognize that the struggle to keep families together and push back against the harsh enforcement policies of the Obama administration is not about just one city or one family," said Sundrop Carter of PICC in a press release. "That is why we are building a statewide movement, so we can fight side by side to protect our communities, and fight for just and humane policies."