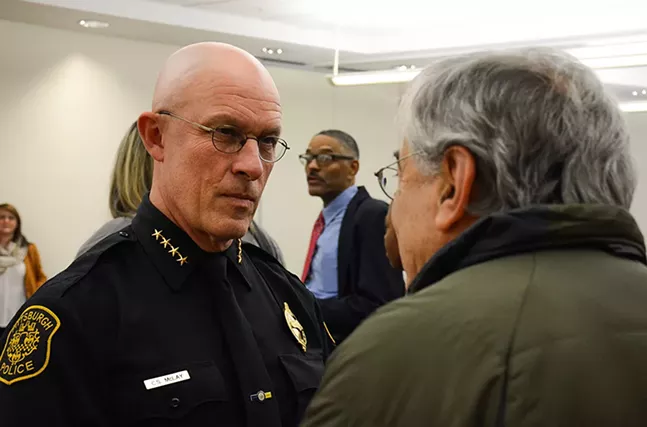 With a big smile, former Pittsburgh Police Chief Cameron McLay greeted each citizen who approached the back table of the nondescript meeting room at the Kingsley Association in East Liberty on Monday night.
Holding a sign reading "#EndWhiteSilence," the chief's likeness was printed on a card that by the end of the night was surrounded by messages written by citizens — in curly cursive and angular drop caps — all with the same message: thank you for your service.
But despite the numerous grateful missives and appreciative cries from the crowd, McLay didn't give himself much credit.
"It's not about Chief McLay and it was never about Chief McLay," he said. "There's no distinction, between the us, the police, and the them, the community here; it's only the we."
Speakers from Pittsburgh's city government, police force and citizen groups spoke Monday night in appreciation of McLay's impact on the city's policing practices, which include encouraging community policing practices and accountability for the police department, as well as training for officers on
implicit racial bias
.
The chief resigned at a press conference on Nov. 4.
The resignation also comes on the heels of a survey showing "
no confidence
" in McLay from Pittsburgh's police union, Fraternal Order of Police Lodge No. 1, and an investigation by the city's Office of Municipal Investigations and the Citizen's Review Board into McLay's speech at the Democratic National Convention in July.
However, during his resignation, McLay
denied
that those events had any effect on his resignation.
Monday's event was hosted by the Alliance for Police Accountability, a community group that focuses on improving relationships between police and citizens. Brandi Fisher, president of APA, served as master of ceremonies for the event, introducing each speaker, as well as giving small speeches throughout.
Fisher was grateful for McLay's actions to turn around the relationship between the police and the policed, saying "activists were shedding tears" when they heard of his resignation. But that gratitude was especially strong because of past negative issues involving law enforcement in Pittsburgh.
"We cannot deny the history we have had here in Pittsburgh when it comes to policing," Fisher said, referring to incidents like the beating of Jordan Miles in 2010 and the death of Jonny Gammage in 1995.
Gammage, 31, was killed when police asphyxiated him while putting him in handcuffs after a traffic stop. Miles, then 18, was beaten by police and later sued the city for excessive force. The city ended up settling the case for $125,000. The latter event inspired the formation of APA.
Pittsburgh Mayor Bill Peduto also spoke, complementing the chief but lamenting that his highly visible activism efforts made this day inevitable.
"The reformer doesn't stay loved very long," Peduto said.
Under McLay, complaints against the police fell 42 percent, according to Peduto. The mayor also declared Nov. 7, 2016, "Chief Cameron McLay Day" in honor of his impact on "not only the bureau of police, but every corner of the city of Pittsburgh."
McLay, who does not have another job planned, urged the crowd to avoid finger-pointing over his resignation, and instead focus on reforms yet to be made. He also expressed his confidence in the commanders underneath him to continue his legacy of reform.
"The reality is though, good police officers aren't afraid of accountability," McLay said.
Mark Ozark, 65, is a Wilkinsburg resident who has been involved in police-accountability activism since the 1990s. He appreciated McLay's tenure as chief, but had hoped he'd have an even greater impact.
"I hoped he'd be around a little longer," Ozark said.
Not represented at the event, the Fraternal Order of Police was not as appreciative of McLay's tenure.
"[McLay] blatantly ignored the [labor] contract," Robert Swartzwelder, the FOP president tells
Pittsburgh City Paper
, citing cases where the former chief made officers work unpaid overtime for crowd-control shifts, such as the Beyonce concert in May, which inspired the vote of no-confidence in the chief. "He didn't practice what he preached."
While McLay officially leaves his position in December, his last active day on the job was Tuesday. In his stead, Police Commander Scott Schubert will take over as acting chief of police. Schubert is confident that despite McLay leaving, the bureau will continue making improvements to its policies and practices.
"We got a lot of officers who entered this profession because they want to make a difference," Schubert said. "We've got to balance that line with ensuring that we have great community policing [and] great community engagement."