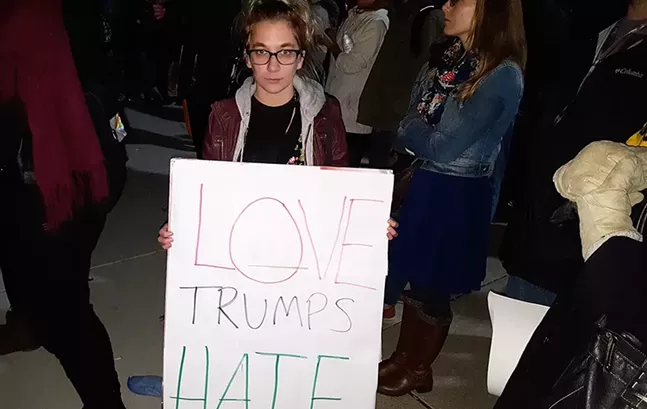 It's been more than 24 hours since the presidential election, and many across the country have been grieving. But the mourning ended last night for an emergency meeting at the Ace Hotel in East Liberty. The theme: "Let's Unite to Stop President Trump."
The crowd was made up of several hundred supporters of both Trump's Democratic opponent Hillary Clinton and other third-party candidates. While they might have disagreed on who to vote for prior to the election, last night they were united in their desire to reform America's political system, which they say is to blame for Trump's rise to power.
"I've been doing this shit for 50 years," said activist Mel Packer. "But I must have been doing it wrong because we haven't had a revolution yet."
Despite the anger felt by many, Packer and others urged the group to start looking at what connects American citizens, instead of what divides us.
Throughout his campaign Trump was known for his divisiveness — often pitting white Americans against Muslims and Latino immigrants. As a result, our country as a whole became divided, with people on both sides of the political spectrum writing each other off. But when asked who had a family member who voted for Trump, more than half of the crowd raised their hand.
Speakers said this shows we can no longer afford to ignore people whose opinions differ from our own. They said this division only benefits those already in power — the two-party political machine and the wealthiest one-percent.
"If we discover we have common interests, we just might overthrow the goddamn thing," said Packer. "We do horrible things to each other sometimes, but we weren't born to do that. We were trained."
Along these lines, speakers said moving forward, liberals and progressives have to do a better job of talking with Trump supporters.
"We are feeling and posting things that are not persuasive. We have to be mini-marketing campaigns for this movement," said Jonathan Fobear. "You have to think, are you persuading people from the opposite side, because that's where we have to do the most work."
Despite the sense of unity at last night's rally, many speakers were in tears as they addressed the crowd expressing their fears for the future.
"I had an abortion, and I'm really scared that moving forward I'm not going to have that right," said Ariel Cohen. "I need you all to get really serious. We have to protect women's rights, we have to protect trans rights. We have to keep fighting. We will never give up. He's not my president, but this is our country."
Another speaker, Katelyn Walker, said she received a text message the night of the election from a Muslim friend who was afraid to leave her hotel room.
"There's no way you're going to stand in front of me and say that my best friend is less important," Walker said. "I don't want to live in a country like that. I don't want to tell my grandchildren that happened."