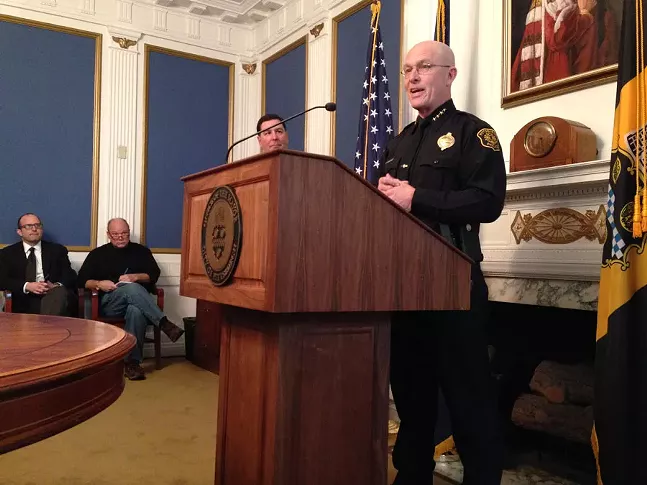 Pittsburgh Police Chief Cameron McLay has resigned. His last day will be Nov. 8, Election Day. He
became known as a reformer in the department
, which often made him unpopular within the department's ranks and
popular with members of the community
.
Earlier this year, members of the Pittsburgh FOP, the officers' union, gave McLay a vote of "no-confidence," however, Mayor Bill Peduto stood behind the chief, our
Rebecca Addison reported at the time.

While McLay's last official day is Dec. 4th, he has accrued enough time off that his last day will be Nov. 8 and he will move back to Wisconsin shortly after, to rejoin his family. The reason he gave why this would be his last day: "I wanted to vote."
McLay was hired on the promise of instituting improved police-community relations and made a splash when he held up a
sign during Light Up Night 2014
that read "I resolve to challenge racism at work, #endwhitesilence."
At a Nov. 4 press conference announcing his decision, he relayed the message to his former officers that they were on the right track in terms of a forging a positive relationship between police officers and the community.
"To the men and women of the police bureau, stay the course, you are on the right track," said McLay. "Everyone of you are leaders, everyone of you have an ethical responsibility to serve this community."
While McLay denied that the FOP's no-confidence vote influenced his decision to step down, he did communicate that results that can come after someone comes in and tries to make changes. He said that often the person who comes and and "knocks down the silos, usually ruffles the most feathers." McLay said he had been discussing the possibility of leaving the Pittsburgh police with Pittsburgh Mayor Bill Peduto since August. McLay was the first chief chosen from outside the bureau in more than 150 years.
"For everybody, I remind you that change is hard," said McLay. "Everybody wants things to be different and we all resists change, but please understand improvements only come about with change."
McLay believed he was able to accomplish some change, through his office's work forging relationships with activist and faith leaders. When
Black Lives Matters protesters took to the streets
in July, and the marchers wanted to enter and shut down the parkway, McLay said he was proud to avoid that by speaking with the activist leadership and persuade them to march down Ft. Pitt Boulevard instead, toward Point State Park.
He praised Pittsburgh and became emotional when issuing his send-off: "This is a great city. and it has been an honor to serve you all."
Taking over for McLay in the interim is Assistant Chief Scott Schubert, who has been with the Pittsburgh Police for 24 years. He vowed to continue the community-policing model. "We are not going to stray from our vision," said Schubert. "We believe in it." Peduto said Schubert would serve for 90 days and McLay's replacement will be named after that.
Peduto said that when he hired McLay, they had spoken about how the average term for a police chief was three years and he knew the city "only had him for a short time." Peduto, like McLay, believes that Pittsburgh policing is on the right track.
"We needed a wrecking ball chief to get reform. Now we have the opportunity with an entire new command set," said Peduto. "We are so much closer to getting there because [McLay] was our chief."
10:25 a.m.: