In 1991, Canadian multi-instrumentalist and singer Loreena McKennitt released her fourth record,
The Visit
. She'd long had a fascination with Celtic music, but it was around that time that she discovered, via an exhibition of Celtic artifacts in Venice, how far-reaching that Celtic heritage was. This realization led to a kind of geographical expansion of her sound, and she began incorporating stories and sounds of the Middle East, Asia and Spain into her writing. "At its time, it was not 'radio friendly material,'" McKennitt says, " but I think there's something very infectious in the Celtic music and ... Middle Eastern music ... and then I think there's something attractive in the visceral nature of my voice, and the combination of those things." Whatever the reason, it connected with audiences:
The Visit
is certified Gold in the U.S., and quadrupedal Platinum in Canada.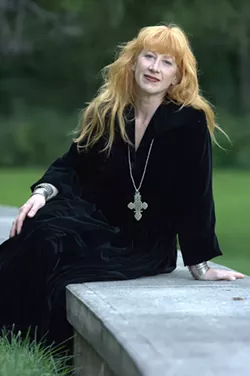 McKennitt continued to explore the music and literature of the world on subsequent releases, and overall has sold more than 14 million records. This Saturday, the Stratford, Ontario-based artist brings her trio to the Byham Theater. Following the first performance of the tour, in Ann Arbor, Mich.,
City Paper
spoke with McKennitt over the phone about performing, running a label, and revisiting
The Visit
, 25 years later.
Last night was the first night of your first tour in a while. How did that go?
It went well! For me it's always a bit nerve-wracking, that first performance, partially because I never dreamed of being a singer/performer. I always wanted to be a veterinarian! So when I'm away from performing for X number of months — it was about 6 months this time around — it's like, "Oh, yes, this is my night job."
Do you get stage fright?
No, not so much, there's a kind of modality that I position in my mind, it's a bit more like sitting down for dinner with friends and sharing this experience … rather than it being a formal "I'm over here and you folks are over there."
You're touring with longtime collaborators, Brian Hughes and Caroline Lavelle so that must make it more comfortable.
Yes, I mean, Brian and Caroline are people who I've been working with for quite a number of years. And we now are so familiar with, not just the music, but how we each respond musically, it's like you become one brain. It's so great to get to that point with other people rather than worrying, "Ok, do they remember that this is the chorus and this is the key…" we just move. It's like a dance where you really move together. And they're great people, they're great traveling companions.

Are you playing selections from your whole career?
Mostly things from my career, and largely from
The Visit
, for the 25th anniversary, but also because it's just the three of us I do more — I spend a bit more time telling people about the experiences and travels and stories behind the songs. Whereas when I'm traveling with the band I don't talk or relay as much because I feel like I've got all these people waiting behind me. So this is a bit more conversational.
And I've had people suggest that, in a way, they get to know me better through this more intimate performance. There's a 15 minute section — I was working on a one- woman show based on the Irish coming to Canada during the time of the famine, which was the 1840s — but I'd woven some spoken word in, there's some poetry from W.B.Yates, there are eyewitness accounts of the immigrants coming to Canada. I read from some diary notes I made while working on this one-woman show (which I never completed) … It's a more intimate kind of repertoire.
You mentioned the 25th anniversary of The Visit, what was it like going back to that record?
We were just saying it will be 20 years next year since we released
The Book of Secrets
and Caroline and I were saying "We can't believe it's been that long!" But it's always interesting … just getting back into that mindset, and where you looked at the world from at that time …But I think [making that record] was very seminal [for me] in that that was the first time that I learned that the Celts were this vast collection of tribes that had fanned out from Europe and into Asia minor. And it was also the first recording that I had licensed to a major label. So I recall, from a non-creative side, it was the leap from going from an independent –- I still am an independent label — but going from working with a portfolio of small distributors to engaging in a licensing deal around the world with a major label.
Listening to that record, do you have any thoughts about the way that your music has progressed over the years?
To some degree. It certainly was one of my most popular, well-loved recordings. But I remember at the time … I felt it was a hodgepodge of pieces, but I realize now over the course of time there is a kind of eclecticism to the music and how I write it or how I curate it.
Obviously you make very beautiful, listenable music, but do you have thoughts about what it is about The Visit and your music in general that connects to people?
Well certainly, at its time, it was not quote radio friendly material … I think there's something very infectious in the Celtic music and ... in the Middle Eastern music ... and then I think there's something attractive in the visceral nature of my voice, and the combination of those things. But I think also perhaps the strength of some of those melodies … with that recording in particular it had great resonance around the world, including and especially countries where people just didn't speak English. Portugal and Spain, for example. So I think there's something strong in the melodies and the eclecticism of the instruments ... I think that people around the world are drawn to melodies. I'm sure the neuroscientists can explain it [laughs], but the very thing that drew me to Celtic folk music was the strength of the melodies.
You started your label, Quinlan Road, the 1985, right? What lead to that? Was that something other people around you were doing at the time?
No, I think it was more a response to not knowing — well, essentially the lineage was that I'd fallen madly in love with Celtic music and I wanted to be involved in it, whether it was professionally or not. I was part of a folk club in Winnipeg in the late '70s, and that's where I really became infected with the Celtic music. And I moved to Ontario in '81 and performed at the Stratford Shakespearean festival for four years. But I [stayed] involved in Celtic music, just playing it with some friends there.
In '85 I made my first recording and I would hardly have been able to name the record companies at the time. I just [wanted] to make my own recording of the music that I was loving, and so that was elemental. But … I [didn't] really know much about the music industry at all.
And after making that first recording in '85, I started busking on the street, particularly in Toronto and Vancouver, and when I went to visit friends in London, England, I busked there as well. And I'd sell cassettes and make enough money to sell my next recording. It was completely self-taught, and it wouldn't be until later years that I would learn there were other independent labels working in jazz or folk.
And now it seems like the disintegration of the industry is so complete that almost anybody who is still standing
is
an independent label, the major labels are so decimated, the distribution system being so destroyed and I don't think digital has come anywhere close to what one used to be able to achieve through physical [media]. So it's, yeah, it's a very interesting time to be in this industry. I'm very glad that my career got established when it did ... I think one of the reasons we're still standing and able to continue operating is that I have run my own label, there is no manager, and we can run things quite efficiently.
It's interesting that it happened so organically. You're really set yourself up to weather all kinds of industry ups and downs.
That's exactly it. Being a little mum and pop shop, where we know and understand so many of the business ingredients. … I've always had [an office] in Stratford, Ontario, but when my career was really starting to take off in the '90s, I set up another office in London ... Then we closed the London office and opened up a Toronto office, then we closed that and we're just the Stratford office. But we're still touring around the world and doing pretty much the same venues that we did in the '90s. 2500-3000-seat venues. And [we're] seeing many sold out along the way, so clearly there's still an appetite for what we're doing. The difficulty that everyone is experiencing is in the distribution and being able to commodity your creations. I'm sure in your world, print and other media people are experiencing very similar things.
You're still the only artist on the label, right?
Yes! I'm more than I can manage [laughs]
Whats next for you, musically or otherwise?
We're sort of in a series of touring, we've launched another tour in Europe in March, and because I wear many hats, one of them is managing the business. We're moving to the next phase of administrating that and looking at what other touring might happen next years. But I traveled to India a couple of years ago to research for the next recording of the journey of the Celts, and its been quite tricky to advance, creatively speaking, because of the type of touring that we've been doing recently, but I'm still hopeful that there will be some material that will emerge for that project. And that's about it [laughs]
LOREENA MCKENNITT
. 8 p.m. Sat., Nov. 5. The Byham Theater, 101 6th St., Downtown. $49.75-79.75.
412-456-6666
or
www.trustarts.org