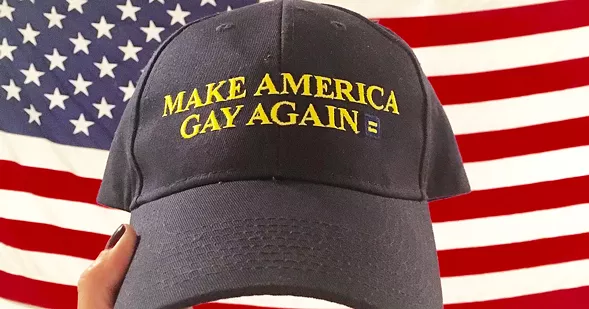 Last week, an employee at one of Republican presidential candidate Donald Trump's golf courses filed a lawsuit alleging he was fired because he is gay. Eleazar Andres says in the lawsuit that shortly after he revealed he was gay to his co-workers at Trump's Pine Hill golf course in New Jersey, several of his co-workers threw rocks and golf balls and yelled gay slurs at him. Andres filed a police report, and said in the lawsuit that he was fired shortly after.
Pittsburgh City Council President Bruce Kraus (D-South Side), the city's first openly gay politician, spoke out last week against the alleged misdeed, calling for more protection for LGBT people.
"In too many places in our country, you can get married on a Sunday and fired on a Monday. No one should suffer harassment because of who they are or who they love — not from Donald Trump or anyone else," said Kraus in a press release. "This is just another example of the discrimination that LGBT Americans still face far too often."
Levana Layendecker, of statewide LGBT-advocacy group Equality Pennsylvania, says stories like the lawsuit point to the Republican candidate's inconsistent record on LGBT equality. In April, Trump said transgender people could use whatever bathroom they felt most comfortable in, but a month later said the decision should be left up to state legislators.
But Layendecker says Trump's choice as a running mate, Indiana Gov. Mike Pence, set in stone that the Republican ticket is anti-LGBT.
"Mike Pence is absolutely the most anti-LGBT governor in country," says Layendecker. "If that is any indication of what we are looking forward to in Trump's America, then we are worried."
Pence has supported "religious freedom" laws that LGBT groups say would increase discrimination and has opposed laws that prohibit LGBT discrimination in the workplace. Layendecker also worries that Trump's calls to Pennsylvanians to monitor the polls, will only increase voter intimidation, that many in the
LGBT community already feel
.
"Voter intimidation is very real in the LGBT community," says Layendecker. "People in the LGBT community are targets for bullying in a real way. And the idea that someone would stand in front of the polling place and intimidate people, that is very worrisome."
But Layendecker says this has only re-ignited Equality Pennsylvania's push for equal rights for LGBT individuals. The group has knocked on 100,000 doors (and plans to knock on 100,000 more) to inform people of the potential trouble of the Trump-Pence ticket, and also to talk about its ongoing fight to pass the
PA Fairness Act
. The bill would provide statewide housing and workplace protections for LGBT people. (Thirty-six municipalities offer protection, including Pittsburgh and Allegheny County, but outside of those, it's still legal to fire someone for identifying as LGBT.)
Last week, Pennsylvania's state assembly failed again to pass the act through the legislature. For 12 years, Equality Pennsylvania has been trying to get the Fairness Act through, and this year there was some progress. The act was voted out of committee in the state Senate, but was held up after two Republican Senators called for public hearings on the bill. Now the bill will have to start the process over again come the new year.
Gov. Wolf has pledged to sign the bill if it comes to his desk, and polling completed by Equality Pennsylvania shows that 75 percent of Pennsylvanians support the bill. Layendecker says it's just a matter of educating everyone, so the whole state can advocate for LGBT rights.
"So much progress has been made on LGBT rights, we have to go back and remind people that those protections don't exist here," says Layendecker. "People can't believe that it hasn't already happened."