Filmmakers Corner
, the
WQED TV
show for local independent artists, returns with four recent shorts.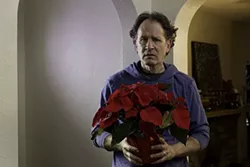 The hour-long Oct. 29 program includes an episode of "Guardians," a dramatic web series starring Rejeana Palma, about a married couple "with dangerous ambitions."
Also screening is "
The End of Blessings
," by John Rice, a veteran filmmaker who teaches at Point Park University, from a script by Pittsburgh-based poet and short-story writer Jim Daniels. The drama, about an African-American cyclist and a older Italian couple he bikes past, has screened at numerous film festivals nationally.
"The Beat Goes On" is a drama directed by locally based actor Randy Kovitz, starring Kovitz and Bria Walker.
And "Happy Birthday to Me," from the Carnegie Screenwriters' group, won first place in this year's 48 Hour Film Project.
WQED's Minette Seate hosts.
Filmmakers Corner
airs at 9 p.m. every Saturday.