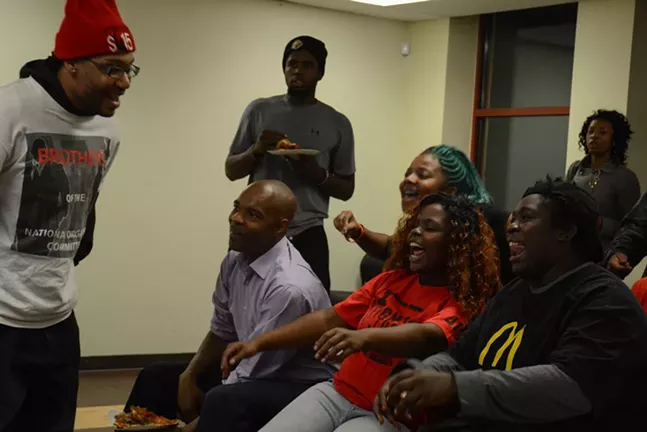 About 20 people gathered at the Jeron X. Grayson Community Center, in the Hill District, on Tuesday night for Pittsburgh's end of a Facebook Live town hall hosted by Fight for $15.
The national movement held a virtual panel that included residents from cities across the country to discuss the presidential candidates who best support their agenda of a
$15 minimum wage
, the right to a union, and affordable child care.
While workers participated in cities as varied as Milwaukee Wis., Sacramento Calif., and Charleston, S.C., the central town was Kansas City, Mo. There, Nado Villa, a correspondent for new-media network Fusion, and Terrence Wise, a fast-food worker in the Fight for $15, moderated a panel made up of four service workers, as well as a graduate student, each from a separate city.
"I did everything I was supposed to do, I worked hard, I finished school, and I still don't make enough to save $100 each month," said Dayla Mikell, a child-care worker on the panel.
Such remarks found sympathy from the local crowd of activists and community members, such as Lena Germany, a 24-year-old fast-food employee. While not officially part of the
movement
, Germany knows how hard it can be trying to survive off of minimum wage.
"There are mothers who can't support their families," said Germany, herself a mother of a 6-year-old son, Zyair.
Germany was fired from her last job, at McDonald's, for missing work too often. The McKeesport resident says she had to take shifts off to care for her son, who is a heart-transplant patient. Because she couldn't afford his medicine, she had to give Zyair up for adoption, which was finalized this year.
"I want to be stable if [Zyair] wants to go back to [his] mom," Germany said.
After listing the goals of the movement, the panel moved onto the 2016 election. With 64 million people making less than $15 per hour, the movement was aware of its power as a force for change.
"We don't care if the candidate is Republican or Democrat," Wise said while moderating, instead imploring candidates to "come get our vote."
Democratic nominee Hillary Clinton is in favor of raising the minimum wage to $12 an hour, and supports other cities' push to raise it still higher. However, she has not come out in favor of a national $15 minimum wage, which primary opponent Bernie Sanders attacked her for during primary season.
Republican candidate Donald Trump, meanwhile, has flip-flopped on the issue throughout the election, saying "wages are too high" during an early primary campaign debate, while later clarifying he is "very different from most Republicans" and would raise the national minimum wage without specifying by how much. The New York real estate mogul has since settled on raising the minimum wage to $10 per hour, while letting states set an "appropriate" rate.
Within the Senate race, the divide is clearer. In May, Democratic Senate challenger Katie McGinty announced her support for the Fight for $15 and for raising the minimum wage. Her opponent, Republican incumbent Pat Toomey, voted against a raise in 2014, claiming it would "wipe out hundreds of thousands of ... jobs."
Issues like this have influenced Arthur Helms, a 60-year-old resident of the Hill District unaffiliated with Fight for $15, to vote Democrat "across the board."
"If we don't get the right party in office it will all be for nothing," Helms said.
Helms, a U.S. Navy veteran, worked at Wendy's for 20 years before retiring due to health issues he says were partially from Wendy's "working [him] into the ground." At the time he left the job, he was making only $9.20 an hour.
The veteran also said voting is key for young activists, as he saw not voting as a "a vote for Trump,"
who Helms didn't think considered the issues of the African-American community.
He recalled the struggle of getting by on his low wage.
"I didn't even know where my next meal was coming from," Helms said. Even though he doesn't work anymore, he still supports a $15 minimum wage as a way to support struggling families.
Chris Ellis, a Pittsburgh resident, organizer with Fight for $15, and Jimmy John's worker, sees the fight as a way for workers to improve their lot as well as the lot of those around them.
"If we get $15, everybody will be happier," Ellis said.