When site-specific theater works well, it's no gimmick: The real and the imaginary blend in ways that feed the themes of the play. That's certainly the case with Quantum's Pittsburgh-premiere production of this
2014 work
by acclaimed British playwright Jez Butterworth, which runs through Sunday.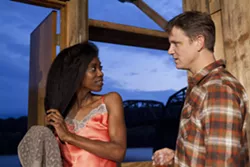 The site here is the boathouse of Aspinwall Riverfront Park, albeit amended: Onto the open mouth of the building's giant door, Quantum has appended a sort of expressionist version of a rural fishing cabin whose principal conceit is the artificial brook that divides the wooden floor in half. (The audience sits indoors, and blankets are provided in case you feel chilled.) It's the setting for an intermissionless series of scenes between a man and each of two women (none of the characters is named) whom he's taken for a fly-fishing getaway.
Butterworth is a wonderful writer, but you can't say too much more without giving away some of the pleasure of interpreting
The River
for yourself. Suffice it to say that the play name-checks Virginia Woolf and Ted Hughes, drops some fly-fishing science, and makes room for the real-time cleaning of a sea trout. And also that, when one character says, "It's all trickery. It'a trick," the subject might be fishing, theater or love.
Here's Michelle Pilecki's
review
for
CP
.
The River
has six more performances, tonight through Sunday. Tickets are $38 and are available
here
. (A $56 option includes a hot boxed dinner.)
Aspinwall Riverfront Park (right on the banks of the Allegheny) is located at 285 River Road, in Aspinwall.