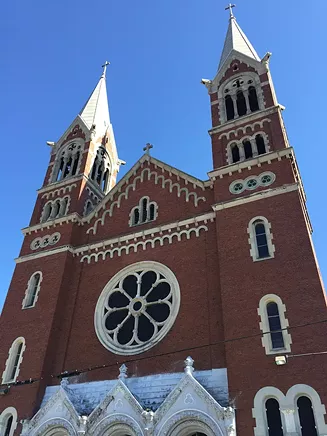 Pittsburgh has a dilemma when addressing its aging building stock. The city is chock full of
historic buildings
, but Pittsburgh is also loaded with blighted and abandoned properties. Sometimes those two intersect, and the city is stuck with a tough decision: Spend the money to rehab a historic property, or tear it down after it falls into disarray.
The Young Preservationists Association of Pittsburgh is bringing awareness to those historic buildings that are in need of some help.
"Every year we are looking to highlight the top 10 buildings that need a bit more attention and have opportunities to be preserved," says Julie Collins of YPA. "We have a diverse mix of buildings, not just in the city and county, but also outside the county."
The full list of top 10 buildings will be released at a party at the Frick Art & Historical Center in Point Breeze on Oct. 20, but Collins says that one of the properties on the list is the St. John Vianney Church in Allentown (formerly St. George's).
"St. Vianney is particularly important because it is in a transition," says Collins. "We are trying to get the building to be on historic-designation lists, and trying to re-purpose it back to a church
or some other community asset."
In the past YPA has been successful in preserving the Cork Factory in the Strip District, which is now a luxury-apartment complex, and maintaining a historic facade in East Liberty. In addition to buildings, Collins says the list, which the group has put out since 2013, always includes an issue important to historic preservation, and this year the issue is "preservation-friendly ordinances." She says that old city and county rules, like parking requirements and mandatory set-backs, make it very difficult to keep historic buildings fully intact, which is important to the character of Pittsburgh.
"It's our history. We are not going to get them back once the wrecking ball comes," says Collins. "Pittsburgh has so many historic and unique buildings. There are interesting landscape challenges, and they have given us a unique style. Without them, our [architecture] would not be what it is."
VIP doors open at 5 p.m. (regular admission at 6 p.m.) at the Frick on Oct. 20. Tickets can be purchased in advance online at
www.youngpreservationists.org
up until noon on Oct. 20 and can also be purchased at the door.