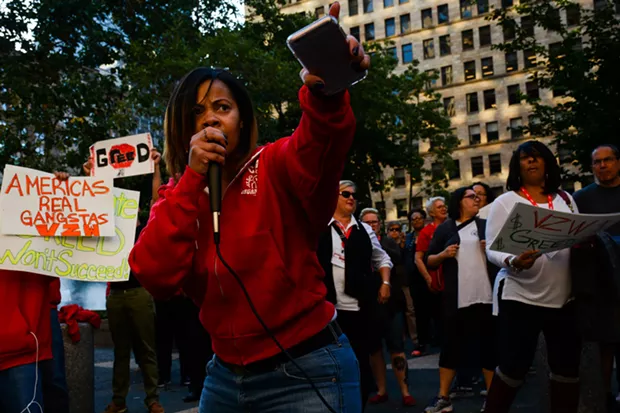 James Threatt has been working at UPMC for 35 years, and is still making little more
than $15 an hour.
So when Pittsburgh's largest employer offered free ice cream for its employee-appreciation day, Threatt didn't feel very appreciated.
"Jeffrey Romoff [UPMC's CEO] made this statement: 'For all the hard work you do, you deserve a cold treat,'" Threatt said at a rally yesterday. "We don't need a cold treat, give us some cold cash."
At Downtown's Mellon Square Park on Monday evening, a group gathered for national Boss's Day, carrying placards and chanting "This is what democracy looks like" to protest unfair wages, working practices and inequality, in Pittsburgh and across the country.
Members of Fight for $15, Service Employees International 32BJ, SEIU Healthcare Pa., UPMC workers and Communications Workers of America all gathered at the park around 5 p.m., listening to speakers such as Threatt tell their stories and perspectives on
labor organizing and worker's rights
.
With banners waving and throats roaring, the protest then marched to the intersection of Fifth Avenue and Smithfield. Protesters marched in a circle, blocking the intersection while chanting "shame on you" at a nearby Verizon store in response to the telecommunications giant's planned job cuts.
Tim Dubnau, a union representative for CWA, was in Pittsburgh with other members of the union for a training conference. He saw parallels between CWA's fight with Verizon and the
struggle of UPMC workers
, as both are "the fight against corporate greed."
"[Verizon] is a profitable company, they make about $1.8 billion, with a 'b', every month," Dubnau said. To Dubnau, such profit margins paired with layoffs were unjustified.
Threatt made reference to similar themes, noting UPMC's $12 billion in revenue, according to its most recent financial report.
UPMC is a nonprofit corporation that, according to the same financial report, finished its 2016 fiscal year with $310 million in operating income — or net revenues without deducting for taxes or interest — which was "reinvested in programs that support UPMC's mission of advancing patient care," according to the release.
Threatt also mentioned previous attempts by UPMC workers to
unionize
. One case ended in a National Labor Relations Board ruling that UPMC had illegally fired four workers for trying to form a union.
"And even though [the workers] won their case in court, UPMC is still fighting us," Threatt said.
Threatt also questioned the hospital system's time frame for its previously announced wage increase. In March, UPMC said that its average service wage would eclipse $15 an hour by 2019, and that the minimum starting salary would be $15 by 2021.
But Threatt noted that "executives don't have to wait five years" for a raise, but that service workers who cannot afford to, must.
After protesting outside the Verizon store, the marchers continued to Pittsburgh Parking Authority's Smithfield and Liberty garage, staffed by members of AM-GARD Security Guard Services. Speaking earlier at the rally, Darnell Fowler, a former employee of AM-GARD, decried the lack of representation for AM-GARD employees.
"I felt like I was unfairly treated, and if we had had a union, maybe I would still be working with them," Fowler said. He said he had no scheduled breaks during his shift and a low wage, one that Fowler felt he couldn't survive on.
When contacted, AM-GARD declined to comment.
Repeating, "get up, get down, Pittsburgh is a union town," the protesters entered the parking structure, their voices echoing loudly off the curved ceiling. They then marched out, through the garage's spaces, before leaving the building and heading back to Mellon Square Park.
Fowler was encouraged to see labor activists coming forward to protest what he saw as a lack of interest in the workers' well being at AM-GARD and throughout the city.
"[AM-GARD is] not worried about us, they're not worried about our benefit, if we are getting paid better," Fowler said. "It takes what all you guys are doing, and it takes us coming together to get things done and make sure that in this city, people are giving fair wages and are fairly treated."
Threatt says the action yesterday was another attempt to get the attention of employers throughout the city — and it is certainly not the last.
"Until we have the right to have $15 and the right to have a voice, to have [a] union on our job, we will keep marching," Threatt said. "We will get in [UPMC's] ear's until their ears bleed"