It's maybe going to be the saddest exhibit ever.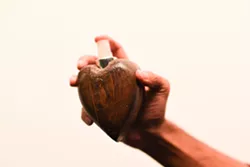 Pittsburghers are being asked to donate physical mementos of failed relationships, romantic or otherwise, to the local incarnation of the internationally touring
Museum of Broken Relationships
, set to open in December.
"We are currently collecting items that have emotional or conceptual significance related to relationships; items that tie into one's memory or experience of a past relationship," writes one of the Carnegie Mellon University students who is organizing the show.
The relationships need not have been romantic — they can be family relationships, friendships, even relationships with a pet.
"All submissions are welcome," promises the press release, "and will remain anonymous."
The MOBR's website showcases items including a ceramic heart, dreadlocks and a strappy black stiletto shoe, plus the stories behind them from the donors. (The website also vends merch including "broken glass" T-shirts and pencils reading "in case of anger, break here.")
One of the items donated by a CMU student for the Pittsburgh MOBR is pictured here.
The idea for the musuem was brought home by CMU English professor Jane Bernstein, who saw the original in Zagreb, Croatia.
Besides Zagreb, the MOBR has also held exhibits in Los Angeles, Berlin, Istanbul
and many other cities
.
While the deadline for submissions is tomorrow, the objects themselves needn't be submitted yet, only an online description and the story behind the item.
Donate online
here
through tomorrow.
The exhibit is set to open Dec. 2 at the
Mine Factory
, in Point Breeze.