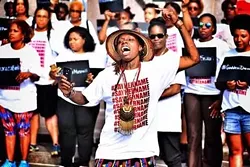 Back in July we talked to now-Atlanta-based rapper/activist/all-around-badass
Blak Rapp Madusa
, who was in Pittsburgh to play Ladyfest; tomorrow she's back in town to host an exclusive pre-screening of her new documentary,
Her Time to Shyne
, which explores the impact of hip hop on the lives of black women, and the role of the genre in combating racism, sexism and the patriarchy. Pittsburgh-based artists I Medina, Anqwenique Wingfield and Vanessa German, among others, are featured in the film.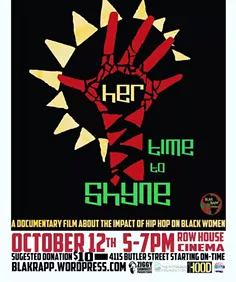 A press release for the screening describes the film as an examination of "the evolution of Black womanism and shares the growth of amultidimensional movement that expresses itself through literary, visual and performance art." Through interviews with black women artists around the country, Madusa aims to bring attention to the important work of these artists, while also sparking social change.
Tomorrow's screening —
which starts at 7 p.m. at Row House Cinema, in Lawrenceville
— will be followed by a panel discussion between Madusa, 1Hood Media CEO Celeste X, and several artists featured in the doc. A $10 donation is suggested, and proceeds go to putting the finishing touches on the film.