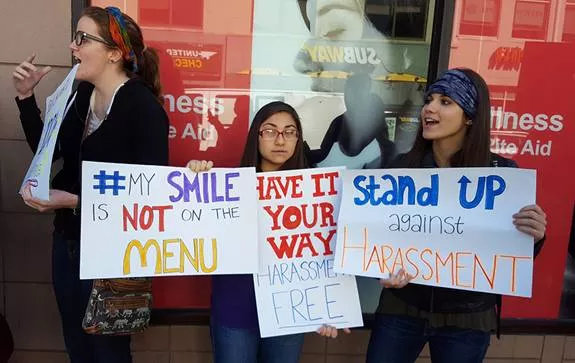 With signs sporting slogans like "Not Lovin' Sexual Harassment," Pittsburgh activists shut down the Forbes Avenue McDonald's in Oakland at lunch time today. The rally coincided with national efforts at three dozen McDonald's around the country where protesters called on the fast-food restaurant to support workers experiencing sexual harassment on the job.
"We're here to talk about how McDonald's can be leaders," said Heather Arnet, executive director of the Women and Girls Foundation. "If McDonald's wants to be a family-values place, they need to make sure McDonald's is a sexual-harassment-free workplace."
The organizers are calling on the fast-food company to enforce the zero-tolerance policy against sexual harassment outlined in the company's manual. According to the group, 60 percent of women are sexually harassed in the workplace.
"No company should have tolerance for sexual harassment," said Carmen Alexander of New Voices, a women's health and rights organization. "It's a shame that women have to fight for our own well-being to have control of their bodies."
Yesterday, McDonald's employees nationwide
filed 15 sexual-harassment complaints
against their employer. According to the complaints, general managers and corporate staff were notified by workers experiencing sexual harassment, but their complaints were ignored. And in some cases, the employees were even retaliated against.
"Of all the jobs I've had, the two where I experienced the most sexual harassment were in the restaurant industry," said Jessica Semler, public affairs director of Planned Parenthood Western Pennsylvania. "McDonald's is the second-largest employer in the world. This is fully within their grasp."
Semler related an experience she had with sexual harassment at a previous job. She says she was written up at work for pushing a co-worker who groped her.
A survey released Oct. 5 shows 40 percent of female fast-food employees have been sexually harassed in the workplace. The survey by
Hart Research Associates
also shows that "42 percent of women in the industry who experience unwanted sexual behavior feel forced to accept it because they can't afford to lose their jobs. More than 1 in 5 women who face sexual harassment (21 percent) report that, after raising the issue, their employer took some negative action, including cutting their hours, changing them to a less desirable schedule, giving them additional duties, and being denied a raise."
"Last time I checked, sexual harassment is a crime," said Rev. Buena Dudley. "It must stop."