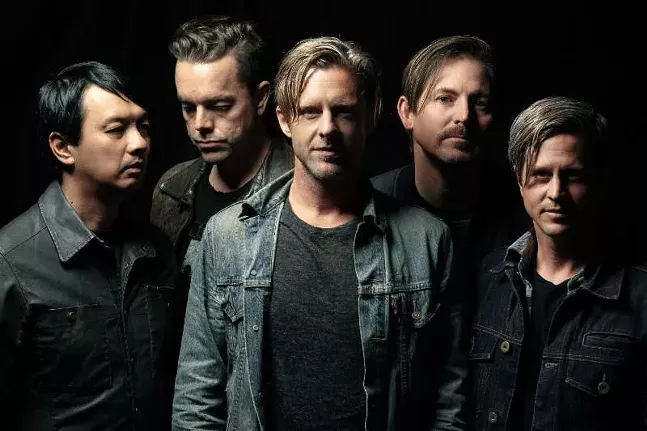 The muscle behind Switchfoot's newest album,
Where The Light Shines Through
, is the one-two punch of spotlighting the dark and offering hope for what they find there. It's summed up in the anthem of the title track: "the wound is where the light shines through."
During the band's fall tour, which brings the members to Stage AE on Oct. 12, they're not only singing about giving people hope, they're actually giving people hope. They've partnered with
Cure International
, an organization that seeks to heal children with treatable disabilities from 29 countries.
"We got to experience one of those hospitals while we were in the Philippines earlier this year," drummer Chad Butler explains over the phone. "It's an incredible organization, so [we would] definitely like to highlight them on this tour."
Jon Foreman talked in an interview about how you all had to fight for the songs you wanted on this record. Were there any songs you personally had to fight for?
For the most part ... we agree on the majority of it, but usually the last one or two songs that you're deciding to cut ... that's when the arm wrestling starts [laughs]. The intensity goes up a notch. Because, I think, as an individual, you become attached to a song, whether it's a particular lyric or just the way it makes you feel, and they mean different things to different people. So in particular, there was a song — "Bull In A China Shop" — that I really wanted to be on the record, and I remember that one being a point of contention for sure. Maybe it's because I'm a drummer, and thinking about the live show, that one seemed like one that I wanted to play every night. So I fought for that one for sure.
How do you guys work that out? How do you come to a decision?
... Ultimately, the passion is what wins. So if somebody has really got a strong opinion, they just have to formulate their case, you know. In the studio, you have to really fight for the song. But ultimately, those arguments are to better the art. You don't take it personally — you have to have thick skin to take the passion for the song but not be looking at it beyond that as far as someone's character. It's more about if you love the song, you're going to fight for it tooth and nail.
This album is very different but still classic Switchfoot at the same time. Did you guys approach this album differently than you did others?
With
Fading West
, we started without guitars intentionally to try to take the music somewhere new. But [for] this record, we started with guitars. It's a rock guitar record from the very get-go. For me, it's kind of a return to the guitar rock songs that Switchfoot's known for.
Do you guys ever think about or talk about how Switchfoot's music could affect people and stick with them?
Yeah, absolutely ... The goal of this band has always been to communicate hope. And the goal of this record, the reason why we made this record is because hope deserves an anthem. And for us, wrestling with big questions of life and looking for hope in the dark places. It's really what motivates us and keeps us going as a band. It's more than just about rock n' roll — this is about a desire to communicate hope and to explore the world through songs. And I think that's the beauty of art, is that you can really talk about things that are deeper, that are maybe uncomfortable or off-limits for everyday conversation. But through the songs you can explore those things in a meaningful way.
SWITCHFOOT
with
RELIANT K
. 6 p.m. Wed., Oct. 12. Stage AE. 400 North Shore Drive, North Side. $32.50-35.
412-229-5483
or www.stageae.com