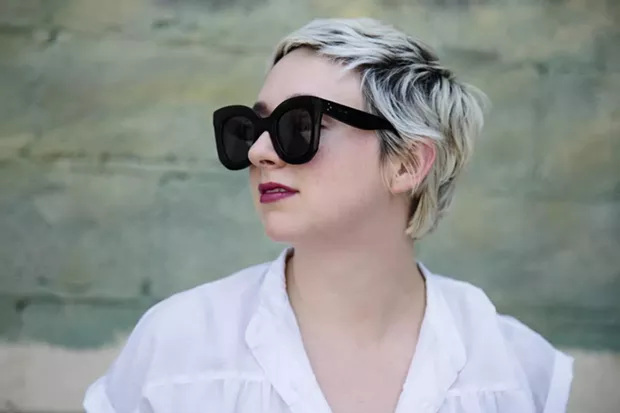 Allison Crutchfield is stepping back into the spotlight. As a co-founding member of Swearin' and P.S. Elliot, she's spent much of her life making music alongside friends and her sister Katie Crutchfield, of Waxahatchee. In 2014, she released
Lean Into It
, a seven-track EP that marked the beginning of her solo project. This year she returned to that project, signing with Merge Records, which will release her debut full-length next year. In the meantime, fans can get a sneak peek at that record as Crutchfield hits the road with her backing band, The Fizz. The tour will carry her through much of the United States, including an Oct. 2 stop at Cattivo. Ahead of the Pittsburgh stop, Crutchfield talked to
CP
by phone about the Merge signing, recording the new album and making time for music.
It was announced that you signed with Merge this year. That must be really exciting. How does it feel to be a part of that label? And was that something you ever imagined when starting out?
I mean, it feels incredible. At the risk of sounding so trite and cheesy, signing with a label like Merge was a literal, like, stare-out-the-window-during-geometry-class daydream fantasy for me, always, and the fact that it's happening and that, bonus, they're the greatest people, is just really wonderful. I feel really lucky and grateful.
What was the recording process like for the forthcoming album? What kind of material can fans expect and how might it differ from your EP?
The album is already finished and the recording process was kind of an amazing breeze. I feel like I'm generally an over-preparer when it comes to recording, and so to be working with someone new — the very talented [engineer/producer] Jeff Zeigler — and making my first solo album, it was pretty much ready when we walked into the studio. That left us with lots of time to add overdubs and harmonies, and to just really hone in and focus on what we were doing. I feel like the album is thematically an extension of the EP, but sonically is much more expansive.
Did any of the previous work you did with Swearin' or P.S. Eliot influence this recording?
Sort of. Every other band I've been in has revolved in some way around a very close relationship, and that dynamic has been the main creative driving force. So this project kind of finds me without that; I'm motivated by something different, and finding the motivation is a new experience for me.
You're touring with your band, The Fizz. Who are some of the members and how does the band help to bring your songs to life for a live audience? Will you be performing any new songs live?
Right now we're kind of a power trio, which I'm super into. I play synth and guitar, Sam Cook-Parrott plays bass and Catherine Elicson plays drums. I really love being in a rock band, and I think we play these sad synthy pop songs like a rock band. We're definitely playing a chunk of the new songs on this tour.
You're also part of your sister's live band for Waxahatchee, so it would seem like you're often on the road. Do you enjoy touring and how do you balance life on the road with creating new material?
I have my moments where I really love being on the road, and I'm so thankful that I get to travel so much and play music, but I'm also such a creature of habit, so sometimes being on tour can be a challenge for me. I do enjoy it a lot of the time, though. I feel like I find balance by allowing myself to take breaks; putting pressure on myself to write is the absolute worst thing I can do to actually make songs I care about. Usually by the time I'm feeling like writing again, I'm so ready and it's all easily accessible in my brain.
ALLISON CRUTCHFIELD & THE FIZZ, SPACE BUNS FOREVER, RUE
7 p.m. Sun., Oct. 2. Cattivo, 146 44th St., Lawrenceville. $10-12.
412-687-2157
or www.druskyentertainment.com