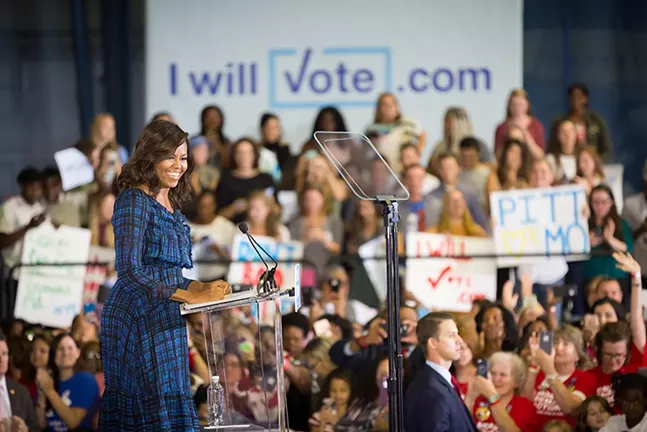 For months, since the culmination of the presidential primary election, polls have indicated Americans aren't too thrilled about their choices for president: Democratic nominee Hillary Clinton and Republican nominee Donald Trump.
In the Republican primary, the American people cast votes for twelve different candidates. And while Trump came out the winner, there are many Republicans so against him, they're switching parties.
Many Democrats were pulling for U.S. Sen. Bernie Sanders, a candidate they say would've shaken up Washington with his liberal ideas. Now many say they'll throw their vote to a third-party candidate or simply won't vote at all.
"A lot of my peers feel like Hillary is the lesser of two evils," says Ebe Ewere, a college student who attended a Clinton rally today. "We have to get them to see the long-term effects of voting and the long-term effects of not voting."
In light of the country's collective state of ennui, Clinton and Trump's campaigns are now tasked with getting their bases excited about the November election to ensure more people make it to the polls to cast votes in their favor. And at an event at the University of Pittsburgh today, First Lady Michelle Obama focused on doing just that.
"When people say they're not excited about this election, I have to disagree," Obama said. "There has never been a candidate more qualified to be president than Hillary Clinton."
"When making life or death decisions, you can't just pop off," Obama said. "Being president isn't anything like reality TV. It's not an apprenticeship."
But Obama's speech wasn't all clever comments about Trump's reality television show,
The Apprentice
. Obama also cited statistics from her husband's first election, that demonstrate the power of each individual voter. According to Obama, the number of votes her husband won Pennsylvania by, can be divided to equal 17 votes per precinct.
And that's why Clinton supporters are working hard to register voters.
"I'm going door to door. We've been registering people and I'm going out this Saturday too," says Donna Nelson of Penn Hills. "When we saw people who weren't registered we said to them, 'do you see what's going on with Trump? Do you want this?' Donald Trump is racist. He is a disgrace and he is ignorant."
"We've been getting out registering people. The next step is calling Democrats to make sure they come out," says Sharon Ricketts of Monroeville. "Whatever we need to do, we need to do it."