For as much as Pittsburgh celebrates the work and legacy of the
Pulitzer-winning playwright
, it's easy to forget that August Wilson's relationship with his hometown was a complicated one. Wilson, after all, was molded not only by the richness of life in the Hill District, where he set most of his plays, but also by the racism he experienced growing up here.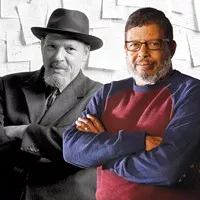 And of course, he achieved his greatest successes only after leaving Pittsburgh in 1978, at age 33, for St. Paul and Seattle.
Tonight, experts gather to discuss what organizers call Wilson's "deep love-hate relationship" with Pittsburgh.
Panelists at the free event include Eugene Lee, a playwright and actor who has played Wilson in several productions of Wilson's monologue
How I Learned What I Learned
(seen here last year at Pittsburgh Public Theater); University of Pittsburgh history professor Laurence Glasco, who is writing a biography of Wilson; and Vanessa German, an actress and artist who has performed in Wilson's plays.
August Wilson and Pittsburgh: Birthright and Burden is moderated by
Pittsburgh Post-Gazette
senior theater critic Christopher Rawson and
P-G
columnist Tony Norman.
The program, presented by the Pennsylvania Council on the Humanities, is part of the Pulitzer Prize Centennial Initiative.
It takes place at 6:30 p.m. in the Frick Fine Arts Building auditorium, at 650 Schenley Drive, Schenley Plaza, in Oakland.
Registration is required. Register
here
.