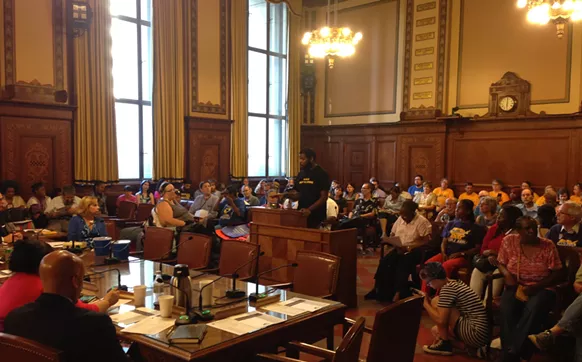 Pittsburgh City Council chambers were at capacity on Sept. 21 for a public hearing on the city's proposed affordable-housing trust fund, called the Housing Opportunity Fund. The fund's goal is to raise $10 million a year to help contribute to affordable-housing projects throughout the city and was proposed by Councilor Daniel Lavelle (D-Hill District). The money could be raised via a real-estate transfer tax increase of 1 percent, as was proposed by advocates, but council has yet to decide how exactly to pay for the fund.
"We want this trust fund to go through," said Richard Morris, chair of the city's Committee on Human Relations. "If we leave it up to the banks, [affordable-housing growth] will not happen."
Most in the crowd of around 200 held up signs reading "Housing is a human right" and voiced support for the fund, saying it was necessary to curb gentrification in some Pittsburgh neighborhoods. Joshua Malloy lives in East Liberty and says that even his wage of $13 an hour is not enough to live in the new apartments in the neighborhood. He says if he is forced to move to a place like
Penn Hills
, his access to public transportation will be severely cut.
"Whenever those who can no longer afford to live in their homes, where do they go?" asked Malloy. "We need this [fund]."
Many in the crowd also requested that low-income residents be part of advisory boards for the housing fund; that transit access continue to be a priority; and that policies such as inclusionary zoning (where new developers are required to include percentages of affordability) be considered.
But a few in the crowd voiced displeasure over the proposed manner that the funds would be raised. Charlene Haislip, a local real-estate agent, said she supported more
affordable-housing
efforts, but said raising the real-estate transfer tax would put a burden on people looking to purchase homes in the city. "We don't believe that increasing the cost of buying a home is the answer to making housing more affordable" said Haislip.
Helen Gerhardt, who was representing housing-activism group Homes for All, said she strongly supported the housing fund. She said raising local funds could contribute to a discrepancy in federal funds for rental-housing assistance. (In 2015, the federal government contributed around $130 billion toward subsidies for home ownership and only around $40 billion for rental subsidies, according to the Center on Budget and Policy Priorities.)
Advocates gathered 13,000 signatures to put the creation of the fund to a vote as
a ballot initiative
this November, but decided in August to let council handle the matter instead. City Council President Bruce Kraus (D-South Side) pledged at the meeting that a vote to create the Housing Opportunity Fund would happen before the end of 2016.