In her 14 years in Pittsburgh, artist Sarika Goulatia had always admired the big banner that hung outside Pittsburgh
Center for the Arts
exhibitions during the prestigious annual shows honoring each year's Artist of the Year and Emerging Artist of the Year. Both artists were invariably listed on the sign, which was installed on the Center's lawn by the busy intersection of Fifth Avenue at Shady.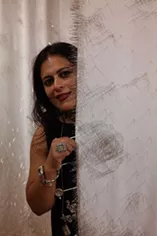 This year, after the opening reception honoring Richard Pell as
Artist of the Year
and Goulatia herself as
Emerging Artist of the Year
, she was dismayed to see that the PCA's banner bore only Pell's name. "I was really upset about it," says Goulatia.
But following a couple of weeks of outcry on social media, and discussions between Goulatia and PCA personnel, a remedy is at hand. Pete Mendes, Pittsburgh Filmmakers/Pittsburgh Center for the Arts interim executive director, told
CP
today that a banner with Goulatia's name has been ordered and will be installed as soon as possible.
Goulatia says that in her initial discussions with PCA staff, she was given a variety of reasons why she was not acknowledged with a banner, including the organization's
financial struggles
. But in an interview with
CP
last week, Goulatia said she didn't understand why, if the group could afford one banner, it couldn't have ordered one naming both artists.
Mendes says the problem was logistical. In years past, the banner — bearing both of that year's honored artists' names — has been hung on a stanchion near the intersection. But that stanchion kept breaking, and fixing it was getting expensive — $1,000 or more each time, he says, only to have it break again.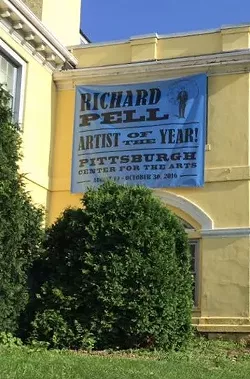 Instead, PCA's exhibition staff decided to hang this year's banner on the PCA's landmark yellow mansion itself. However, that move put the signage further from traffic, meaning that to include both artists' names would have made the text illegibly small from the road, Mendes says.
Goulatia herself says she noticed the absence of her name only a couple days after the Aug. 19 opening reception for her show of installation art,
Dressed With D.R.E.S.S.
, and Pell's
The Myth of the Great Outright Extraordinary
.
Others viewed the absence as disturbing, too. "I thought that was very odd," says Kilolo Luckett, a local writer and art historian. Luckett says she personally spoke to PCA personnel about what some in the community perceived as a snub of the Goulatia, who was born in India, as a woman artist of color.
Others simply emphasized the value of signage to an artist. "Artists do rely on those things," not only to get people to see their work but to pursue future work and exhibitions, says artist Ivette Spradlin. Without signage on the PCA, "It makes it seem like, 'Oh, there's not an emerging artist this year,'" says Spradlin, who herself has exhibited at the PCA and is an instructor at Pittsburgh Filmmakers/Pittsburgh Center for the Arts.
But Mendes says no slight of Goulatia was intended. He says he was apprised of complaints about the signage only late last week. By this past Tuesday, when he met with Goulatia at PCA, he had already decided to order an additional banner with her name on it, he says. Interviewed today, he did not yet have a date by which the banner would be hung, and he said PCA was still deciding the best way to hang it.
However, Mendes emphasizes that in all its press releases and other promotional materials, Goulatia's show was billed equally to Pell's. "This is not an issue of did we not promote the event, and did we not promote the artist, it's a question of the manner in which we promoted it," he said.
Here's
CP's review
of Goulatia's exhibit, by Veronica Corpuz.
Both Goulatia's exhibit and Pell's will be at the PCA until Oct. 30.