Pittsburgh-based artist Jonathan Trueblood first reached out to me through
City Paper's Instagram
account in March, letting me know he'd love to illustrate a future cover. After I saw his great caricatures of famous faces like David Bowie and Mario Lemieux on his account, I knew I wanted to keep him in mind the next time I needed a portrait.
After finding out this week's cover story was going to be on Bernie Sanders' supporters uniting behind down-ballot candidates, I pitched the idea of Bernie Sanders as Uncle Sam, portraying him as this year's new face of American politics. Editor Charlie Deitch signed off on the idea, and Jonathan came on board as soon as I emailed him.
Originally from Baldwin, Jonathan is a graduate of Edinboro University and has his master's degree from Carnegie Mellon University. In addition to illustrating, he's also a graphic designer, animator and an assistant professor at Point Park University, teaching classes like Storyboarding and Fundamentals of Motion Graphics and Visual Effects. He also used to work in New York City making commercials.
We caught up with Jonathan over email after he was finished with this week's illustration and got his thoughts on Pittsburgh's art scene, cartoons and the best advice he gives his students.
What's your favorite thing about being an artist in Pittsburgh?

I think the artist scene in Pittsburgh is a very tightly knit group. Everyone knows everyone, and they definitely look to encourage work and exposure for each other. I think the more the art scene in Pittsburgh grows, like it seems to be, it will be great for all. A rising tide lifts all boats!
What's your work space look like?

Haha! My work space is my living-room couch. I have my laptop and my Wacom Cintiq each on a TV tray, and Netflix playing in the background. I have a room that is supposed to be my "office/workspace," but I've been too busy or lazy to get it cleaned up and ready.
Tell me about your process behind this week's cover illustration of Bernie Sanders.
I always start by finding the best reference photo or photos of the subject. It's weird to say, but not every picture looks like the person you are trying to draw, or the picture doesn't capture their personality. Once I grab several photos, I do some quick sketches to get an idea of how I want to exaggerate the features. Some people are much easier than others. Once the sketch is done, I start "painting" in Photoshop. Then it's a lot of trial and error moving features around, painting and re-painting, and praying that it will look right when it's all done. I also always send my work to a couple of my friends from college who always give me good advice and criticism. I know they'll always be honest with me and really tell me if I need to fix the image to make it look more like the person.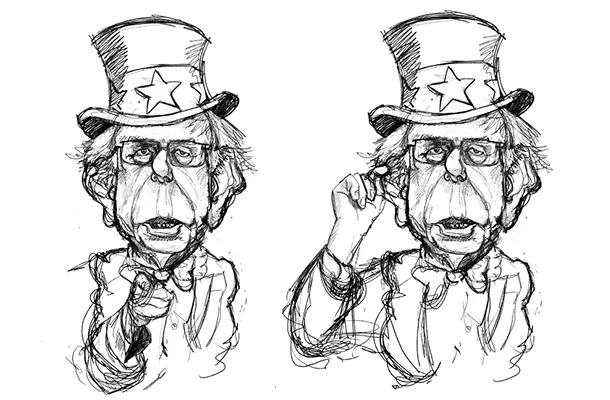 In addition to illustrating, you also teach animation at Point Park. That basically means you get paid to make cartoons all day, right?

I joke about that all that time … that I get paid to make cartoons. It's true, though. I'm very lucky to do something I love. When I'm not teaching animation, I'm also making animations for various clients, drawing storyboards, illustrating and doing graphic design.
Speaking of cartoons, do you have a favorite?
My favorite animated movie is The Lion King. If I had to pick another cartoon, I would say "Rejected," by Don Hertzfeldt.
What's the best advice you give your students who are just starting to figure out what they want to be when they grow up?

I have a friend that used to work out all the time at the gym. He used to wear a shirt that said, "Everyday you don't lift, somebody else does." I think that applies to working at getting into the field of animation. It's a very competitive industry. I tell my students that every day you aren't working on your portfolio, animating, drawing, learning or getting better, somebody else is, and they are the ones that will get the job at the studio you want. Work hard and love what you do, and you'll be fine.
Your celebrity caricatures are spot on. Is there one in particular who's the most fun to draw?

Wow! There are so many! I'll say this ... the funnier-looking the person is, the more fun it is to draw them. It's also easier too.
I
discovered your work after you contacted me through City Paper's Instagram account. Do you think social media is changing the art world in any way?
Absolutely! Social media sites like Facebook, Instagram and Dribbble have been fantastic avenues for me to reach out to new people to work for and collaborate with. I think the trick for any artist is to be unique. Develop your own personal style.
You mentioned that you used to work in New York City making commercials. Have you done anything we'd recognize?
I've been back from NYC since 2006, so it's been a long time since I've done anything on TV. If you used to watch TV shows like Viva La Bam, Jackass, The Tom Green Show, Pimp My Ride and any of those MTV shows, you would have seen some of my projects. My favorite one I ever did was to promote a new band every other week. We would do eight 10-second long animations for each band. Like mini music videos. They would play in and out from commercial breaks. I think in a year we did about 100 or so of those little animations.

Where can we follow your work?
www.blackpowderdesign.com
,
www.bitteryinzer.com
, and on Instagram, it's
@blackpowderdesign
.

What question do you wish I had asked you?
I wish you would have asked me about my family. I'm married to my best friend and beautiful wife, April. We have two ridiculously cute and amazing little boys, Cash (3) and Tig (1). I'm a very, very lucky guy!