Although he served less than nine months as Pittsburgh mayor, Bob O'Connor will likely go down in the city's history as one of the most popular mayors of all time. He served on Pittsburgh City Council from 1991 to 2003 and became mayor in 2006.
A businessman from Squirrel Hill, O'Connor took the oath of office in January 2006. In July, he was diagnosed with cancer, and on Sept. 1, 2006, O'Connor passed away leaving a family and a community that cared deeply for him. On Thursday, hundreds gathered in front of the City-Council Building on the 10th anniversary of his death to both laugh and shed a few tears in O'Connor's memory.
"For me, I have had such a great support group. The whole city has been my support group," said O'Connor's widow, Judy. "People still come up to me and tell me they have [pictures of Bob] on their refrigerators. Today is not a memorial, it is a celebration."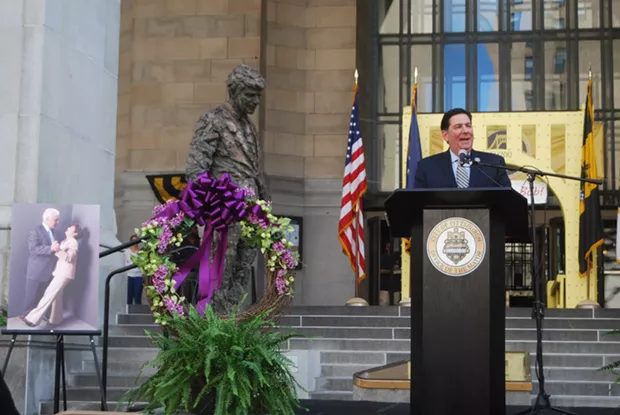 Mayor Bill Peduto told the crowd what O'Connor meant to him: "You only get to meet so many people who give you life lessons, and for 15 years, Bob gave me life lessons everyday."
Besides O'Connor's wife, the ceremony was also attended by the O'Connors' three children: Father Terry O'Connor, a priest from Munhall who also gave the blessing; daughter Heidy O'Connor Garth; and Pittsburgh City Councilor Corey O'Connor.
"The one word that comes out when I think of my dad is 'unselfish.' He just had a beautiful heart," said Father O'Connor. Later, Heidy O'Connor Garth told the crowd: "Do what my dad would do: Be kind to others, pay it forward, and above all, love Pittsburgh."
"We were lucky, and he loved being the Mayor of Pittsburgh, even for just for eight months. Not many people can say that they lived their dream," Corey O'Connor said. "He would always say, 'Hey, let's get together and let's redd up Pittsburgh.' And he would be proud of what he would see today."