We're in the last few days to check out this
show
featuring 250-some portraits of the same guy – with that very subject as your practically live-in guide to the show.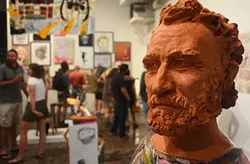 Yes, Riegert, a local character of some repute, has a partial recreation of his living room set up in the Downtown
gallery
, complete with easy chair. And he's scheduled to be stationed there during gallery hours through Sunday, the day of the closing reception.
John Riegert
, organized by Brett Yasko, packs the venues about 250 portraits in all media of Riegert, by a big cross-section of Pittsburgh's top artists. Riegert's there to show you around, answer questions or just shoot the breeze (all of which he's very good at).
I visited this fascinating show three times, but only this past Saturday did I have a chance to chat with Riegert, whom I found reading in his chair. After seeing a bit more of the show, I approached him and we talked for a good half-hour while he spun Jimi Hendrix's album
Band of Gypsies
LP on the portable record-player that's part of one portrait of him.
Many of the artists who depicted Riegert chose to meet him and get to know him. However, Riegert says, most visitors to the gallery avoid him, skirting its furthest wall and then walking along the opposite side of a divider wall between his "living room" and the rest of the space. That's a shame: You miss a bunch of the art that way, and Riergert doesn't bite.
Natalie Spanner, who
reviewed John Riegert for CP
, also found Riegert's presence a key to fully appreciating the show.
We could chalk people's reticence up to the fact that being alone and quiet in galleries is the norm. Riegert's openness about his struggles with mental illness, and his suicide attempt some years back, probably play into it, too. But it's Riegert's very candor that makes the encounter so appealing: He even discussed with me one of the show's video portraits, which shows him stoned on cough syrup (a problem he says he's left behind him).
So say hello to the man, already.
The gallery is open until 6 p.m. today, and from 11 a.m.-8 p.m. tomorrow and Saturday. It opens Sunday at 11 a.m. and the closing reception goes until 8 p.m.
SPACE is located at 812 Liberty Ave. Admission is free.