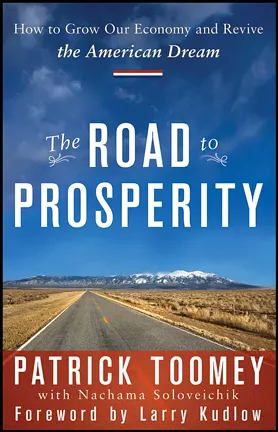 Pat Toomey, the U.S. Senator from Pennsylvania who is in a dogfight for re-election, announced in an Aug. 17
Pittsburgh Post-Gazette
op-ed that he is denouncing the Trans-Pacific Partnership trade deal — the same deal he supported and voted to "fast-track" in May 2015. The TPP would reduce and remove tariffs on international trade for 12 nations, including the U.S., Japan, Australia, Chile and others (not China, for those who were wondering).
"Politicians in both parties who demagogue trade do a disservice to our people," wrote Toomey in the op-ed, "playing on their economic fears, instead of promoting their economic well-being. But we should not pass a flawed deal just to get a deal done."
But in 2009, when Sen. Toomey was first running for office, he penned a book on economic policy called
The Road to Prosperity
. The book highlights the benefits of laissez-faire capitalism that emerged from former president Ronald Reagan's administration, and includes dozens of mentions on the positive effects of "free trade."
Multi-millionaire publishing giant Steve Forbes said of the book: "Pat Toomey brilliantly propounds the principles and practical policies needed to make America — and the world — prosperous again. Ronald Reagan, Adam Smith, and Milton Friedman would vigorously applaud what Pat has put forth here."
In the book, Toomey wrote: "This book reviews many measures the government could take to help ensure a robust recovery and strong, long-term growth including lower taxes, free trade, sound monetary policy and limited spending."
Toomey also called free international trade a win-win situation and attacks other domestic labor-friendly ideas like raising the minimum wage. "Excessively high minimum wages, sold as protections against worker exploitation, prevent some people from earning any wages," Toomey wrote.
Republican presidential nominee Donald Trump, who Toomey has not yet endorsed, has visited small towns in Western Pennsylvania and decried the TPP for eliminating many blue-collar jobs like steel manufacturing. (However, many experts, like
New York Times
columnist
Paul Krugman
, point out that so-called bad trade deals were not the biggest factor in the loss of manufacturing jobs. Krugman says that award goes to improvements in technology and efficiency of manufacturers.)
So why is Toomey changing course on his support of TPP?
Toomey's spokesperson E.R. Anderson says the senator received the full TPP proposal to review in October, and wrote the op-ed now because he had issues with the sections involving agriculture, dairy and the bio-medical industries. Anderson says Toomey questioned TPP negotiators on these industries and was not satisfied with responses.
She says that Toomey is "still in support of free trade" and that the op-ed is "not a rejection of the idea of free trade."
But given that, in the last couple weeks, Toomey has started to trail his opponent,
Democrat Katie McGinty
, in four polls, McGinty is more than skeptical.
"Pat Toomey has spent his entire career pushing bad trade deals and policies that ship American jobs overseas, so nobody is buying this ridiculous flip-flop," said McGinty in a press release. "Bad trade deals like the TPP have real impacts on Pennsylvania families, but for Pat Toomey, this is all a political game."
Some Republicans point out that McGinty changed her mind on the North American Free Trade Agreement, which she supported in 1994 and announced she is against this June. Toomey's book references NAFTA (and the Central American Free Trade Agreement) writing, "The economic benefit of these trade agreements have been staggering, despite the protests of protectionists."
However, Toomey's book does highlight a free-trade benefit that may force voters to confront how they really feel about trade deals. He continually references how free-trade deals benefit consumers by providing access to more goods at lower prices (an idea shared in a 2015 economic paper from the White House). And it appears the price of goods is more important to Americans than debating the pros and cons of free trade.
An April
AP-GfK poll
asked Americans which they would prefer: a $50 pair of jeans made outside of the country or an $85 pair made in the U.S. Two-thirds of pollsters said they would buy the cheaper pair.