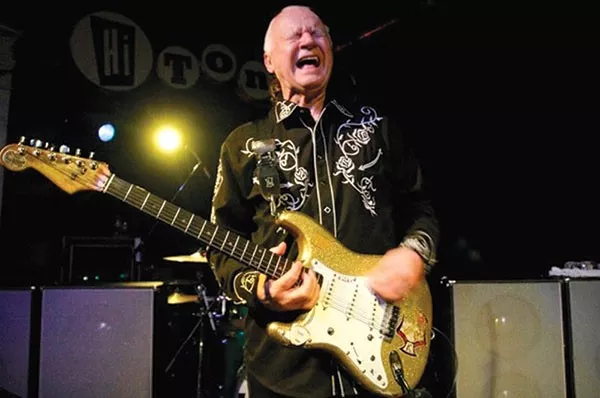 Last year around this time, I wrote a story about now-79-year-old
surf-rock pioneer Dick Dale
. At the time, I was a casual fan of Dick's music, and when I saw he was coming through town, music editor Margaret Welsh told me to try and set something up.
At the scheduled time, I called Dick's home and spoke to his wife, Lana Dale, and she said an emergency had come up and we'd need to reschedule. But schedules wouldn't allow another date before Dick left on tour, so she asked me if I could do it in five minutes and I agreed, but apparently Dick didn't: We talked for more than a half hour.
I don't want to recount the entire conversation here — you can read it at the link above. But as
Dick gets ready to come back into town Saturday night
, I've been thinking back on that piece and the attention it generated. The story had little to do with Dick's music and his significance in the shaping of modern music. Instead we talked about his scores of health issues, the constant pain he lives with, and that he had to keep touring to pay for the crucial medical supplies he needs.
His story was heartbreaking and uplifting at the same time. He explained:
"When I'm on stage, the pain can be excruciating. Someone has to help me up on stage because I can't do it alone," Dale said last year. ""You tell the people, 'Don't be scared of dying,' When your mind leaves this body, it is a beautiful thing and it is not to be feared. Don't let that fear of dying affect the way you live.

"You take that fear and you use it as a driving force to keep moving forward, no matter how much pain you have. That's how I do what I do on stage. I'm not afraid to die because it all gets beautiful from here."
Dick's attitude toward his situation, I think, is what made this story resonate; that and the outrage that he
must
keep touring just to pay for supplies. Whatever it was, the story went viral within a few hours and spread over the next several weeks. It's become the most-read story on www.pghcitypaper.com. To this day, I still get emails asking about Dick and if he ever got help for his medical costs. I passed a lot of emails on to Dick and Lana in the past year, and although I wasn't able to get a follow-up interview, Lana has told me her husband is still chugging along despite the pain.
Dick plays the
Rex Theater this Saturday night
. I can't stress enough that if you're a fan of Dick Dale, surf rock or even just great guitar-playing, you need to see his show. Last year's was a jaw-dropping spectacle as the septuagenarian moved around the stage and played every instrument. It would be a disservice to say that he plays well for a 79-year-old; he shreds that guitar like an ageless beast. It's something that has to be experienced.
And really, after reading our piece from last year and seeing what Dick is going through to be there, it's hard to come up for a reason not to go. I am currently not planning to go because of four busted ribs I suffered in a recent accident. But several times a day, I remember what Dick goes through and start to wonder if broken ribs are really a valid reason not to be there. If he can push through his pain, I'm thinking I probably can too.