Seeing honky tonker
Dale Watson
live is much different than listening to his studio recordings. Sure, you still get great lyrics booming from Watson's distinctive voice, but the live shows have an energy and a playfulness that doesn't always come through on a studio cut. And Watson's live shows are always top-notch experiences.
A studio album lets you enjoy the music of
Watson and his Lonestars
, but seeing him live in an intimate setting allows you to get to know Watson a little bit. His newest a;bum:
Live at Big T Roadhouse — Chicken S#!+ Bingo Sunday,
gives you that live-show energy in a 35-cut record.
The album from
Red House Records
is
available today, Thu., Aug. 19
.
But this isn't just any show. Chicken Shit Bingo is an event that Watson has hosted for years. First at Ginny's Little Longhorn Saloon outside of Austin but in recent years, Watson has hosted it in two other locations including the Big T in St. Hedwig, TX. The game is played pretty much like you think, draw a number and wait for the chicken to drop a deuce on the board. If it falls on your number, you are the recipient of $114 in cash.
The event has long been synonymous with Watson, so turning it into a live album seemed like a natural transition. While the music on
Live at the Big T
is solid Dale Watson honky tonk, this collection is less about the music than it is the experience.
This is what a live record should be. It's not a collection of music from one moment in time, you're transported to a small, smoky roadhouse outside of San Antonio where the beer is cheap and cold and the live music is perfect. This isn't a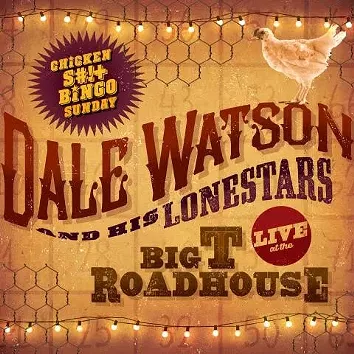 record to throw into your iPod and hit shuffle. You need to start at track one and listen all the way through.
Watson's patter with the band and with the crowd is one of the record's best features. You live the day the same way the customers did that day. In fact, if you can get a hold of a chicken and let it run around the room while you listen, it would be like you're sitting on a stool at the Big T. A lot of live albums fail in this area because most live records simply seem like a group's hits played outside of a studio.
Now that doesn't mean that the music here is sub-par. Watson and the Lonestars play a great collection of tunes that are perfect for a show like this. Also, aside from the popular "I Lie When I Drink," a lot of the songs on this collection are going to seem new to casual or new Dale Watson fans. And diehards are going to love the inclusion of some of Watson's lesser-known songs like "Never Ever," "Birmingham Breakdown," "Lubbock Boy," and one of my favorites, "Honky Tonkers Don't Cry." There's also are really great versions of Jerry Reed's "Amos Moses" and Merle Haggard's "The Fugitive." Also noteworthy are the stellar background vocals of bassist Chris Crepps. Crepps' contributions are subtle, especially on studio recordings, but his harmonies with Watson really come through live on stage and the same is true here.
So I'll readily admit that this record might not be for everyone. But for fans of Watson or fans of Chicken Shit Bingo or even fans of a true live-album experience,
Live at the Big T Roadhouse
is mandatory listening.