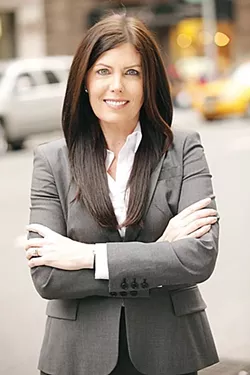 Four years ago, Kathleen Kane made history by becoming the first woman elected to the office of attorney general in Pennsylvania. This week, Kane made history again when she became the first female attorney general in the country to ever be convicted while in office.
(When
Pittsburgh City Paper
attempted to verify this claim by looking for a list of female attorneys general, the top search results were about a poll ranking the attractiveness of our country's female attorneys general. Thanks to the Internet for reminding us that society hasn't progressed as far as we'd like to think.)
Kane was convicted Monday on charges of
perjury and obstruction
. On Tuesday, she announced she would be resigning from her position effective this week.
"I have been honored to serve the people of Pennsylvania and I wish them health and safety in all their days," Kane said in a statement.
The attorney general is often referred to as the state's chief law-enforcement officer. Despite this title, a number of attorneys general have been convicted of crimes while in office. Here are five more convicted attorneys general from around the United States.
Along with Kane, Pennsylvania is "lucky" enough to have had another attorney general convicted while in office. Ernie Preate was convicted in 1995 after being charged with federal racketeering and corruption for mail fraud involving a $20,000 campaign contribution. He served one year in federal prison.
In Missouri, in 1993, William Webster was convicted of embezzlement for using his staff and office for political purposes. He was sentenced to two years in prison.
In Texas, Dan Morales was convicted in 2003 of mail fraud and tax evasion for
trying to steer more than a million dollars in legal fees from a
$17 million tobacco-industry settlement.
He was sentenced to four years in federal prison.
In Louisiana in 1972, Jack Gremillion was convicted and sentenced to three years in prison for perjury after attempting to cover up his involvement with a failed savings and loan.
In Alabama, Richmond Flowers was convicted in 1969 of extortion and sentenced to eight years in prison for conspiring to extort payments from companies seeking to do business with the state.