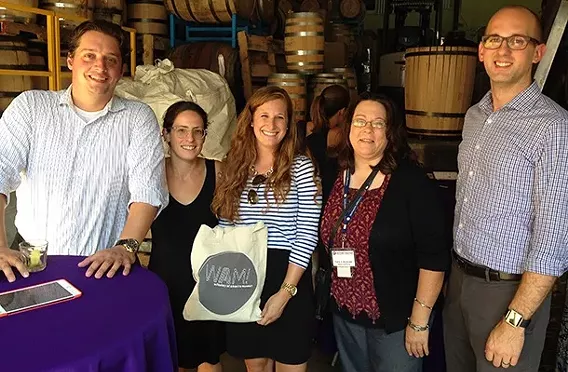 The company that brought back whiskey pride to the birthplace of the Whiskey Rebellion is taking another step toward spreading the traditions of Pennsylvania distilling.
Wigle Whiskey
is seeking to start an interactive whiskey museum here in Pittsburgh, adding to their mission of reigniting interest in the rye whiskey heritage of Western Pennsylvania.
"It's time to reclaim our place in whiskey history," Wigle co-owner Meredith Meyer Grelli said to a small crowd at the Wigle Whiskey Barrelhouse in the North Side yesterday.
Grelli said that while Kentucky and the Bourbon Trail get most of the attention when it comes to whiskey heritage in the U.S., Western Pennsylvania actually deserves most of the credit for popularizing the spirit in America. After all, following George Washington's quashing of the Whiskey Rebellion in Pennsylvania in the late 1700s, many distillers moved to Kentucky, where they created Bourbon shortly after.
The Whiskey of America Museum, or WAM!, will include exhibits on whiskey's history in America, cultural displays detailing the spirit's rise in popularity, do-it-yourself cocktail stations, and interactive exhibits that engage visitors in the science behind distilling. Grelli says that the
Pittsburgh community will be an integral part
of the process, and local artists, scientists and
makers will contribute
to the museum. Chris Moehle, of the Robotics Hub, a Carnegie Mellon University-General Electric collaboration, says the group has plans to create and showcase a robot for the museum that will automate the malting process of making whiskey.
"It's going to be like a kids museum for adults, with alcohol," says Grelli.
A bottle shop and tasting room will accompany the museum and will feature local spirits, beer, ciders and wine for sale. The museum site will also serve as the trailhead for the new Rye Whiskey Trail, which will stretch from Pittsburgh to George Washington's historic estate Mount Vernon, just south of Washington, D.C., following the Great Allegheny Passage and C & O Canal Towpath bike paths.
Many regional and national groups have already signed on to help create the museum, which Grelli emphasizes isn't a Wigle museum, but a whiskey museum. A 16-member committee has formed and includes representatives from the Smithsonian Institute of American History, Heinz History Center, George Washington's Mount Vernon, Allegheny County Economic Development and Pittsburgh City Councilor Dan Gilman.
Wigle is contributing $250,000 to the project and is hoping to raise an additional $35,000 via a
Kickstarter campaign
. Pledges to WAM!'s crowdfunding campaign come with prizes like t-shirts, party invites and even engraved mini oak barrels. Grelli says the museum will start as a pop-up at a to-be-determined location in Downtown this November. Then they hope to find a permanent location somewhere in Pittsburgh that could open sometime in 2018.