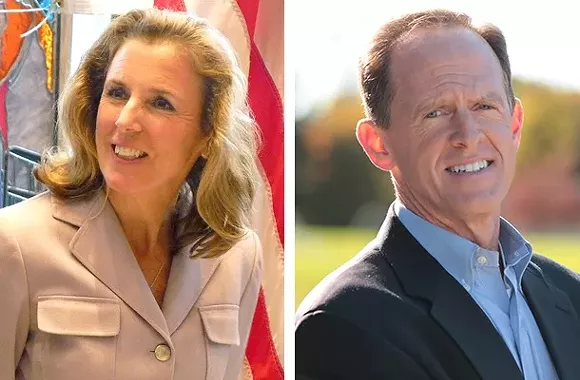 Democratic U.S. Senate candidate Katie McGinty and current Republican Sen. Pat Toomey have agreed to duke it out in two debates. McGinty has agreed one in Pittsburgh, to be broadcast on KDKA, and another in Philadelphia, on WPVI. Toomey's campaign spokesperson Ted Kwong says while the Senator looks forwarding to debating in those cities, he has not officially agreed to participate on those channels.
And Toomey wants more debates, and in locations outside of Pennsylvania's two biggest cities.
"We certainly support having debates in Philadelphia and Pittsburgh, but why is Katie McGinty stopping at two?" said Kwong in a press release on Aug. 14. "Why is she unwilling to debate in Scranton, Harrisburg or Erie? Maybe it's because she can't defend her liberal pro-tax, weak-on-national-security record."
No announcements have been made about additional debates in other Pennsylvania cities, but McGinty's campaign says the two agreed-upon debates should be simulcasted and made available to other markets in the state. (Additionally, the last time Toomey was in a general-election race in 2010 against retired Navy admiral Joe Sestak, the two also debated twice — in Pittsburgh and Philadelphia.) McGinty accepted invitations to the debates first, on Aug. 12, and issued a challenge to Toomey last week.
"After months of Pat Toomey ducking and dodging from questions about his pro-Wall Street economic policies and his loyalty to Donald Trump, Katie has decided that enough is enough. That's why she's challenging Pat Toomey to two major televised debates that will be seen by Pennsylvanians all across the commonwealth," said McGinty campaign spokesperson Sean Coit in a press release.
And while Toomey, like Trump, has made immigration and attacking "sanctuary cities" key to his campaign, he has shown little loyalty or support for Trump. Toomey
endorsed Florida's Sen. Marco Rubio
for president during the primary elections, before vowing to support whomever the Republican presidential candidate would be. As of today, Toomey has yet to give official support or an endorsement to Trump. Toomey and Alaska's Lisa Murkowski are the only Republicans seeking re-election to the U.S. Senate who have not firmly decided on endorsing Trump.
Trump's recent falling in the polls may be having adverse affects on Toomey, regardless of whether the Pennsylvania senator chooses to endorse the Republican presidential candidate. Since winning the Democratic primary in April, McGinty had been even or behind Toomey in most polls. Now, McGinty has taken the lead. Four polls published in the last couple of weeks show McGinty ahead, with the latest
Quinnipiac polls
showing her up three points against Toomey, 47 percent to 44 percent. McGinty also recently received support from former
political rival Braddock Mayor John Fetterman
, who announced he would be campaigning with McGinty last week.
This ongoing bickering between the McGinty and Toomey could provide for some interesting arguments at the debates, which could include hot-button issues like the economy, the
Supreme Court
and
immigration
. (And it will probably be less
bizarre than what we see on TV ads
about the Senate hopefuls.) Dates and times for debates have not been announced.