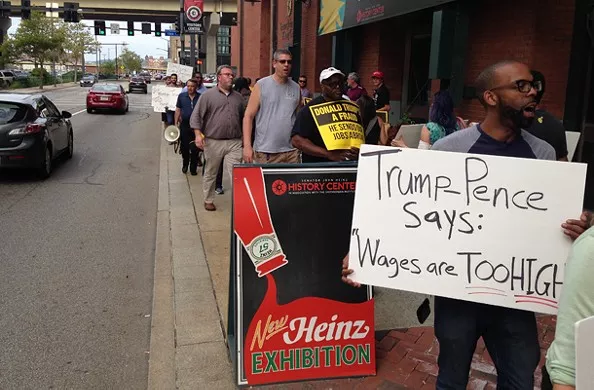 When Gabe Kramer thinks of the Donald Trump-Mike Pence ticket, it isn't just the possibility of
Trump as president that scares him
. Kramer, a labor organizer with Service Employees International Union Healthcare, was born and raised in Indiana, and most of his family still lives there. And for him, Indiana governor and Republican vice-presidential nominee Pence's track record is just as scary.
"Mike Pence is the ideal ambassador for the dangerous policies of Trump," says Kramer. "We can't have that in Pennsylvania or anywhere else in America."
Yesterday, Pence visited Pittsburgh and spoke to about 200 attendees at the Heinz History Center, in the Strip District. Before the event, a group of 30 protesters, including Kramer, rallied outside the facility to protest the new Trump-Pence economic plan.
Kramer told the crowd they should be wary of Pence's record in Indiana. "He helped push through laws that took away rights from workers," said Kramer, who referenced a
Washington Post article
alleging that Pence's policies on education have contributed to a teacher shortage in Indiana.
"Currently, Indiana can't find anyone who wants to teach there. Why would you want to teach when you have no rights?" Kramer said to the crowd.
Austin Davis, vice chair of the Allegheny County Democratic Party, also spoke. Davis criticized the Trump-Pence plan and how the Republican candidates claim that plan will help the working class. He questioned how the working class would benefit from candidates who believe the minimum wage is too high.
"Take a hike, their plan doesn't sell here," Davis said to the crowd.
After the speeches, the crowd marched in a moving picket line directly in front of the entrance to the event. Attendees were forced to navigate through the crowd, while chants of "take a hike" were shouted by rally-goers.
While several attendees navigated the line — some with a bit of difficulty — they were not the only ones disrupted by the protest. A man waiting outside the circle said, "Man, I just wanted to play Pokemon." He showed
Pittsburgh City Paper
that there was a
Pokemon Go
gym right in the middle of the picket line.