If you'd like to see your work staged for radio (and no, that's not an oxymoron),
Bricolage Production Company
has an opportunity for you.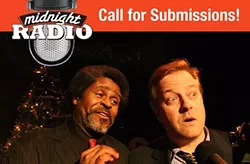 The company, known for its
Midnight Radio
shows, is accepting submissions of original 15-minute radio plays to be produced as part of its holiday variety hour this December, at Bricolage's Downtown theater space.
No prior radio writing experience is necessary. The scripts should be family-friendly, related to the winter holidays (from Christmas, Hanukkah and Kwanzaa to Festivus) and include dynamic sound effects. (Midnight Radio shows are
staged for live audiences
and not necessarily broadcast; part of the fun is watching performers come up with the appropriate sound effects live on stage.)
The scripts should be 15 to 20 pages long and be a single episode (not a cliffhanger) written for four actors. Also, Bricolage notes, "funny is a plus" and "relevance to Pittsburgh is a plus." One possible model is the company's 2015 show
Yinz'r Scrooged
.
The deadline is Sept. 1. Submit to submissions@webbricolage.org.
Two plays will be selected for production, and each writer will receive a stipend of $200.
The complete call for submissions follows the jump.
Be a part of Midnight Radio!

Bricolage Production Company is seeking submissions of 15-minute radio plays for their Midnight Radio holiday variety hour. The company is accepting scripts from August 1-September 1. No prior radio writing experience required. Looking for dynamic and diverse stories that adhere to the following criteria:
Must be:
Family friendly (we always try to make our holiday show a family affair since our Halloween episodes are inappropriate for sensitive ears)
Related to winter holidays (Christmas, Kwanzaa, Hanukkah, Hogmanay ,Festivus, etc)
Funny is a plus (not a requirement, but we do find that our audiences appreciate a laugh at this time of year)
Include dynamic sound effects (Midnight Radio is a largely aural experience, so put some concerted thought into the soundscape of your story)
Between 15 and 20 minutes in length (roughly 15-20 pages)
A single episode (not a cliffhanger)
Written for 4 actors (actors can/should play multiple characters, just make sure the characters are distinct enough when doubling up)
Have a beginning, middle and end. (playwriting 101)
Relevance to Pittsburgh is a plus (we love our hometahn!)
Have characters who don't all look alike (meaning let's include a broad range of humans!)
Can be a parody of a classic holiday tale (Think Yinz'r Scrooged)
Bricolage will select 2 plays for inclusion in the final episode of the 2016 Midnight Radio season. The show will run December 1-17. Writer maintains all rights to the material and will receive credit in the program, as well as in various marketing materials. Writers will also receive a stipend of $200 for their selected play. Decisions on the selected plays will be made by mid-September.
The skinny: Submit your 15-minute radio play to submissions@webbricolage.org by September 1 to be considered for inclusion in Midnight Radio Season 8 Episode 2.