Iyad Burnat
, who heads a group that protests restrictions on the rights of Palestinians in Israel and the West Bank, gives two talks here next week. His visit is organized by the Pittsburgh BDS Coalition, part of an
international movement
that argues for boycotting, divesting from and sanctioning Israel to protest its treatment of Palestinians.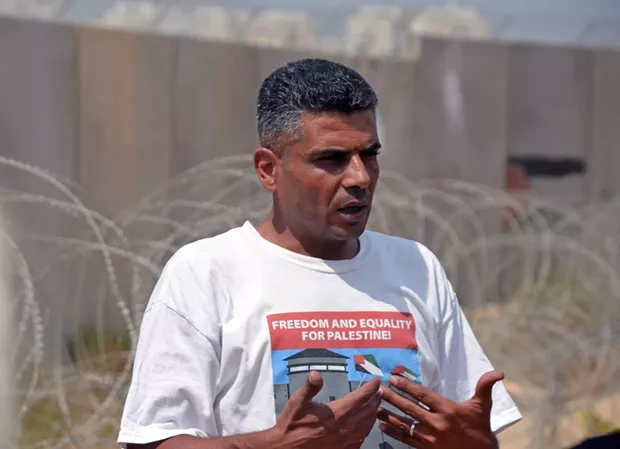 Burnat's
Bil'in Popular Committee
, formed in 2005, has been joined by Israeli and international peace activists in "weekly nonviolent demonstrations against the Israeli separation wall and the encroachment of illegal settlements," according
a Facebook page
for Burnat's Pittsburgh appearances.
The demonstrators "have maintained a commitment to nonviolent resistance in the face of armed military opposition." The demonstrations were documented in
Five Broken Cameras
, the Oscar-nominated 2013 documentary by Emad Burnat, who is Iyad Burnat's brother.
Iyad Burnat was imprisoned for two years by the Israeli military, at age 17, and has since been arrested and imprisoned several times.
He will speak here twice. This Sunday's
event
at the
Thomas Merton Center
, co-hosted by
Jewish Voice for Peace
, runs from 4-6 p.m. and includes a potluck supper. The 7 p.m. Mon., Aug. 1, event is an
author talk and discussion
at the
Big Idea Bookstore and Cooperative
.
His topic will be stories of Bil'in and life in the occupied West Bank, and strategies for nonviolent popular resistance with the goal of peace and prosperity for all
An RSVP is appreciated but not necessary. RSVP to BDSpittsburgh@gmail.com.
The Thomas Merton Center is located at 5129 Penn Ave., in Garfield.
The Big Idea Bookstore is located at 4812 Liberty Ave., in Bloomfield.