10:36 p.m.:


10:30 p.m.:




10:09 p.m.:


9:45 p.m.
By Charlie Deitch
Nerds come in all shapes and sizes and each one has the object of their nerdness. I've seen superhero nerds (everyday in the mirror); I've seen computer nerds; video game nerds and sci-fi nerds (Han Solo dies! Han Solo Dies). But
CP
's Ryan Deto may be the first Howard Dean nerd I've ever encountered:
9:09 p.m.:


8:54 p.m.:
When words can't capture the excitement...Say it with GIFs
8:30 p.m
.:
7:20 p.m.
After Hillary Clinton officially received the Democratic nomination for president,
CP
's Ryan Deto reports that Bernie Sanders delegates crowded the media tent, saying "we are not ok" with the nomination. "This is about the lack of media holding the DNC accountable," South Carolina delegate Michele Horne says.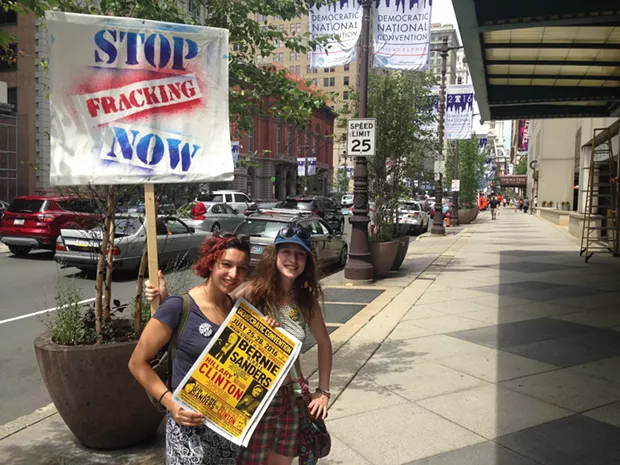 4:00 p.m.


Pittsburgh City Paper
spoke to two young Bernie Sanders protesters, who came all the way from eastern Michigan to be a part of the commotion at the Democratic National Convention in Philadelphia this week.
"We are here to solve the problems of our young generation," said Eliza Tremblay, a student at Eastern Michigan University. "We want to focus on women and minority rights and the environment."
Tremblay and her friend Amanda Mayer, say they reject the idea that all people supporting Sanders or Green Party presidential candidate Jill Stein have to now pledge to vote for presumptive Democratic presidential nominee Hillary Clinton.
"The only wasted vote happens when you don't vote," said Tremblay.
The two students were on their way to a climate change protest in Center City. Mayer said that Philadelphia has been a good host and a fair place to have her voice heard.
The only problem they have had, which is one of the most stereotypically Philadelphia problems of all: they got a parking ticket.
So before they continued on to the rally, they remembered to fill the parking meter.

1:30 p.m.
From Ryan Deto
: Today, Allegheny County Executive Rich Fitzgerald spoke to delegates at a luncheon at the DoubleTree Hotel.
12:30 p.m.
Interview with Beaver County progressive
By Ryan Deto


On a night full of some inspiring speeches (New Jersey Sen. Cory Booker and First Lady Michelle Obama) and some duller addresses (Massachusetts Sen. Elizabeth Warren), the most controversial issue ended up coming from comedian Sarah Silverman.
Silverman has been a long-time supporter of former presidential candidate and Vermont Sen. Bernie Sanders, but said to the "Bernie of Bust" people in the crowd: "You are being ridiculous."
And Silverman's not the only one. Along with calls for unity and her endorsement of presumptive Democratic presidential nominee Hillary Clinton, some other southwestern Pennsylvania Sanders supporters seem to be moving on from any "Bernie or Bust" notions.
Tina Shannon, a Progressive Democrats of America chapter leader from Beaver County, said she and her group will be pivoting away from the candidates and focusing on the issues in the run-up to the general elections in November.
"It is about the issues, that has been my experience," said Shannon.
Shannon is a Sanders supporter and her husband is a Sanders delegate. She expressed some disappointment in Sanders losing out on the nomination, but praised some of the more progressive parts of the Democratic party platform.
"We are gonna take the Democratic platform and take the progressive message to Beaver County and the 12th congressional district," said Shannon. (Pennsylvania's 12th U.S. Congressional District is currently held by Republican Keith Rothfus, but he faces a challenge from Democrat Erin McClelland come November).
Shannon said she has had success over the years convincing many older, white and labor-friendly residents to support progressive causes and expects to do even better this year.

11:30 a.m.
Pre-Convention News Roundup
By Rebecca Addison


Day two of the Democratic National Convention is underway. While today's schedule promises to be packed, last night's speakers lineup, which included
First Lady Michelle Obama and U.S. Bernie Sanders
, will be difficult to top.
"Tonight's convention confirmed that progressives have achieved a major victory in shifting the center of gravity in the Democratic Party. Elizabeth Warren, Bernie Sanders, and others showed the nation tonight that Democrats are unifying around big, bold progressive issues. After years of hard work, the party's center of gravity has shifted to a bold, progressive agenda that includes debt-free college, expanding Social Security, $15 minimal wage, public option and Wall Street reform," Kait Sweeney, press secretary, Progressive Change Campaign Committee said in a statement last evening.
Tonight will include appearances by President Bill Clinton, actress Meryl Streep, and former U.S. Secretary of State Madeleine Albright. But for Pittsburghers, one of the highlights will be Pittsburgh Police Chief
Cameron McLay
who will be speaking during the social justice portion of the evening.
According to a statement issued by the city: "Chief McLay is tentatively scheduled to address the DNC sometime between 8-9 p.m., and speak on Pittsburgh's efforts to adopt the best practices community policing. In March 2015 Pittsburgh was chosen as one of six cities nationwide to participate in the U.S. Department of Justice's National Initiative for Building Community Trust and Justice. The initiative's goal is to improve relationships and increase trust between communities and the criminal justice system, as well as to advance the public and scholarly understandings of the issues contributing to those relationships"