11:10 p.m.
From Ryan Deto:
And now for the main event, former Hillary Clinton opponent Bernie Sanders has taken the stage. "Based on her ideals, Hillary Clinton must become the next president of the United States," Sanders said.
10:45 p.m.
From
Ryan Deto
:
Fan favorite, U.S. Sen. Elizabeth Warren addresses audience at Wells Fargo Center.
10:10 p.m.
From
Ryan Deto
:
First Lady Michelle Obama has taken the stage.
9:20 p.m.
From
Ryan Deto
:
comedian Sarah Silverman, a longtime supporter of former presidential candidate Bernie Sanders, is calling on Sanders' supporters to vote for Hillary Clinton.
8:45 p.m.

From
Ryan Deto
: U.S. Sen. Bob Casey (D-Scranton) is at the podium during night one of the DNC.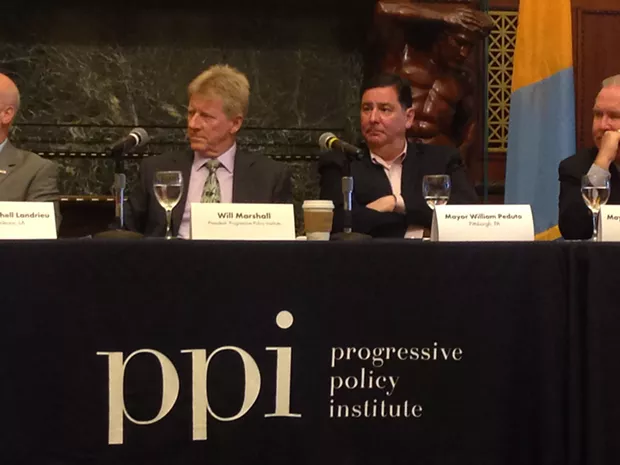 8:15 p.m.
Pittsburgh mayor Bill Peduto says next president will shape Pittsburgh's future
By Ryan Deto
At a meeting of Democratic mayors from across the country, Pittsburgh mayor Bill Peduto spoke about the future that cities will play in shaping our nation. Peduto was praised by other city leaders for his idea to use Section 8 housing vouchers to help low-income residents purchase homes.
When asked about future support from the federal government for cities like Pittsburgh, Peduto said the difference between a Donald Trump presidency and a Hillary Clinton presidency would be "night and day"
"One wants to invest in people, in cities, in programs, and believes that government has a role in making people's lives better, and the other is Donald Trump," said Peduto. "There is a very big disconnect that I worry about."
Peduto said there is a nonprofit in Pittsburgh seeking funding, and he could only promise them one year of funding because of uncertainty over who the next U.S. president will be. Some federal grant programs could be eliminated under Trump.
His message to Pittsburgh voters: be involved. "I am not gonna say who they should support, but look at the whole picture," Peduto said. "How will we advance as a group and how will we be perceived by he rest of the world."


4:15 p.m.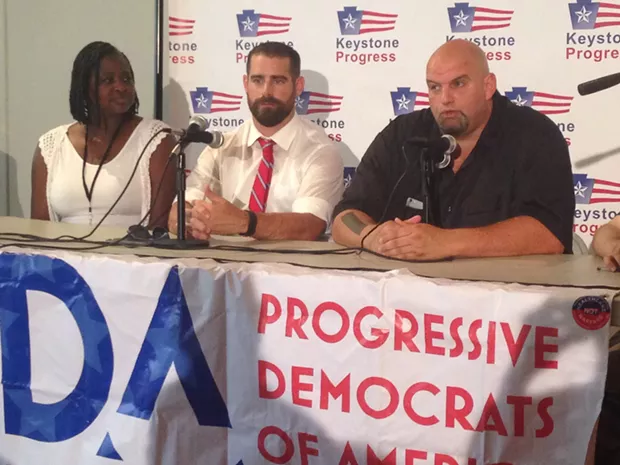 3:30 p.m.
Braddock mayor John Fetterman urges Western Pennsylvanians to vote for Clinton
By Ryan Deto

At a panel discussion for Keystone Progress, a statewide progressive political group, Braddock mayor and former U.S. Senate candidate John Fetterman said not supporting presumptive Democratic presidential nominee Hillary Clinton is a de facto vote for Republican presidential nominee Donald Trump.
"We have to defeat Donald Trump," said Fetterman. "If you are not going to vote for Clinton, you might as well fit yourself for a 'Make America Great Again' cap… If you have been thinking about voting for anyone other than Hillary Clinton, you are playing Russian roulette with your country's future. It is just that straight-up simple."
At the discussion today, Fetterman spoke to the many progressives and Democrats voting for a third party in the presidential election. The event was part of Keystone Progress' participation in the Democratic National Convention in Philadelphia.
Earlier this month, Fetterman officially backed Clinton, and said he got some "chin music" for the endorsement, considering his early endorsement of Vermont U.S. Senator Bernie Sanders in the primary elections.
Some in the crowd of 30 indicated that they would be supporting Green Party presidential nominee Jill Stein, since their first pick, Sanders lost out to Clinton in the primary elections. Fetterman urged them not to waste their vote, because of the potential chaos that could erupt if Trump were elected and since, he said, Clinton and Sanders are not different enough to justify a third party vote.
"Sanders and Stein agree on 99 percent of policies, but Clinton and Sanders are like 91 percent compatible," said Fetterman. "You want to throw away your vote for 8 percent?"
Fetterman says Trump's support in many Western Pennsylvania towns is growing. "I see three Trump signs for every one Clinton sign in Western Pa," he said. He says many communities in the region have struggled over the decades and could be wooed by Trump's claims to bring steel and heavy manufacturing jobs back.
"If you are thirsty in a mirage, you will drink the sand," said Fetterman. "And Donald Trump can have a seductive quality because he says he is going to bring steel back and going to bring coal back. And nobody likes the economic misery that has visited that part of state, but the answer isn't Trump."
He urged voters not to fall for the lure of Trump because he is already seeing many communities start to improve economically. But he also said that Trump's visit to Monessen, Pa. should have been a wake up call for the Democratic Party to pay attention to the region. Fetterman said he is at the Clinton campaign's service to deliver Western Pennsylvania for the Democrats.
And Fetterman could have some sway among Western Pennsylvania counties, considering he won Allegheny County in the Democratic U.S. Senate primary elections and also performed very well in other surrounding counties.
Fetterman also commented on the resignation of DNC chair and U.S. Rep. Debbie Wasserman Schultz with humor. "Glad to see she finally listened to my campaign," he joked. (Fetterman called for Wasserman Schultz to resign because of her legislative support for payday loans.)
Fetterman also believes that Wasserman Schultz's resignation will help unify the democratic Party. "It can help the party heal and come together," he said.

1:15 p.m.
Conversation with Alyson Kennedy, Socialist Workers Party presidential nominee
By Ryan Deto
Outside of Philadelphia city hall, surrounded by pro-immigration activists and a group of former presidential candidate Sen. Bernie Sanders' supporters, a lesser-known presidential nominee pleaded her case today.
"The reason I am campaigning is because there has been an assault on the working class," said Alyson Kennedy, who is running for president on the Socialist Workers Party ticket.
Kennedy grew up in Indianapolis, Ind. and has worked to desegregate schools in Louisville, Ky. and also with coal miners in Utah and West Virginia.
She says that workers rights are tied to immigrants rights, since many immigrants work in fields that would benefit from labor supports.
"We should view [immigrant] workers as our brothers," said Kennedy.
Kennedy said removing the capitalist system from our economy will benefit workers and that "working people are the ones creating the wealth" in the United States.
In reference to the coal industry, Kennedy said coal mining could be brought back and provide electricity to third-world areas that don't have electricity. When asked about the effect on the environment, Kennedy said that better "scrubbers" could be used to clean plants and that increased investment could also lead to expansion of clean coal.
Kennedy will be visiting western Pennsylvania and meeting with coal miners in the run up to the presidential election.

12:13 p.m.:




11:27 p.m.:
Pennsylvania Senate Candidate Katie McGinty to speak at DNC Thursday
By Charlie Deitch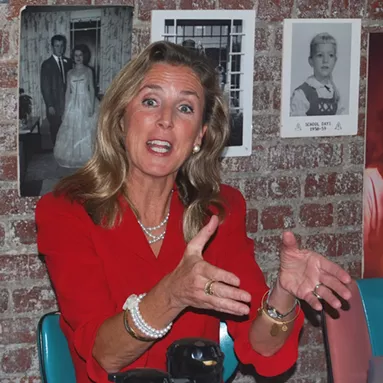 Pa. Democratic Senatorial candidate Katie McGinty's campaign has announced that she will address the Democratic National Convention Thursday night in her hometown of Philadelphia.
According to to a release McGinty said:
"I am excited and honored to have the opportunity to address DNC delegates and the nation at the Democratic National Convention on Thursday evening," said McGinty. "This year's Democratic National Convention is particularly special for me since it is taking place in my hometown of Philadelphia, a city that represents the values that make our country great: diversity, equality, hard work, and caring for each other. I look forward to highlighting the clear choice facing voters in this election between the Democratic vision of expanding opportunity and bringing people together versus the divisive, anti-middle class policies championed by the Trump-Toomey ticket."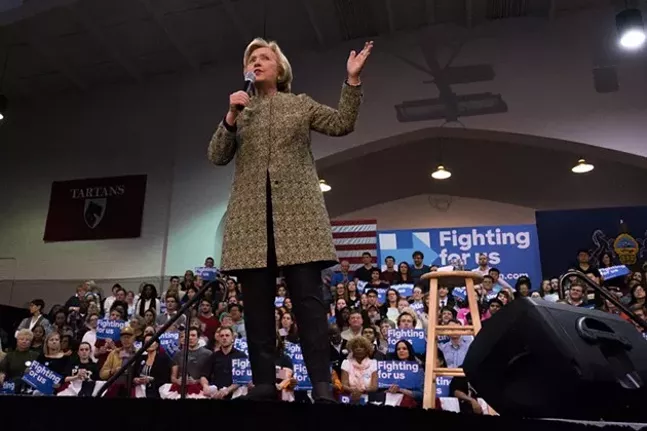 10:a.m.:
Pre-Convention News Roundup

By
Charlie Deitch
City Paper
will be live in Philadelphia all this week starting today with staff writer Ryan Deto, who is driving across the state as we speak to attend Day one in Philadelphia.
Today's major news is of course the fallout from the release of 20,000 emails by Wikileaks from the email servers of the Democratic National Committee. The
emails outline a lot of things
including the party's active attempts to discredit Bernie Sanders' campaign, when they were supposed to be neutral. At one point they plotted to attack the fact that Sanders is Jewish. So while Sanders' endorsement of Clinton a few weeks a go was meant to create smooth sailing at the convention, his supporters are up in arms and
protested yesterday, a day before the convention
.
The email leak has resulted in the end of Debbie Wasserman Shultz's five-year run as DNC Chair.
Wasserman Schultz resigned Sunday
under
pressure from the party
to do so. Wasserman Schultz will step down after the convention and she is being permitted to gavel in the convention at 4:30 p.m. However, not everyone, or possibly anyone is excited to see her still around. Speaking to delegates from her home-state of Florida this morning, Wasserman Schultz was heckled and booed.
The controversy isn't something the Clinton campaign needed, especially after Republican Donald Trump's huge bounce in the polls on the heels of the RNC.
Trump has taken the lead over Clinton
in national polls.
It was a rough weekend for Clinton, who on Friday
named VirginaSen. Tim Kaine
as her running mate. More than one media outlet called Kaine, Clinton's "
safe choice
." Kaine is a moderate when many in the party's more liberal base had hoped she'd pick someone a little more left of center. As expected, Trump began attacking Kaine on Meet The Press this Sunday and Poltifact has already rated all of his claims against the Senator
false or worse.