11:06 p.m.


10:50 p.m.


10:44 p.m.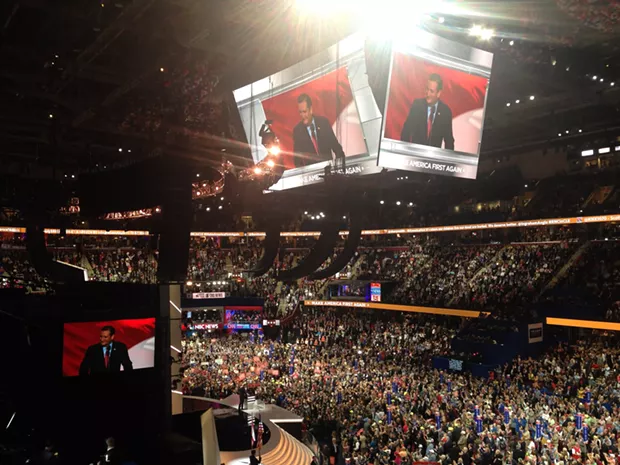 From Reporter Ryan Deto:
Texas U.S. Senator and former Republican presidential candidate Ted Cruz did not give an endorsement to Donald Trump.
Cruz congratulated Trump on winning the nomination at the start of his speech, but did not mention Trump during the rest of his 20 minute talk.
Members of the crowd were even shouting "Endorse Trump!" But, Cruz didn't give in to their demands. "Vote for candidates up and down the ticket who you trust and are faithful to the [U.S.] Constitution," said Cruz, but did not say to vote for Trump.
Cruz, ironically, mentioned Republican Party unity a few times in his speech.
Former U.S. Speaker of the House Newt Gingrich attempted to cover up for Cruz.
"Ted Cruz said that voters should vote [for those] faithful to the Constitution, and the only nominee who will be faithful to the Constitution is Donald Trump."



10:35 p.m.
Ted Cruz be like:
10:29 p.m.

10:15 p.m.
News Editor Rebecca Addison is passing the time outside the RNC in Cleveland with a little Pokemon GO.
10:11 p.m.

10:08 p.m.


9:40 p.m.


9:30 p.m.
From Ryan Deto:


The first speakers on night three of the Republican National Convention was a mix of fiery orators and inexperienced novices in support of Republican presidential nominee Donald Trump.
Laura Ingraham, a popular conservative radio host, took on a Trump-like demeanor and pandered to the crowd. The crowd roared when she insulted the media and the presumptive Democratic presidential nominee Hillary Clinton. "Hillary Clinton believes that there is a government solution to every problem. No Hillary, you are the problem," said Ingraham.
Ingraham even included a tangential joke and insulted men who wear skinny jeans and keep their hair in "man buns."
However, other than the energy expounded by Ingraham, many of the speakers did not give a boost to the thousands in attendance. Businessman and developer Phil Ruffin rambled on and praised Trump for "paying his bills on time."
Michelle van Etten, of Women in Business for Trump, which formed less than two months ago, appeared to not have much public-speaking experience. She struggled to look at the audience while reading the teleprompter.
But a motive for many of these inexperienced speakers seemed evident. Three of the five speakers were from Florida, which could be a key swing state in the general election this November.


9 p.m.



8:03 p.m.



7:55 p.m.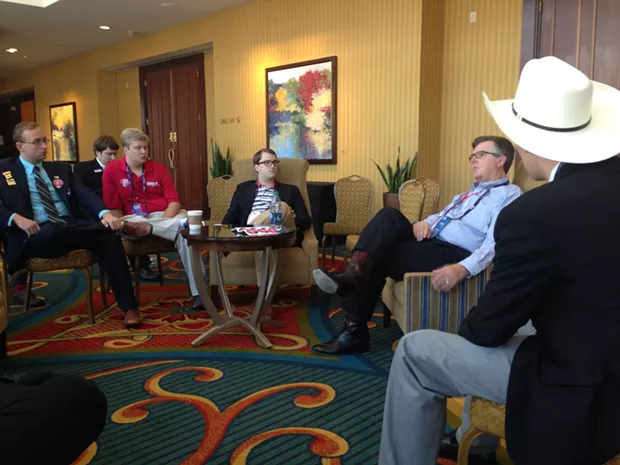 Texas Lt. Governor Dan Patrick says GOP will die if Hillary Clinton is elected
By Ryan Deto

At a meeting of members of the Young Republicans Caucus at the Downtown Cleveland Marriott, the message from established Republicans to youthful GOP members was clear: desperation. "If Hillary [Clinton] wins, you may never have another chance," said Texas Lt. Governor Dan Patrick in terms of seeing the Republican Party survive.
Many on both sides of the aisle have made this claim since Republican Presidential Candidate Donald Trump won the nomination by using what his allies have called straight talk but most others have labeled as hate speech toward immigrants and Muslims and focused on what some would consider progressive trade policies. But Patrick believes the end of the Grand Ole Party will come because of voter fraud that would apparently occur if presumptive Democratic Presidential nominee Hillary Clinton wins the White House.
"Voter fraud will be an institution," said Patrick.
Patrick didn't hide his skeptical feelings about the voting process either. He told a story of when he was running for office and how he made sure not to focus on increasing voter turnout. "I don't want to increase voter turnout unless they vote for me," said Patrick. (In the last primary elections, Texas had the second lowest voter turnout rates of any other state; around 80 percent of adult Texans did not vote.)
This confession came at the same time Patrick twas told by some of the young Republicans that many of them were looking for a candidate other than Trump. He responded to the group that voting for one side or another is "not about people, but about principles."
But some of the younger speakers at the gathering said they were focused on getting more young people to join the Republican Party and convincing youth to get involved in government. In fact, one delegate from Arkansas talked about making the party more inclusive and creating participation across all demographics.
"We need to reach out to minority communities," said Daren Waddles of University of Arkansas Little Rock Young Republicans. "We know there are those in the black community who share our values."




7:00 p.m.

Today was a lucky day for Oklahoma delegate John Roberts. He purchased the last pair of Reagan Bush cufflinks from the Freedom Marketplace at the RNC.
"I grew up in the Reagan Era. That's who I saw on TV and it was a very formative experience for me," Roberts says. "So there's a real sense of nostalgia attached to these."
You can't take two steps in the marketplace without tripping over Reagan merchandise. The former Republican president, who has been elevated to sainthood by many in his party, can be found on t-shirts, lapel pins, framed memorabilia and, of course, cufflinks.
"Reagan's usually the favorite," says Jonathan Toler who was running the All Pro Classics booth. "We obviously try to go with items that feature whoever the candidate is and other fan favorites."
But while traditional merchandise is popular at conventions, other vendors are keeping up with pop culture trends. At the Future Female Leaders booth, you can find a t-shirt with a picture of the founding fathers above the words "squad goals."
FFL is aimed at increasing female leadership in the Republican party. And with merchandise like elephant-print dresses and skirts, and a t-shirt that reads "girls just want to have guns," it's clear the group is putting a Republican spin on the fashions currently being marketed to young women via social media sites like Instagram.
"We're a social movement for young conservative women," says Victoria Feldmeier, a Pittsburgh-area native who was working at the FFL booth. "Our merchandise is a little sassy, definitely conservative. We promote being a conservative woman in a world where that's often viewed negatively."
4:50 p.m.
From: News Editor
Rebecca Addison
:
Less than an hour ago, a protest near the entrance to the RNC drew a swarm of police after opposing groups clashed when one tried to burn the American flag.
But down the street at an art installation at the 5th Street Arcades, the mood has been much calmer. Vote for The Good Life is a non-partisan art installation aimed at reducing tension between the opposing political factions involved in this month's conventions.
"We aim to emphasize the common ground between the two parties, which is that we all want the good life," says Sofia Seidel, an organizer. "We feel that dialog needs to come from a place of understanding our common ground."
And so far, organizers say it's been working.
The United Nations has identified health; education and skills; fair, honest, responsive government; protection; clean environment; food and water; freedom; jobs and income; social connections; exposure to arts and culture; and housing and transportation as quality of life indicators. Participants at the installation are asked to play a game or dialog around these "good life" indicators.
"We had this really avid Trump fan," Seidel says. "We asked him to do a dialog with one of our artists who is very blue, very Democrat. When [the Trump fan] left he said 'I think you guys tricked me; I feel like I made a friend.'"
4:46 p.m.:


4:40 p.m.


From Multimedia Editor Ashley Murray:


Legal observers make sure police action lines up with protesters' First Amendment rights
As protesters bring their views to the streets, and police are charged with making sure they can assemble peacefully, there is another level of security protecting them — legal observers.
Throughout Cleveland this week for the Republican National Convention, several legal observing groups are watching to ensure that the law enforcement do not break First Amendment laws. Among them are the dozen Amnesty International team members in neon yellow shirts.
City Paper
ran alongside Amnesty International's Eric Fererro and asked questions as he and other observers watched police surround a spontaneous and tense crowd at 9th and Superior.

What are your observers watching for right now?
What our observers do is they monitor and make sure people are able to protest peacefully. So the're watching how police respond to the protest, where officers are, where equipment is being set up, we go to both the sanctioned events that people have permits for as well as spontaneous protests that we learn about through social media and other monitoring, and try to monitor as many of the protests and events that we can.
Has your team contested any police action in Cleveland this week?

So far what we've observed is by and large peaceful protests and by and large police acting appropriately to protect the right to protest peacefully, whatever you view may be. When we do see things that are questioning or concerning, the observers gather follow-up facts and information about it. So we have a couple of individual situations where we're still doing that. For example, a possible arrest [Monday] that we're still following up on to understand the circumstances around it.
At this point, he told me we had to run. Listen to the audio below of the Amnesty International legal observers running after protests in Cleveland. As we ran, Fererro continued explaining the situation.
City Paper runs along Amnesty International legal observers.mp3
You'll see what happens is we move quickly to get into situations and then we stay at a safe distance to observe. They take notes, they document, they do audio notes, they take pictures, they take video and then all of that gets recorded as part of the observations. Then they'll piece that together with other observer teams and so we'll stuff from different points of view.
You have 12 observers in Cleveland? Are they all here?

There's also other protests going on right now. Sometimes we'll have multiple teams at one protest, sometimes we'll have teams farmed out across different protests.
Have you contributed information about questionable police activity at protests in the past?

We had observers in Ferguson and Baltimore during some of the unrest there following police shootings. And then of course around the world. We've had observers in Egypt when the Arab Spring protests began for example.
What is an example of good police practice in protest situations?

You want police to have a presence so that they're protecting the safety of everyone. You don't want them to have an overbearing presence so that people's right to speak and their ability to come together and voice an opinion is chilled or more inhibited. For example we've seen police on bikes going back and forth around some of the public squares during the protests. That is a good practice, that they keep a presence up but it's not overwhelming or chilling. We saw earlier in the public square a bit ago police essentially form a line down the middle of the square so that these two kind of opposing groups of protesters could continue to protest, but it wouldn't escalate into violence. That kind of deescalates without dispersing a crowd. Allowing all that protest to happen, people with all kinds of views being able to co-exist, that's a good example
What is a bad example?

A bad example would be an order of dispersal too early. An order of dispersal when they could've maintained peaceful protest in other ways. And of course you get into how they order a dispersal. Do they give enough notice for people to leave after they order it? Do they use any kind of reagents like tear gas or that sort of thing? If so, that has got to be a last resort.
CP followed up with Ferrero this afternoon, and he says his observers are questioning the dispersal of the crowd once the protest moved to 9th and Lakeside avenues.

4:34 p.m.

From Billy Ludt:

A Republican National Convention occupation is taking place at Goodrich-Kirtland Park, outside of Downtown Cleveland, Ohio. The space is located next to an airport, off of Interstate 90, opposite Lake Erie.
Around 40 occupiers have set up camp on the grounds, hailing from separate parts of the country. The trees and playground equipment in the park is adorned in proper fashion, most noticeable is a sign hanging from the park's jungle gym, reading "Occupation of the RNC."
"What we are doing here is not camping; we are occupying," says occupier Coulter Loeb.
Representation from both pro and anti-trump and various religious ideologies are set up at the park, in light of the protesters' and occupation's low turnout.
"There wasn't too much organization of people trying to come together," says occupier Coulter Loeb.
Despite the conflicting ideologies and heated demonstrations taking place two miles away in downtown's Public Square, conversations have been peaceful in the park. Loeb says occupiers stayed up until 3 a.m. today, discussing various views. Last night, a talent show was organized and held in the park, and occupiers put their personal talents on display.
Operations at Goodrich-Kirtland have not all been smooth.Cleveland designated Goodrich-Kirtland an open space for demonstrations, but Secret Service has prevented occupiers from having access easy access to electricity.
"I have been relying on other friends to find out what's happening at the convention center," says Loeb. Communication between Loeb and medical or legal consultation has been cut off as well due to the lack of electricity, running through two 10 amp batteries in the time he's been in the park.
"People were kind of skeptical about even camping in the park," says occupier Greg Clark.
The skepticism came from the police and armed Donald Trump supporters currently in Cleveland.
Clark said he and others made their way to Cleveland after attending the Rainbow Gathering in Vermont.
"This guy walked up a little bit ago, and he put it best by saying like, 'Y'know, cops is like this:" and John, an occupier, who wished to withhold his last name, held his arm straight up, hand flat. "'Now the reporters is like this:'" his hand now at eye level. "'And the amount of people here that are actually protesting is actually like this:'" moving his hand to the ground.
Members of the RNC occupation plan to make their way to Philadelphia next week to protest the Democratic National Convention. Protesters are planning to converge and pool together supplies for the trip out, but a meeting place has yet to be determined.


3:38 p.m.:


3:20 p.m.:




2:30 p.m.: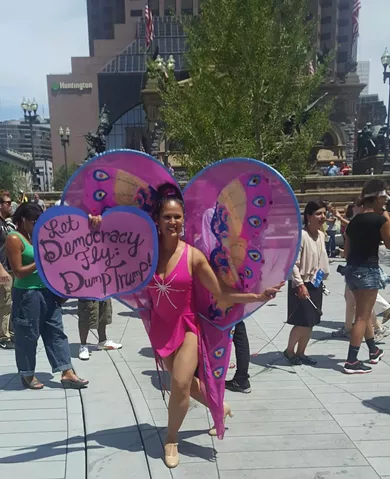 From: News Editor
Rebecca Addison
:
A handful of pro-choice advocates gathered in the free speech zone set up in Cleveland's public square this afternoon. There they shared personal stories about the importance of abortion and reproductive health access for women.
"We want to send a message to all the anti-choice advocates here," said Kellie Copeland, executive director of NARAL Pro-Choice Ohio. "Whether it's defending Planned Parenthood or other reproductive-health services, women of color have had it harder and taken it on the chin like they always do. This is about a lot more than politics. For women across the country, one in five will need access to an abortion at some point in their lifetime."
The free speech zone was set up by the City of Cleveland. Speakers signed up at city hall and are given 30 minutes to speak.
Unfortunately for the pro-choice women, another group entered the square soon after they began speaking. Spewing hateful statements about pro-choice advocates, the Black Lives Matter movement and LGBT community, the counter group quickly drew a larger crowd of spectators than the group in the free speech zone.
But a large portion of the people surrounding the counter group, were police officers, with a half dozen rows of police in front of and behind them.
"It's really funny. It's political protests combined with a circus," says Marnie Halasa, who dressed as a butterfly with a sign saying "Let Democracy Fly." "The anti-Trump and pro-Trump protesters are all talking to each other here and mostly being civil. So the huge police presence is unsettling. I understand it, in light of [the shootings] in Dallas and Baton Rouge, but I think it's overkill."


2:00 p.m.:

From: News Editor
Rebecca Addison
:
Today is Zac Alberty's third day protesting at the convention. But unlike the anti-Trump contingent, Bible thumpers and "Hillary for Prison" people, Alberty's message is a little lighter.
Today in the public square, his neon green sign reads "Make Memes Great Again." Yesterday, his sign said "Shrek is Love. Shrek is Life."
"I'm just trying to make people laugh," says Alberty. "There are so many signs of hate out here."
As a supporter of Sen. Bernie Sanders, Alberty says he isn't affiliated with either side in the upcoming election. The Cleveland native says the convention has been good for his city and the restaurant where he works and he hopes there won't be any violent incidents.
"If we can handle the crowds we had down here for the [Cleveland Cavaliers] victory, we can handle this," Alberty says. "I just don't want anyone to get hurt."
1:58 p.m.:

1:39 p.m.:

Pro-life speakers in Public Square clash with uber conservative religious protests on opposite sides of the space.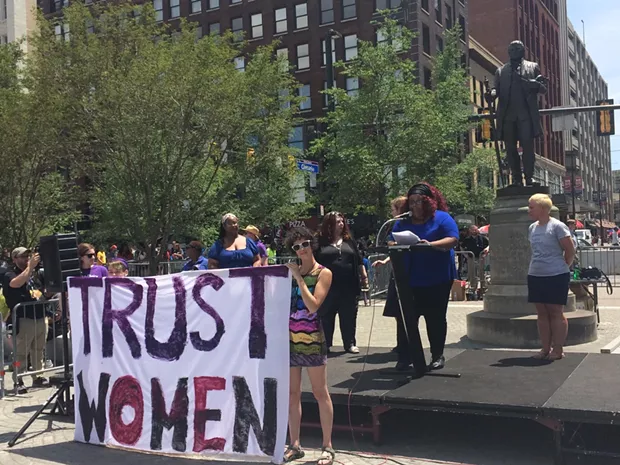 1:03 p.m.:

Occupiers taking over a playground.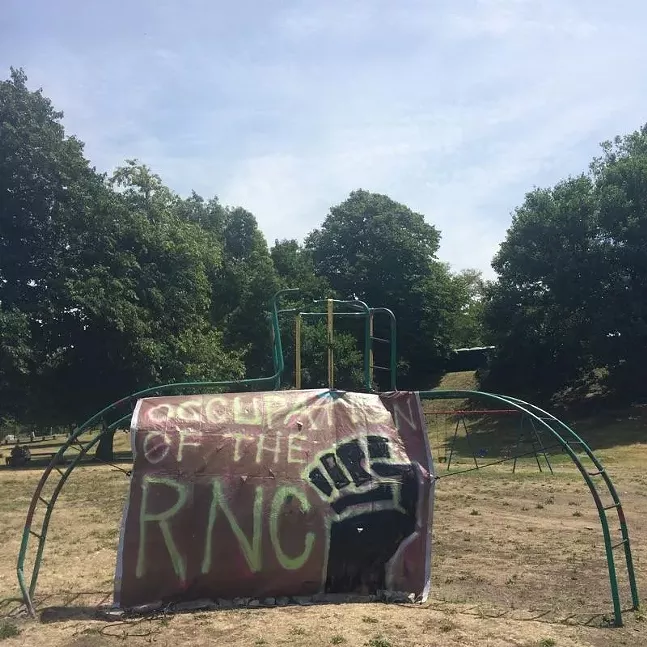 11:15 a.m.:
Our photographers and reporters were everywhere yesterday and we have a
photo slideshow by Aaron Petan
capturing everything from protesters to the Second Amendment in action.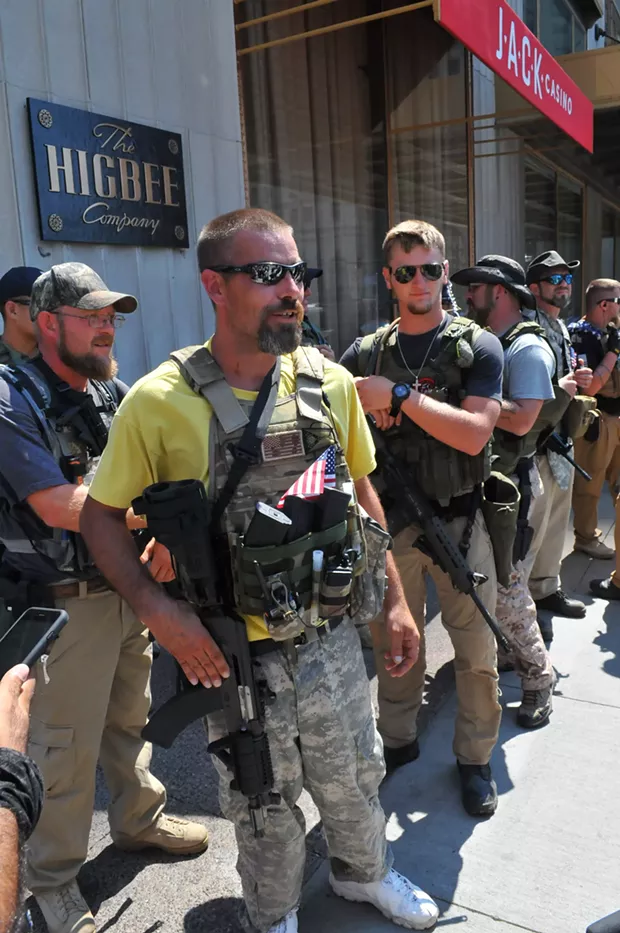 10:45 a.m.:
Here's a look back at what others are saying about Day 2 of the Republican National Convention in Cleveland.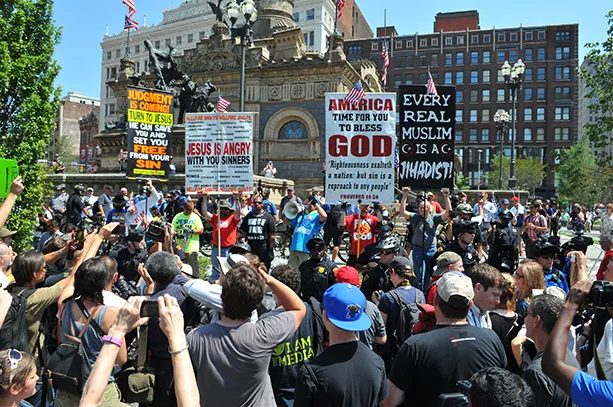 We covered a wide array of topics from the
RNC yesterday on our live blog
from tense moments out in Cleveland's Public Square to Donald Trump's historic Republican Presidential Nomination.
The team over at Politifact
fact-checked the RNC's speakers
including Chris Christie and Donald Trump Jr. While most of last night's statements proved "Mostly False" or worse, Christie was apparently completely truthful in his assessment of Clinton's Benghazi email scandal.
Clearly one of the most entertaining speeches Tuesday night came from Dr. Ben Carson, the neurosurgeon turned presidential candidate turned Trump supporter. I'm not really sure what he was saying, but I think it has to do with Hillary Clinton being best pals with Beelzebub.
Huffington Post has more on that
.
Finally, there was a lot of talk yesterday about Melania Trump's alleged plagiarism of a 2008 speech by Michelle Obama. But the "
My Little Pony Defense"
is just awesome.