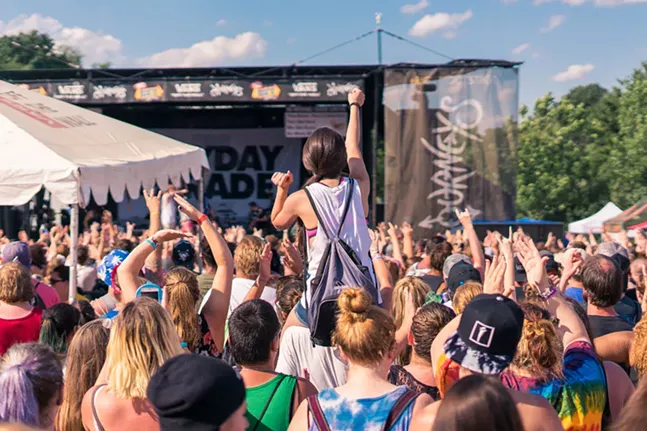 The one, the only Vans Warped Tour made its annual stop in Pittsburgh (really Burgettstown) Friday, July 15.
CP
got to sit down and talk to members of ska veterans Less Than Jake and the chart-topping pop-punk unit Real Friends.
Buddy Schaub, trombone, Less Than Jake

I saw the Make Warped Tour Great Again video you guys put together and it's really funny. How did you come up with that and are you as a band against Donald Trump?
It's not actually about any political candidates. What we're doing is, instead of being on the Warped Tour, we're on the campaign trail to Make Warped Tour Great Again. Since it's an election year, we thought it would be funny to have this whole spread. ... If you wait until the show, you'll see [frontman Chris DeMakes'] presidential look ... It has nothing to do with Donald Trump.
Less Than Jake played a show at Duquesne University, my alma mater, in 2012. Do you remember that show or anything about it?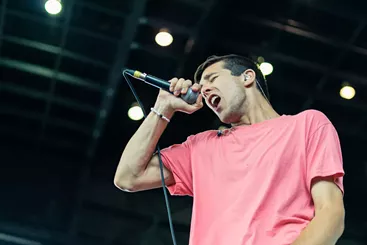 I'm trying to remember what happened.
From what I heard, there was a clash between security and kids moshing.
Is that the one with the big cross? … Part of that is because we got the Prince song [that starts out with,] "Dearly beloved we are gathered…" and we came down to that. The first song started and the security guards all came in and were all like, "What's going on?" and we were like, "Whoa, whoa, we were supposed to be able to do some [wild] stuff." So there was a little bit of an altercation. We've had way worse things than that. It was a little bit of a straightening-out of what was allowed and what was not. Everyone was cool. It was fine. It sorted itself out. Whatever it became in your hometown, I don't know. It's legend now. Duquesne? Do can't.

I didn't realize you were just in Pittsburgh, doing the full-album shows.
We re-released
Hello Rockview
and
Losing Streak
and we did a little tour to play both those records. We would do two nights in each city, and Pittsburgh actually got added because we were doing them on the weekend and in between we had this time where we were like, "Do we go home or fit something in and drive to New York?" We decided to add Pittsburgh in the middle and play both records in one night, which we did, but by the end of the second record we realized it was probably a disaster. I had a few too many vodka drinks. But we made it through and had to get into the van and drive like six hours to New York. It was a little disturbing. ...
But it's fun to do those tours like that, where we just do two weeks here and there, or between two places where we get a rental van and drive around, because it's reminiscent of when we used to be in a van. It's kind of fun to get on the road and do it that way.