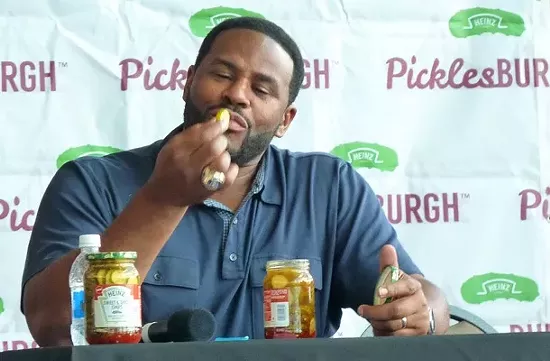 The friendly rivalry between
Pittsburgh Steelers
legends Jerome Bettis and Hines Ward goes well beyond the football field. In fact, it even extends to pickles.
The two gridiron heroes were at Heinz Field July 13 to promote the
2nd annual Picklesburgh
event, that will shut down the Rachel Carson Bridge June 15 and 16 to celebrate all things pickle. Kraft-Heinz, the food giant best known for its ketchup condiments, announced two new pickle flavors today: Spicy Garlic and Sweet and Spicy, which will be available to sample at the pickle party. It has been over 50 years since Kraft-Heinz have introduced new pickle flavors.
Bettis, who was championing the Sweet and Spicy flavor, and Ward, who was supporting the Spicy Garlic flavor, couldn't help jesting whose would become more popular.
"I am gonna love this competition, there is nothing like beating my mentor," said Ward.
The two praised the flavors of their pickles, and then proceeded to joke about each other's hair. "Ward is the only hairless diva in the world," said Bettis. Plenty of pickle puns were also uttered, but
City Paper
will spare you the minor annoyance.
The two even engaged in an impromptu pickle-juice chug of their respective jars, emulating Picklesburgh's most popular event. (Ward came out the victor.)
Pittsburgh Mayor Bill Peduto was on hand as well to showcase how quickly Picklesburgh has risen in popularity. "There is something so quintessential Pittsburgh about pickles on a bridge," said Peduto.
Picklesburgh will be held on the Rachel Carson Bridge (Ninth Street Bridge) for extended hours this year, from noon to 10 p.m. on both Fri., June 15, and Sat., June 16. More than 40 food vendors will be on hand, and live music and pickling demonstrations are part of the entertainment.
"Last year, the number-one suggestion we heard was more pickles with more variety," said Jeremy Waldrup, of the Pittsburgh Downtown Partnership in a press release. "This year we really worked with our vendors to up their pickle provisions, and I don't think they've let us down."
Ward wrapped up the theme of the event nicely, when he said it was not about the Most Valuable Player, but instead about the Most Valuable Pickle.