Alejandro Rose-Garcia, a.k.a. Shakey Graves, makes Americana folk rock that's full of nostalgia.
"I think it's as powerful as anything, as writing a love song or protest music, or anything like that," he told
City Paper
by phone. Last year, he won the Emerging Artist of the Year Award from the Americana Music Honors and Awards and has his own day in his hometown, Austin, Texas. He'll be performing July 15 at Mr. Smalls Theatre.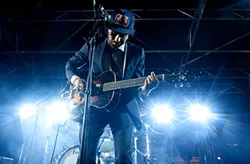 Do you remember when you first realized that you loved music?
It was probably listening to the
Phantom Of The Opera
soundtrack when I was three. ... It's got over-the-top '80s drums and then a symphony. It's very dramatic music. But that used to really, really get my goat. ... I still definitely bring the aesthetic of that specific song into a lot of what I do — you know, a lot of minor keys, hooky stuff and swells. A little over-dramatic, if you will.
In the past, you've talked about how you hope your music is healing to people. Have you seen examples of that happening?
Yeah, I have actually, a lot. ... I've gotten feedback everywhere from people not committing suicide, or my music being something that helps people get through really dark thoughts like that. I had a guy come backstage, a really sweet dude, and he was like, "I just got to tell you, I can't thank you enough. [My brother] is here today because of your music." It was like, "Man, this is so crazy."
Does that make it all worth it?
Yeah. ... The first time that I heard somebody ever say something along those lines, I was pretty much good. ... And I have a lot of those, and they matter a lot to me. To imagine that somebody thought of me like that was a little like being in love, I guess — to know somebody cares so much about you. And I may not know them directly, but the thing that I produce out of love and circumstance and hard situations produced a feedback loop in that way. That's pretty much as satisfying as it gets.
The most exciting thing is, this tour we're about to be in on is the last official tour we're going to do for a while. Then I'm going back to the Batcave. ... We're basically going back to the lab for an undetermined amount of time and won't come out until we have the new sound. So I'm very excited about that.
The first track of
And The War Came
is an old-sounding recording of a person speaking — where did you get that?
We found these two total strangers talking on a reel-to-reel tape machine that we bought. ... It sounds like they were in high school or in the early stages of college. And as far as I can tell, they're doing a
Cosmo
[magazine] quiz on each other. And it's just them dicking around ... But I thought it was really sweet, it's those little slices of life that you find on a home video of people talking.
Compared to other musicians, you seem sort of private online. Was that a strategic move to be more withdrawn?
It's something I always intended to do. ... I'd rather just let the content speak for itself in a lot of ways … But back in the day when I started, I didn't really have that option, and I didn't really have any credentials. I could've sat and talked about my idols and stuff like that, but it didn't seem applicable. So my goal was sort of an anti-marketing scheme of really putting no information about myself out when I put my music out. Because, just like finding the tape with those girls talking on it, it's that same concept essentially. I'd rather have people make up what they think I am, or fit me into places in their life I'm not trying to power my way in. And I think a little bit of mystery and that experience of feeling like you've found something unique is something that really bonds the listener and the musician together in a way that you can't buy.
Are you going to come back from your hiatus as Shakey Graves, or do you think it'll be something else?
I don't know. I've thought about that a lot. I think it depends on what it sounds like. I think I'll always put out Shakey Graves music, but I always also like side projects and strange stuff. So I'm certainly not opposed to that concept. So it is to be seen; that's the thrilling part. Who knows?
SHAKEY GRAVES with STREETS OF LAREDO
. 9 p.m. Fri., July 15. Mr. Small's Theatre. 400 Lincoln Ave., Millvale. Sold out.
412-821-4447
or www.mrsmalls.com