Two notable Pittsburgh performers successfully tackled a pair of one-person plays by Samuel Beckett.
The two-part
T.A.C.T.
production features Daina Michelle Griffith in "Not I" (1972) and Martin Giles in
Krapp's Last Tape
(1958). Both rise to the challenge of these
storied
, difficult roles for a compelling evening of theater by a company in its second season.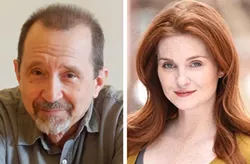 "Not I" is a rapid-fire, stream-of-consciousness monologue by an elderly woman who, abandoned as a child, has been "speechless all her days, practically speechless," and speaks only in bursts "once or twice a year, always winter, some strange reason." It lasts 15 minutes with only a few short pauses, a distinctly Beckettian chronicle of personal trauma and obsessive self-awareness.
Usually, "Not I" is presented by an actress raised above the stage, her mouth spot-lit, with a second, silent performer behind. However director Connor Bahr (also T.A.C.T.'s founder) presents Griffith's mouth in extreme close-up via projected video and live video feed. It's a curious choice, but an effective way to make us focus on Griffith's powerful vocalization of a legendarily difficult part.
The bulk of the evening, however, is Giles', and
Krapp's Last Tape
is at first as silent as "Not I" is voluble: The protagonist, an elderly disheveled man, doesn't speak for the hour-plus play's first 20 minutes (unless you count gasps and sighs). Instead, he stares at the audience, fumbles in his pockets and searches through the drawers of his desk. He peels two bananas, eats one, slips on the first peel. (Fans of Beckett's vaudeville overtones, in plays like
Waiting for Godot
, will find a good deal to like in
Krapp
.)
But most of the play is Krapp listening to, and commenting on, a recollection: himself, on a reel-to-reel tape he recorded decades earlier, on his 39th birthday, when his younger self reminisced about his life, mostly about hopeful, deeply felt moments with young women that never turned into anything more.
Regret, remorse and other bitter emotions intertwine beautifully with wistfulness in the performance by Giles, long one of Pittsburgh's top talents as an actor, director and playwright. Bahr directs.
Three performances remain of "Not I" and
Krapp's Last Tape
, tonight through Saturday.
Tickets are $10-20 and are available
here
.
The
New Hazlett Theater
is located at 6 Allegheny Square East, on the North Side.