XFEST, 105.9 the X's annual summer concert event, had taken a few years off. After a well-attended resurrection of the event last summer, the station was at it again with an XFEST featuring Weezer, Panic! At the Disco, and Andrew McMahon In the Wilderness, as well as up-and-comers SWMRS and Dorothy.
The line for the sold-out concert wrapped all the way to the North Shore light rail station beside Heinz Field. Although the X's musical programming generally caters to fans of alternative rock from the late '90s, many attendees were teenagers and young adults decked out in full Panic! At the Disco gear.
Just as the back of the line was rushing in, Dorothy kicked off the gig. The rock 'n' roll vixen's voice was gritty and big, Dorothy Martin's style emulating a rougher Robert Plant vibe over Southern Rock riffage. While the genre seemed like a weird fit for a show dominated by poppier acts, the group seemed very comfortable on stage for a band only one album into its career.
Songs like "Woman" showcased the raw power of Dorothy's voice, which at times feels a little stifled by the fuzzed out vocal effects on debut record ROCKISDEAD. The LA-based band definitely has breakout potential for its appeal to fans of ZZ Top and J. Roddy Walston.
Up next was SWMRS, a group of fresh-faced young adults who make music that emulates British punk, Dinosaur Jr. and the Violent Femmes in its cheeky lyrical content and vocal delivery. Although the band's sound is more suited for a beer-sticky bar full of sweaty punks as opposed to that of a large outdoor venue, they still captured the attention of the crowd.
Moments like the full band drop into "Miley" showcased the powerful punk bliss SWMRS produces, as well as the musical prowess of the musicians involved. "Figuring It Out" was the climax of their set, a song suited for the trailer of an indie film about two mischievous roller girls in love, and "Uncool" is the anthem to my personal death to cool/hype 2kforever campaign.
After the rough and tumble punk spirit of SWMRS came the squeaky clean pop magic of heartthrob Andrew McMahon in the Wilderness. McMahon of Something Corporate and Jack's Mannequin origins burst onto the stage with the joyful spirit of a young boy, taking turns playing piano and running around to interact with the crowd. There are few performers on this earth as pure as MVP dad and indie-heartthrob McMahon.
The cancer survivor (whose journey was documented through the excellent film Dear Jack) has nothing but positivity to share with the world, having a crew member bring a giant multi-colored parachute to the lawn crowd during "Synesthesia" and running through the crowd to perform under it. McMahon even performed the Jack's Mannequin hit "Dark Blue," eliciting tears and joyful singalongs from the folks standing around me.
The anticipation for P!ATD was palpable, and whenever the curtain lifted to reveal the elaborate visuals and Gatsby-esque stage set-up, screams erupted from the crowd. "Don't Threaten Me With a Good Time" was the opener of choice, and Brendon Urie's electric showmanship paired brilliantly with a full horns section and dynamic, well-dressed band.
The majority of songs performed were from
Death of a Bachelor
and
Too Rare to Live, Too Weird to Die!
, which makes sense since both are the most recent releases, and also cemented the reality that P!ATD is essentially the Urie Show, now that he's the only original member. The performance was energetic and vitalizing, dispersed with neo-Sinatra antics, backflips and a killer cover of "Bohemian Rhapsody."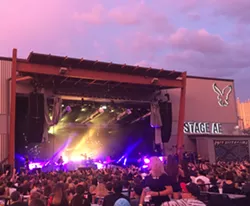 Urie is quite aware of his power as a frontman and sex symbol, often (sometimes a little too) generously showing off his ability to hit high notes and even ripping off his shirt to perform a dueling drum solo with the band's drummer. It was at this point I spent way too much time considering if you can put your shirt back on once you've taken it off mid-performance. (The thrilled crowd didn't have to worry about that—he kept it off.)
During "Victorious," P!'s final song, the two older gentlemen beside me were chattering excitedly. "I was a skeptic, but I'm not sure how Weezer's gonna top this," shouted one gray haired fellow to the other.
Their fears were only a little bit founded, as Weezer still puts on a great show, but it definitely felt flatter compared to the intricate theatrics of P!'s production. Weezer kicked off the show with a new track, "California Kids," and I tried not to cry as two families dressed in matching Weezer shirts all sang together, young kids bonding with their parents over rock music.
What was weirder was watching a seven-year-old sing along to "Hash Pipe," the stage's screen covered in a visual of raining pill and needle emojis. It was a nice blend of new and old, so Weezer Lite fans could appreciate all the hits like "My Name Is Jonas," "Island in the Sun," "(If You're Wondering If I Want You) I Want You To" and "Beverly Hills."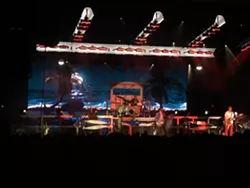 Weezer continued to be a problematic fave, their culturally oblivious moves like Rivers Cuomo sporting a sombrero making me scratch my head a little, and the ever itchy first line of "El Scorcho" fetishizing the heck out of Japanese girls never ever feels comfortable when I hear it live.
With all its cultural tone deafness aside, Weezer does consistently prove why they have become such a long-lasting musical icon in the indie rock world. They continue to be excellent musicians with an ear for pop hooks for the nerdy dude in all of us.
Overall, XFEST proved to be a great night of rock entertainment in the city of Pittsburgh. If only the X could compromise its programming to match the tastes and interests showcased at XFEST with the grunge obsession of older fogies, the alt radio world in Pittsburgh would shine so bright.