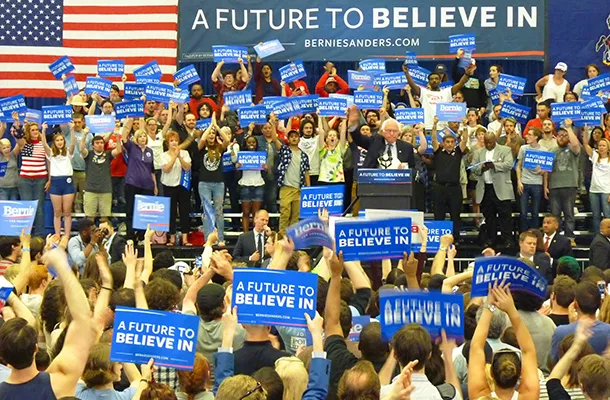 Five delegates from the Pittsburgh area are fundraising to pay for significant hotel costs at this month's Democratic National Convention in Philadelphia. Efforts include a GoFundMe campaign and an upcoming fundraiser in the Strip District this Saturday.
"Unlike your typical Clinton delegate, a lot of us don't have $2,100 lying around," says delegate Greg Schaffer, referring to the cost of the DoubleTree hotel in Philadelphia's Center City, where he says Pennsylvania's delegates are staying.
That's why this weekend, local Sanders supporters and delegates will be hosting a fundraiser at the Bayardstown Social Club, in the Strip District. Dubbed the "Bernie is Beautiful - fete and fundraiser"
on a Facebook event page
, organizers are asking for a $10 entrance fee, and promise a lineup of live music, barbecue (with vegan options) for sale and alcohol per donation.
"Among the people who are delegates, there are unemployed people, there are people who are students, single parents, labor lawyers, a speech therapist, all sorts of everyday people," says Schaffer, who is an at-large delegate, meaning he wasn't elected and is not bound to a candidate but was required to announce a preference. Schaffer has been volunteering with the Sanders campaign since last year. "Whereas if you look at the delegates from Pittsburgh for Clinton, there's [County Executive] Rich Fitzgerald, [Mayor] Bill Peduto, [Pa. Senator] Jay Costa ... It's a different ballgame."
Beth Ussery, an elected delegate from
Pa.'s 14th Congressional District
— which represents Pittsburgh and surrounding suburbs — says delegates are all but required to stay at the hotel, which is about four miles from the Wells Fargo Center where the DNC is happening.
(While the U.S. Secret Service has issued
press releases
regarding the Republican National Convention's security perimeter, in Cleveland, as of this writing there is no information posted for the DNC.)
"They won't kick you out if you don't stay at the hotel, but the problem is the security perimeter because of the high-level officials who will be there," Ussery says. She says delegates must pick up credentials each morning at breakfast, while the convention is held during the evenings. Not staying at the hotel would be too difficult logistically, she says: "If you don't get there, you aren't credentialed and you can't do the voting."
Ussery and fellow 14th District elected delegate Alex Austin
created a GoFundMe campaign
, which is now at $1,500. The goal is $8,000. Ussery says the money raised is being reported to the Federal Elections Commission under the committee name "Pittsburgh Delegates for Bernie." "We will update the [GoFundMe campaign] total with what we raise on Saturday," she says.
A total of four elected delegates and three at-large delegates from the 14th District are supporting Sanders later this month at the DNC. On top of the hotel costs, Ussery says, the DNC has advised delegates to bring $300 to $400 for food costs.
"Everyone has a roommate. We're not trying to live large or anything. But we also have to worry about food and transportation to and from Philly. We're trying to do this as grassroots and bare-bones as possible," she says.
Six elected delegates from the 14th District will represent presumptive Democratic presidential nominee Hillary Clinton at the convention.
"I didn't realize you had to stay there [at the DoubleTree]," County Executive Rich Fitzgerald, who is a delegate for Clinton, says. "If you have friends or family in Philly, I would hope for most people they could stay with them."
He did not say if he was staying at the hotel, but added, "I went a couple years ago to Charlotte, [N.C.,] logistically it's very difficult to get around. There are fences and gates and just so many people. It's tough to get around. From a convenience standpoint [the hotel] makes sense."
Chuck Pascal, a "Party Leader, Elected Official," who is supporting Sanders says it's the Sanders campaign that is encouraging people to stay in Center City.
"I guess what it comes down to is if we know where everybody is, it's easier to organize things," he says.
Statewide, 106 delegates are going in support of Clinton, and 83 in support of Sanders. (Twenty-one
superdelegates
will support Clinton.)
Both Ussery and Schaffer say their goal at the convention is to push the party's platform to the progressive end of the spectrum.
"This movement has really inspired a lot of people to kind of work against the system that they feel for a lot of different reasons is rigged. I feel like it's my job to look out for labor," says Ussery, a lifelong Democrat born and raised in Pittsburgh. "I will support Democrats 100 percent at the convention, but this is our opportunity to make sure they work on issues close to our heart."
For one thing, Ussery believes party leaders should "scrap" the Trans Pacific Partnership. "Especially being from the Rust Belt, we have long memories of trade agreements and how detrimental they can be," she says.
Schaffer says he will also be there "to hold the party establishment accountable."
Bernie is Beautiful Fundraiser. Bayardstown Social Club. 5 p.m.-midnight. Sat., July 9. 3008 Penn Ave., Strip District. $10. https://www.facebook.com/events/1765228673724738/

Editor's Note: This piece has been updated to include comments from delegate Chuck Pascal.

Correction: Greg Schaffer's name was spelled incorrectly in the initial piece. We regret the error.