11 p.m.
Hillary Clinton takes the stage and the building is packed. The Bernie Sanders supporters have remained quiet, or maybe they are being drowned out...
10:30 p.m.
From City Paper staff
In one last oddity before Hillary Clinton speaks,
CP
reports about the confusion surrounding a card stunt that the participants are suppose to do at some point in the evening.
10:20 p.m.
From Rebecca Addison
On the floor of the DNC today,
City Paper
talked to local government officials in the Pennsylvania delegation about their favorite parts of the convention thus far.
"The Bernie Sanders and Mayor Bloomberg endorsements were so unexpected," says Allegheny County Executive Rich Fitzgerald. "I especially liked when Bloomberg was talking about how Donald Trump has been a con-man. That's important for people to know because now [Trump is] messing with the faith and credit of the United States economy."
"There's a stark contrast between this convention and the RNC last week in terms of inclusion, diversity, positive spirit and the declaration that this is already a great nation," says Pittsburgh City Councilor Bruce Kraus.


9:45 p.m.
From City Paper staff
The most powerful speech of the night so far came from Khizr Khan, a Muslim-American who's son died while serving in the U.S. armed forces. Khan's passionate attack to Donald Trump got a resounding standing ovation from the crowd.

9:15 p.m.
From News Editor Rebecca Addison
At the DNC delegates are making a statement...with their headwear. Hats, hats, hats. Whether covered in sequins or buttons, each one is even greater than the last.
Of course there are the traditional Wisconsin cheesehead hats and some Texas delegates have gone for their trademark cowboy hat, but there's also plenty of sparkle.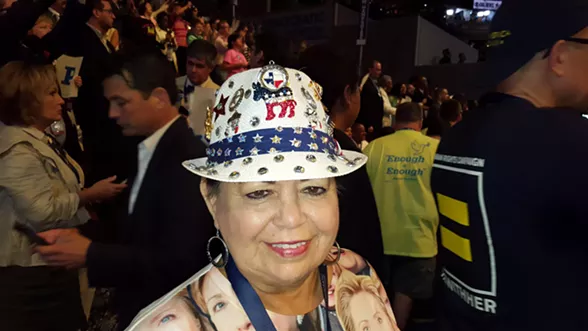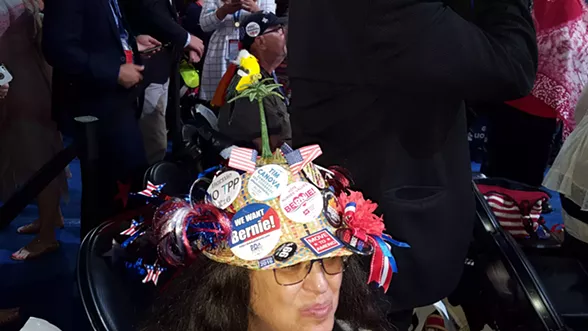 8:45 p.m.
From News Editor Rebecca Addison
Pennsylvania Gov. Tom Wolf knows a thing our two about business. Before he was elected in 2014, he served as CEO of Wolf Organization Inc., a building materials company.
And at the DNC he used his business background as a jumping-off point to question GOP presidential nominee Donald Trump's business ethics.
"One of the keys to our success was that we recognized that in business, you are only as good as the people you have in your company, and thus, you had to treat everyone like they mattered. Because, the truth is, they do. Now, I understand that not all business people see it this way. When we contracted with a vendor, we paid them," Wolf said.
"Donald Trump? He stiffed hundreds of small businesses, from plumbers to painters, ruining their companies as he sought to enrich himself."
Wolf spoke during the "Stronger Together: An Economy That Works For All" portion of the final night of the DNC. The segment also included speakers advocating for gender equality in the workplace.
"At our company, like at many others across the country, we treated our female employees with respect. When they had kids, we celebrated them, and gave them paid leave," said Wolf. "Donald Trump said that pregnant workers are an 'inconvenience,' so it's no surprise that he has put forward no plan for paid family leave."

Updated 7:55 p.m.
From Multimedia Editor Ashley Murray

Delegates for Vermont Sen. Bernie Sanders are attracting attention tonight by wearing neon green t-shirts that glow in the dark when the convention lights dim with its signature Democratic blue hue.
"We're supposed to be glowing in the light, like Bernie Sanders. He was glowing in the light," says North Carolina delegate Stephanie Glosen, who plans to vote for Hillary Clinton despite her passion for Sanders' ideas. "We're not stopping the movement just because Hillary got the nomination."
Pa. delegate Susan Hall, of Scranton, says she is wearing it "to show solidarity with Bernie." Fellow Pa. delegate Dui Anthony, of Shenandoah, offered a sharper opinion on why he was dressed in neon green.
"I consider the nomination of Hillary Clinton an abomination to the party," Anthony says. "She has moved this party from the principles of FDR further and further to the right."
Speaking to delegates from several states,
City Paper
had a difficult time pinning down the source of the glowing shirts. Anthony says they are "union made" and that he got them "online"; New York delegate Virginia Ramos Rios says her delegation received them from the Colorado delegates. (Yesterday,
CP
reported how some Sanders supporters were wearing "Bernie" merchandise made in Honduras, Haiti and Nicaragua.)
According to a
Facebook comment
on the article
The Hill
posted tonight on the t-shirts, Sanders delegate Lauren Tenney wrote the shirts are union made and delegates paid "11 bucks" for them.
Delegates from Washington state — who took the t-shirts to the next level by painting "#DNCLeaks" on them — said they heard about the shirts from a Facebook campaign that had been organized weeks ago. They estimated that 700 people were wearing the shirts. (
CP
hasn't done an independent count.)
"We came up with adding the hashtag 'DNC leaks' to them because it's like the elephant in the room that nobody's addressing while they try to tell us it's our responsibility to get Hillary Clinton elected," says Washington delegate Dorothy Gasque.
Gasque and fellow Washington delegates for Sanders, including Joshua Trupin, told
CP
that the DNC was trying to counteract their t-shirt protest by filling their seats, and other state's seats, and not allowing them back onto the floor. The DNC says that allegation is "totally incorrect."
"They've [the DNC] just bee marginalizing us even as they won the [primary]," Gasque says. "So we decided to make this one last statement before we leave."

7:05 p.m.
From News Editor Rebecca Addison
The DNC showcasing yet another well-known, and well-loved celebrity. This time it's singer-songwriter Carole King.
6:35 p.m.
From News Editor Rebecca Addison
Democratic Pennsylvania U.S. senate candidate
Katie McGinty
took the stage at the DNC this evening where she played to her Irish Catholic roots.
"I was raised here in Philadelphia, the 9th of 10 kids, in a big, loud, Irish family," McGinty said. "You see, we learned to love our God and our country, and we learned that success isn't a product of pedigree. No, if you want to succeed, you have to give it your all and give back."
McGinty took the opportunity to criticized both GOP candidate Donald Trump and her GOP senate opponent Sen. Pat Toomey, who she said are focused on scapegoating and fear mongering instead of solutions.
"Just blame the Mexicans. Blame the Muslims. Blame the government. Build a wall. For goodness sake, the Donald even blamed the Pope. My dear mother, God rest her soul, would be turning over in her grave," McGinty said. "And you know what these guys also say: 'Hand it all over to Wall Street.' Pat Toomey made his millions on Wall Street, and he's still selling us the same old trickle-down that benefits only the rich."
McGinty, who has been attacking Toomey throughout her campaign, upped her passionate criticism of Toomey this week, calling the Pennsylvania Senator an
"asshole"
during a minimum-wage campaign speech in Philadelphia on Monday. She later apologized for the remark.


6:05 p.m.
From News Editor Rebecca Addison
Another breakthrough at the DNC.
4:57 p.m.
From Multimedia Editor Ashley Murray

So what does Bill Peduto do all day at the DNC?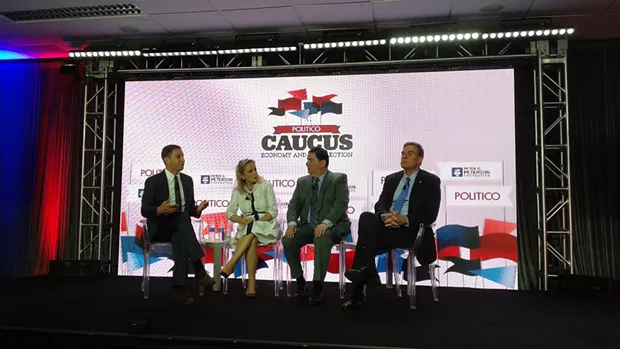 Pittsburgh Mayor Bill Peduto is attending the Democratic National Convention this week as a Pa. delegate in support of Hillary Clinton. But what exactly does he do all day? And why does he feel his time spent here is worth it?
City Paper
examines:
According to his public schedule yesterday, Mayor Peduto ate breakfast with the Pa. Democratic party delegation around 8 a.m.; spoke on Politico's economy caucus panel around noon alongside Rep. Debbie Dingell, a Democrat from Michigan, and Sen. Mark Warner, a Dem from Virginia; at 2 p.m., Peduto headed to the African American Museum of Art for a presentation featuring representatives John Lewis and Keith Ellison. At 2:30 p.m. the public schedule listed Peduto as being at "A Conversation with Uber" along with former Obama campaign manager David Plouffe and Uber executive Rachel Holt. From there, he was scheduled to go to what sounded like a riveting municipal officials reception. But whatever the 3 p.m. reception lacked, perhaps the 4 p.m. Google pre-party in the Victory Beer Garden, or the 6 p.m. QVC Women in Retail reception at the Constitution Center, made up for it.
While
City Paper
couldn't follow Peduto all day, we did cover his panel discussion at the fancy Politico media center, where free coffee (even chewable coffee gummies) and snacks abounded.
Peduto, Dingell and Warner followed a panel that featured Neera Tanden, president for the Center of American Progress and who served in both Clinton and Obama administrations, and none other than economist Larry Summers — yes, that Larry Summers of the Department of Treasury and Harvard University (and, if you've read Lean In, Cheryl Sandberg's mentor).
Ok, so a tough act to follow, but Peduto did his usual selling of the 'burgh, calling it the "overnight success that took 30 years" and a city that "builds bridges not walls."
Peduto was asked about the Trans Pacific Partnership, how Hillary Clinton should distinguish herself from President Obama and how Clinton can lock down the Western Pa. vote.
"It's a very different dynamic than it was 20 years ago. Western Pa. has become red outside of Pittsburgh. And Pittsburgh, and Allegheny County, has become more progressive, so you're starting to see within the core area a new type of Democrat that's emerged other than the blue-collar, socially conservative Democrat that had been throughout Western Pa.," Peduto said from the stage. "Statewide, [Pa.] is trending Republican. On the other side of the state, you have progressive Republicans. It's a very weird dynamic that's been [developing] over the past decade. It's been the swing for Pennsylvania ... That being said, we have to get a plurality out of the city that then transcends through Allegheny County to offset any of the losses happening in the outlying counties in Western Pennsylvania."
CP
had a chance to talk to Peduto one-on-one and ask why it's so important for him to be here and why it matters to Pittsburgh's local government who ends up in the White House. Peduto's response: the city uses federal money for pilot programs, and he wants to keep that partnership. He says money that the Obama administration has provided, "bypassing Congress," had gone to piloting things from autonomous cars and the My Brother's Keeper initiative, aimed to help young men of color.
"One of the reasons we really hit the ground running in the first two and half years of our administration is the partnership that we have with the White House," Peduto says. "We are in contact with them every week."
Last night looked to be a big deal, with the Pennsylvania Democratic Party celebration at the National Museum of Jewish History, where state officials like U.S. Sen. Bob Casey, Gov. Tom Wolf and former Gov. Ed Rendell will get their party on. However, leaving the security perimeter was such a shitshow last night (
CP
reporters Rebecca Addison and Ashley Murray didn't get home until 3 a.m., with the road blocked to taxis and the subway shut down) that it's unclear if Peduto made it to the party. The mayor's office didn't reply to
CP
's request for confirmation this afternoon.



4:41 p.m.
From Rebecca Addison


While the main event of the DNC — Hillary Clinton's acceptance speech tonight — is hours away, First Lady Michelle Obama has won the contest for the best speech thus far, especially in the eyes of Pittsburghers.
"We came into this thing pretty divided and I think that changed after Michelle Obama," said Pa. delegate Michael Lamb, Pittsburgh's city controller.
That sentiment was also shared by Kimberly Ellis, a Pittsburgh-based writer and entertainer, attending the convention as a spectator. But Ellis also said a highlight for her has been the social justice movement momentum that has been generated during the election.
"I want to emphasize I really like the movement and energy inside and outside of the convention," Ellis says. "Bernie Sanders and the Black Lives Matter activists, they are helping to reshape our democracy beyond the election. We still have work to do and voting for Hillary Clinton is just one step."
Pittsburgh delegate Valerie Mcdonald Roberts, chief urban affairs officer for the city, says that in addition to First Lady Obama's speech, and the formal nomination of Clinton — the country's first female nominee — she was also impressed with Sanders.
"Looking at the strength of Bernie Sanders amidst his many supporters who didn't want him to do it, was inspiring," Roberts says. "His strength was a highlight. Finally we're going to have unity."


2:31 p.m.
From Rebecca Addison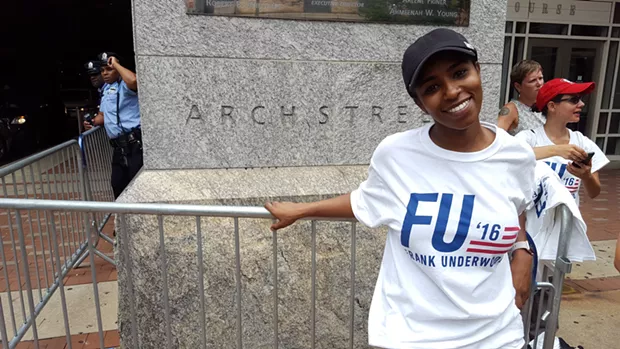 "F U 2016." It's what a lot of people are likely feeling several months into this seemingly endless election cycle. But it's also the campaign slogan for Frank Underwood, the U.S. president in the Netflix original series
House of Cards
.
Earlier today, Philadelphia-native Einass Mustafa was handing out t-shirts with the "FU '16" slogan outside of the DNC as part of a marketing campaign for the show.
"I think it's pretty comical because it's like a subliminal message," Mustafa says. "They're promoting their show by being controversial."
When
Pittsburgh City Paper
interviewed Mustafa as she and two others handed out the shirts, several people mistook them for an actual election campaign and asked if she was running for office.
"We've gotten a lot of people who are like 'are they running for president,'" Mustafa says. "A lot of people are uninformed in a lot of different ways in this country."



2:30 p.m.
From Ashley Murray


Apparently the RNC delegates do not have a monopoly on those stereotypical Texas delegates in cowboy hats. Last night on the convention floor, a few DNC revelers proudly sported the Texas cowboy-cowgirl hat. (Only, this one was bedazzled.)




1:45 p.m.
From Rebecca Addison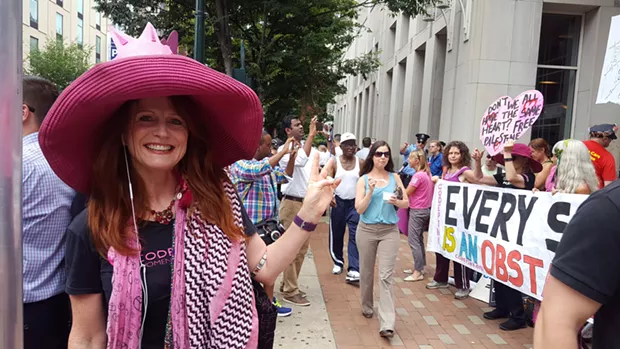 Last week, Code Pink co-founder Jodie Evans was ejected from the Quicken Loans Arena for disrupting the Republican National Convention. During former presidential candidate Ben Carson's speech, she held a sign that read "No Racism No Hatred," before she was surrounded by a swarm of Republicans who covered her with American flags.
"In Cleveland people felt like they had the right physically touch me," she told
Pittsburgh City Paper
today at a Code Pink rally outside of the Pennsylvania Convention Center. "They were really rough. They tried to strangle me with my scarf."
Code Pink is an anti-war group that has been vocal on issues like drones, torture at Guantanamo Bay and conflicts in Israel and Iraq.
"Our mission is to end war and bring those funds home to our communities," says Evans. "We also have a campaign to demilitarize our communities."
Evans says Code Pink disrupts congress in Washington DC daily. Code Pink activists were present everyday of the RNC and have been present at every DNC evening session thus far.
"It's been completely different here than it was in Cleveland," Evans says. "At the DNC we've basically been escorted out after 10 minutes, and security hasn't been as rough with us. One man even thanked us."
And Code Pink activists aren't the only ones protesting on the DNC floor.
"Last night, the entire Oregon delegation disrupted by chanting 'No More War'," says Evans. "[The arena] just turned the lights out on them."



12:43 p.m.
From Ashley Murray

It was hard to miss Gretchen Baer's "Hillsuit" while in line for coffee this morning at the Old City Coffee kiosk in the Reading Terminal Market.
To say Baer, an artist from the border town of Bisbee, Ariz., loves Hillary Clinton is an understatement.
"This is a hand-painted Hillary jacket and suit. I've made a lot of them," Baer says. "I've traveled around the country in my Hill car. a painted art car covered in Hillary imagery, all sorts of gems and jewels and buttons and so forth. I traveled around in 2008 as well this year all over the country."
Baer says Clinton has inspired her work.
"I'm kind of an activist painter. One thing I do is I have a group called the border bedazzlers, and we paint with kids on the Mexican border," Baer says. "We're painting the world's longest kids mural. We've painted a mile so far with the Mexican kids on the Mexican side, It's actually inspired by Hillary, I love the kind of work she does, where she reaches out and tries to make other people's lives better."


12:14 p.m.
From Rebecca Addison

Robin Hood and his Merry Men have invaded the DNC. Or at least that's what you'd think after seeing the number of delegates wearing Robin Hood's trademark green hat.
The hats are actually a show of support for U.S. Sen. Bernie Sanders. Last year, the former presidential candidate proposed the Robin Hood tax bill, a tax on Wall Street financial transactions that would pay for free tuition at public colleges and universities in the United States. The Robin Hood bill would also cut interest rates on existing student loans.
"We wear the hats because they go along with Bernie's philosophy of more fair wealth distribution," says Minnesota delegate Delia Jurek.
On day four of the convention, Jurek was visiting Philadelphia's famous Reading Terminal market. She said she was happy to have the opportunity to come to the convention to represent the many Bernie supporters back home in Minnesota.
"Bernie didn't get the nomination but he did what he set out to do," Jurek says. " He started a revolution."


11 a.m.:
From Editor Charlie Deitch
Even though we are in the final leg of the political convention season, it's just the start of what is surely to be a long, grueling and painful finish to the General Election in November. So, let's review the DNC's third day as we get ready for Hillary Clinton to take center stage to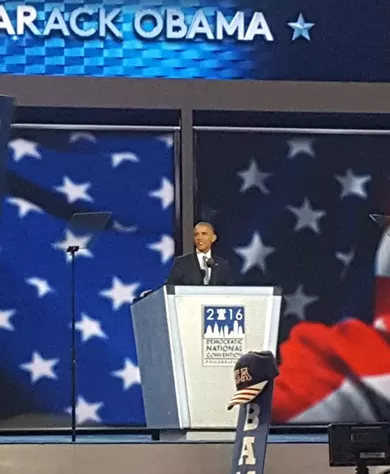 night to officially accept the party's nomination.
While tonight belongs to Hillary Clinton, Wednesday night belonged to Barack Obama. Say what you will, the man can give a speech and raly a crowd. Here's the full
transcript of the speech, thanks to Newsweek
, but here are some highlights and there were many:
"I'm here to tell you that, yes, we've still got more work to do. More work to do for every American still in need of a good job or a raise, paid leave or a decent retirement; for every child who needs a sturdier ladder out of poverty or a world-class education; for everyone who has not yet felt the progress of these past seven and a half years....
"And that work involves a big choice this November. I think it's fair to say, this is not your typical election. It's not just a choice between parties or policies; the usual debates between left and right. This is a more fundamental choice—about who we are as a people, and whether we stay true to this great American experiment in self-government.
"Look, we Democrats have always had plenty of differences with the Republican Party, and there's nothing wrong with that. It's precisely this contest of idea that pushes our country forward. But what we heard in Cleveland last week wasn't particularly Republican—and it sure wasn't conservative. What we heard was a deeply pessimistic vision of a country where we turn against each other, and turn away from the rest of the world. There were no serious solutions to pressing problems—just the fanning of resentment, and blame, and anger, and hate.
"...And then there's Donald Trump. (Audience boos) Don't boo—vote. You know, the Donald is not really a plans guy. He's not really a facts guy, either. He calls himself a business guy, which is true, but I have to say, I know plenty of businessmen and women who've achieved remarkable success without leaving a trail of lawsuits, and unpaid workers, and people feeling like they got cheated. Does anyone really believe that a guy who's spent his 70 years on this Earth showing no regard for working people is suddenly going to be your champion? Your voice? If so, you should vote for him. But if you're someone who's truly concerned about paying your bills, if you're really concerned about pocketbook issues and seeing the economy grow, and creating more opportunity for everybody, then the choice isn't even close."
"Ronald Reagan called America "a shining city on a hill." Donald Trump calls it "a divided crime scene" that only he can fix. It doesn't matter to him that illegal immigration and the crime rate are as low as they've been in decades—because he's not actually offering any real solutions to those issues. He's just offering slogans, and he's offering fear. He's betting that if he scares enough people, he might score just enough votes to win this election.
"And that's another bet that Donald Trump will lose. And the reason he'll lose it is because he's selling the American people short. We're not a fragile people. We're not a frightful people. Our power doesn't come from some self-declared savior promising that he alone can restore order as long as we do things his way. We don't look to be ruled. Our power comes from those immortal declarations first put to paper right here in Philadelphia all those years ago: We hold these truths to be self-evident, that all men are created equal; that We the People, can form a more perfect union. That's who we are. That's our birthright—the capacity to shape our own destiny."
****
From the "I'm with her, but he's not with me" department, I got a text last night from our Web Producer Alex Gordon calling my attention to this tweet:
We were both confused because we had no male reporters there yesterday and even if we did, he wouldn't be wearing a
CP
t-shirt at a political convention. Sure we're the paper that recently brought you the
"Shit List,"
but we do like to show a little more decorum than showing up at an event in our t-shirt. (Full disclosure, I am currently wearing a Pittsburgh Pirates shirt with a hole in the shoulder, but I don't plan on being seen by Hillary Clinton today.) I assured the commenters that whoever it was, he was not affiliated with our organization. We give out free t-shirts all the time.
Later, though I saw this tweet from our News Editor Rebecca Addison:
Now, I haven't found the video in question and I'm not sure if Jacob was the person they were talking about, but there's probably a fairly good chance it was. Jacob doesn't work for us, but we're glad he decided to go and check out the convention and that he's wearing our t-shirt. I'm not sure what the camera-crasher was up to, but at a political convention, could it really have been that strange?