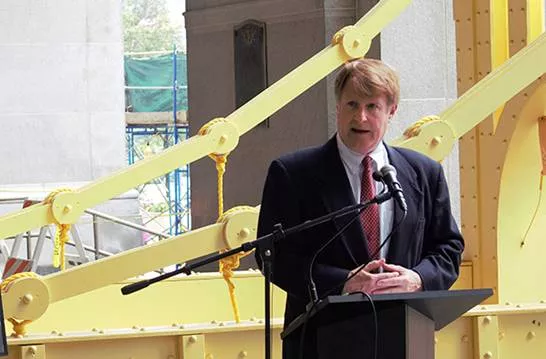 At a press conference held Friday at the City-County Building, local officials announced that the Main Street Now conference will be held in Pittsburgh next May. Main Street Now is a conference organized by Main Street America, a national organization that encourages community revitalization through preservation, working in neighborhood, business and industrial districts.
The organization boasts a strong track record of revitalization and economic development within participating communities, which would be beneficial for struggling neighborhoods in the Pittsburgh area.
"I live in a loft apartment and I love downtown living," said Valerie McDonald Roberts, the city's chief urban affairs officer. "I love North Shore living, I love the Strip District living. But you know what? As much as we commend the development within our Downtown and our connecting corridors, that's not where the masses live.
"The masses live in communities and this conference hits on exactly what the mayor wants to do: It's to serve the underserved; to reconnect to our communities and to commend communities and one another. In order to build equity and in order to build adequacy within all of our structures — not just the city of Pittsburgh, but the greater Pittsburgh area — we do have to connect the dots. And the one thing in connecting the dots is developing our main streets."
Pennsylvania's Main Street program is part of the Keystone Communities program, through the state's Department of Community and Economic Development. Over 150 communities in Pennsylvania are a part of the Main Street program and 35 of those are accredited by the senate.
Dennis Davin, secretary of the department of community development said that every dollar invested into Main Street communities leverages around $18.
The Main Street chapter focusing on Pittsburgh and Allegheny County has past experience working with sites that are heavily disinvested and distressed. Patrice Frey, executive director of Main Street Center, said the chapter has a good track record of attracting investment to the areas they work in.
"In the last 30 years we've seen investment in our Main Street communities north of $65 billion," said Frey. "We've seen over 260,000 buildings — old historic buildings — put back into active reuse in these communities. We've seen over 550,000 net new jobs created and we've seen over 125,000 net new businesses."
In the last year in Pennsylvania, in the 47 communities that currently participate in Main Street, over 1,100 new jobs and 139 new businesses were created and 267 rehabilitation projects were started, according to Main Street America.