Today, workers at the Rivers Casino announced they have filed for a union election. The announcement comes after more than six years of organizing efforts at the casino.
"I am fighting for the union at the Rivers Casino because we need fairness across the board," Dorothy Hall, a casino employee for nearly five years, said at a press conference earlier today. "We need fairness in our health benefits, we need fairness in our wages, we need need fairness in our policies, and most important, we need fairness for our diverse employees."
Over the years, casino employees' complaints have centered around low wages, unfair disciplinary procedures and high health-care costs.
"Through our union, we want to make this place a better place to work. I have seen way too many employees — because of the casino's lack of respect and unfairness and harsh policies — lose their jobs," Hall said. "We have been waiting too long for the Rivers Casino to do the right thing. We are pleased to have much support from the political, community and faith leaders around the region who are calling on the Rivers Casino to make this a fair and open election without intimidation or harassment."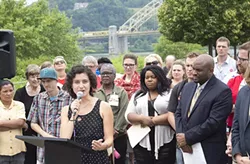 "We have countless co-workers terminated for very small infractions, suspended not knowing why they're suspended," said Nicole Gallagher, a casino employee for five years. "I've been a part of three-hour interrogations where we've been questioned and had our personal belongings taken away from us not knowing why. And it's scary."
Workers were also critical of what they characterized as attempts by Rivers management to stifle organizing efforts. The Rivers Casino has had to settle 30 unfair labor practices complaints after the National Labor Relations Board found managers interfered with unionization efforts.
"Despite all of our needs and our asking for a fair process, the Rivers has ignored us and refused to be neutral," Gallagher said. "They have a history of unacceptable behavior intending to stop us from organizing."
Today's press conference also marked the formation of the Fair Election Oversight Committee, a group of community leaders that will monitor the union election at Rivers. Members of the committee have been tasked with investigating allegations of misconduct during the election.
"We welcomed [Rivers] with the promise of community partnership, with economic development, with a great employer, with a great community partner. And I want to thank Rivers for the areas they stepped up and honored those commitments," said Pittsburgh City Councilor Dan Gilman. "Now as a member of the Fair Election Committee, we are calling on Rivers to continue that commitment. It was not simply a commitment about revenue and tax dollars. It was a commitment about the neighborhood, their workforce, spin-off economic development. It was a commitment to make Pittsburgh as better place to live."