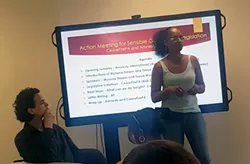 Seven hours into yesterday's
filibuster on gun violence
on the U.S. Senate floor, gun-reform advocates in Pittsburgh gathered at the Jerron Grayson Community Center for a meeting on gun reform. The event had been planned prior to the filibuster, after the June 12 shooting in Orlando, Fla., where 49 were killed and more than 50 were injured.
The location for the meeting was fitting. The Hill District is one of the areas locally most impacted by
gun violence
, and while it doesn't make national news, residents there face tragedy every day.
"What don't get told is the stories of gun violence that happen every day in our country," said Ayres Freitas, coordinator of Amnesty International Group 39. "Unfortunately when you hear about the places where gun violence is happening, people say, 'Oh you shouldn't live there, it's a bad neighborhood.' They just write it off."
The local branch of Amnesty International, along with CeaseFirePA, held the event to provide more information about everyday instances of gun violence and the pieces of legislation that have been proposed to address the problem at the state level. They also heard from two women who had lost loved ones to violence.
"These guns are horrendous out here, period," said Wynona Harper whose son was shot and killed in 2013. "We are losing our children."
Hours after the meeting, Harper's niece was shot in Garfield. According to a release by the city Department of Public Safety, the woman was taken to West Penn Hospital and is in stable condition.
During the meeting, Harper, who owns two guns, was critical of the current loophole that allows private gun owners to sell long guns such as, rifles, shotguns and semi-automatic rifles, without a background check.
"What I had to go through to obtain these guns. I don't know why everyone doesn't have to go through that process," said Harper.
Participants in yesterday's meeting wrote letters to Pennsylvania legislators in support of HB1010, which closes the background-check loophole, and HB1020, which would require gun owners to report if their firearms have been lost or stolen. Pittsburgh City Council passed a local
lost-and-stolen ordinance
in 2008, but it has never been enforced.
The advocates also wrote letters against HB921, which would get rid of Pennsylvania's instant background checks system.
"It's good to do marches. It's good to do vigils, but sometimes we need to do some seemingly mundane things like writing to legislators," said Rob Conroy, CeaseFirePa's director of organizing.