Before doors opened, a line of eager fans had already assembled, the line stretching across the street that Mr. Smalls Theatre sits on. I usually find it a little bit tacky when people wear their band merch to the band's gig, but the sheer number of people wearing Hatebreed gear made it alarmingly endearing. I overheard a showgoer talk about how he had seen Hatebreed six times in three different countries and two different continents, and I knew I was in the company of real fans.
And for as much as Pittsburgh fans love Hatebreed, Hatebreed certainly has love for Pittsburgh. The band was even selling shirts that read, "I survived the Hatebreed pit in Pittsburgh."
Before fans had the chance to see Hatebreed, California metal bands Act of Defiance and DevilDriver opened the show. Act of Defiance had more of a heavier rock feel, and the '80s metal influence was evident, which makes sense, as half of Act of Defiance are ex- Megadeth members.
I was really loving their #longhairdontcare looks and the earnest desire to hype up the audience. (Could have done without the itchy amount of attention being paid to the two cute underage girls in the front, but that's just me.) People went bonkers for the cover of Pantera's "I'm Broken," and a good percentage of the crowd was acquainted enough with the music to circle headbang and shout along.
After a long set-up time, DevilDriver took to the stage. The melodic heavy metal band was greeted with enthusiasm by the crowd, and it was clear they had fans in the house. There were lots of fists pumping in the air and shouting "Hey!" in unison, and some of the first crowd surfers of the night began to emerge.
The set started off a little stiff, but DevilDriver was fully loose and in the crowd's face by the end of the set. While I have to admit that DevilDriver doesn't write my favorite kind of metal, it definitely had chops and played a tight set.
As DevilDriver exited the stage, more people moved from the 21+ section and crowded into the all ages pit area. The giant
Concrete Confessional
scrims were hoisted and techs raced back and forth checking all the mics and guitars.
A notable number of attendees were pairs of fathers and sons, these fathers eager to share the energy and messages of Hatebreed with their kids. As Hatebreed's techs sound-checked, a father leaned over to his son and excitedly asked, "Can you feel that in your chest?!" My heart low-key imploded.
The band kicked off their hour-long set with "Destroy Everything," and the crowd was on its feet. While this tour is to promote The Concrete Confessional, its latest release, Hatebreed made a point to play a song off of every single record, including its first EP.
For those not acquainted with Hatebreed, the lyrics, while tough, are generally empowering or encouraging. It's a band with All-American values—patriotism, determination and a desire to pull yourself up by your bootstraps.
Throughout the set, vocalist Jamey Jasta spent time in between songs alternating between calling for pits and encouraging everyone to look out for each other. Jasta spoke about perseverance, honoring military men and women (before "Honor Never Dies") and the importance of respect, honor and dedication, three character traits that all the fans happen to apply to Hatebreed itself.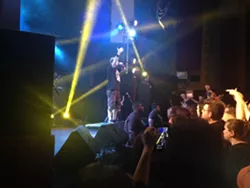 With over two decades of musical performance, seven studio records and rigorous tour history, it's no surprise that the band plays an incredibly tight set. Hatebreed showed off its talent for blistering, heavy hardcore with newer tracks like "Looking Down the Barrel of Today" and "Something's Off," and they cemented their ability to create crowd engagement with oldie-but-goodie closer "I Will Be Heard."
After a gig like that, I often wonder if the bands tour with a chiropractor to accommodate for all the circle headbanging and jumping around. I also wonder if Hatebreed knows it's the world's heaviest band.