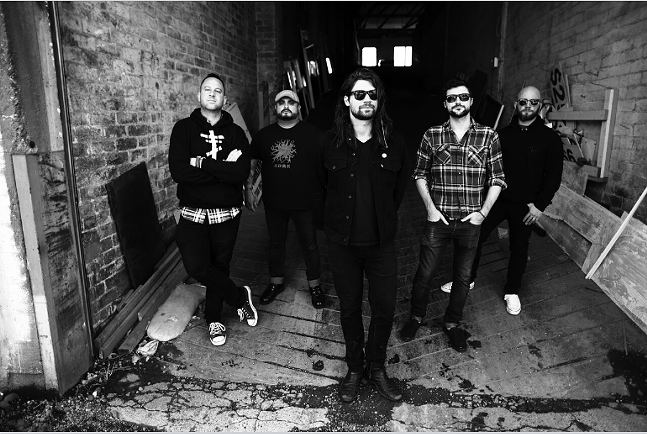 Taking Back Sunday has seen lineup changes, a decade and a half of touring, six full-length albums (with a seventh on the way) and they still hit as hard as they did in 2002. The band is on this summer's Taste of Chaos tour, which hits Pittsburgh June 7 at the Petersen Events Center. Taste of Chaos is headlined by
Dashboard Confessional
with support from TBS, Saosin with Anthony Green, and The Early November. We caught up with Adam Lazzara a few weeks back about what he and the TBS squad was up to.
Kind of a weird question, but do you get tired of talking about yourself, TBS, etc?
It's always uncomfortable talking about myself more than what I'd like to eat [laughs]. Over the years, it's one of those things where "oh it's part of [process]." It's kind of like a give and take. It's like "okay, my dream is to be able to create music and play it for people." Then having things like getting better at the guitar, so I'm gonna sit down and have that be a part of the job. It's like someone saying "okay, you can do all that but you have to do a couple things that make you uncomfortable, like talk about yourself and try to make yourself sound cool to other people for a little while." I thought "well, there's worse things I'd be willing to do [to be able to play music] for a living." So I'll take the uncomfortable minutes here and there.
Hopefully on a more comfortable note, I saw you were recording and you had tweeted at someone saying that you were almost done.
We just got done recording the record. We're just getting the final mixes now. I just couldn't be happier. I'm just really stoked.
Is this the second or third album since the original lineup has been back?
It's the third and what's also funny about that is it's the only time in the history of Taking Back Sunday that there's been the same lineup for three consecutive records. So I think there's something to be said for that.
Sticking with recording but in a different light, you produced the Modern Chemistry EP. How do you like that role as producer, as opposed to the one writing and recording? You also said in an interview with Alternative Press that if you could be in the studio all the time, you would be. How does that work for you, never wanting to be out of the studio?
I was very nervous going into [producing] because I didn't wanna mess up [Modern Chemistry's] songs. They're good songs [laughs]. It's an interesting thing being on the other side of the console, mainly because I'm accustom to working on something that's part mine, just with the Taking Back Sunday songs. With Modern Chemistry going in with them, it was real important to try to throw ideas out there to see what sticks, but to also keep in mind that those songs are theirs, to make sure that was magnified rather than trying to make it into something that was mine. It was a funny line to walk. I absolutely loved it.
The thing about the studio is there's always something to learn, ya know? I just love that. I love that you can go in and there's this little piece of equipment that you've never used before to try to make [music] sound cool [laughs]. It's probably not the coolest thing, but it's fun for me.
Obviously now you're doing the Taste of Chaos tour. It's remarkable to me to see this lineup on such a large scale, whereas 14 or 15 years ago, it would have been a much smaller venue, when all the bands on this tour were taking off. Not to get too nostalgic, but do you ever think about that?
The thing that was the weirdest about it was that we realized we had never done a proper tour with Dashboard Confessional. Or we'd done one-offs, like festivals and things like that but never a proper tour. That was something that we just couldn't believe that hadn't happened already? I guess some things just take time to pan out and this is one of them.
For us, we've never stopped working. That's one of the things I can say about our band that is real consistent. We're always writing or on the road or in the studio, things like that. For us, we were definitely surprised to hear about the size of the places. Hopefully that many people will come to the shows. It's another opportunity to do what we do and hopefully be able to help people to come forget about whatever else is going on in their lives and really got lost in that moment.
I've read things you've said about Tell All Your Friends and picking out imperfections here and there, like any artist or person would do. With how much time has elapsed since TAYF and Where You Want To Be, do you still like playing those songs? Do you ever feel like you're forced to play them, based on their popularity or what the fans want to hear?
Well for us, you know, when we're rehearsing, we rarely practice those songs. Just because we've played them a whole lot [laughs]. Once you get in front of a crowd, those songs take on a whole new meaning. It's not about what the band wants or what the crowd wants. It's this energy that's very tangible and hard to explain. So I guess to answer your question, the most obvious song would be "hey when 'Cute Without the E' comes up in the set, do you get bummed?" and my answer is no. Because I now there's gonna be this electricity in the room, this real kind of cathartic experience and after all these years and after all these times we've played it, it just takes on a life of its own. And that's much bigger than us. The goals has always been to try to give people what our favorite bands and artists have given us and continue to give us. In that moment, it feels like we're doing something right.
I was lucky enough to see Taking Back Sunday on Warped Tour in 2012 and I think there is definitely to something to be said about the longevity of the band. There are still bands around when you guys started, but the fact that you have fans from the beginning, new fans coming in, it's amazing. How does that make you feel, being about to play your songs in 2016?
It's absolutely incredible to me and everyday we're reminded of how lucky we are. We don't take any of this for granted. Most people have therapists and we have our music, we have the stage, we have the studio, things like that. Hopefully that's what the crowd is getting out of it too. That's why I use the word catharsis or almost like healing, in a way, because that's what it is for me.
It's always been Taking Back Sunday, but there's been different pieces and parts. There have been lineup changes throughout the years. The main constants, lineup wise, have been you, Eddie Reyes and Mark O'Connell. What do you think the common thread is between the three of you, staying on the whole time when other people have gone and come back, others have gone and not returned. What's the bond like for the three of you?
Well for us, man, it's gone way beyond just guys who play music together. We're like family. We're like brothers. We've been through so much together, with the band and just personally. It's hard to imagine my word without them in it. It's somewhere along the line where [it feels like] we got married to each other [laughs]. For better or worse. Even with John [Nolan] and Shawn [Cooper] now, it just feels like brothers. John lives two streets down from me. Most every day when we're home, we'll see each other walking. But then any kind of family get togethers or things that we have, we're always there with one another. It's just this thing. It's just become this family.
Two things and I'll let you go. Number one, how important is it to stay connected with the bands and friends you have played with? Number two, how important to stay connected with fans?
It's all very important. The thing about staying connected with the bands is that when you do a lot of these tours or things like that, you spend this hyper-focused amount of time with these different people. A lot of great friendships blossom out of that. That's like the same thing as keeping up with an old buddy. There will be months or even years that go by and you'll see each other again and it's like no time passed at all, and that's how it's been for a lot of the guys I've been able to meet and get to know.
With the fans or people who like what we do, if it wasn't for their enthusiasm we wouldn't be able to do what we do. We owe them much more that they realize. Hopefully we can show them that through being as thoughtful as we possibly can with the music that we're writing and putting 150 percent of ourselves into everything that we do, you know?