What's going on in Pittsburgh:


1. Beyoncé "
slayed" at Heinz Field Tuesday night, and the local Beyhive loved it.
CP
contributor Meg Fair
reviewed the show
, writing "Beyoncé proves in a matter of hours that you can work hard, be a loving mother, a sexual creature and a fulfilled human being as long as you love yourself first and foremost."
—————————————
2. The "Big Screen"
was back outside Consol Energy Center, showing the game for free to fans gathered outside. Handmade signs, Penguins face paint and big smiles were seen throughout the crowd, as the Penguins won 2-1 in overtime, putting them ahead 2-0 in the best-of-seven NHL championship series.
See our photo slideshow from the night.
The Pens play Game 3 this Saturday night in San Jose.
—————————————
3. The Dollar Bank Three Rivers Arts Festival
kicks off this Fri., June 3 and lasts until June 12.
We preview the 57th annual fest in our issue this week
, and patron can expect visual art, theater, live music, food booths and trucks, and the artists' market. New features include sensory-friendly "breakout areas" for people on the autism spectrum and the fest's first-ever feeding room for parents and kids, with a changing station, quiet space for breast-feeding and more.
—————————————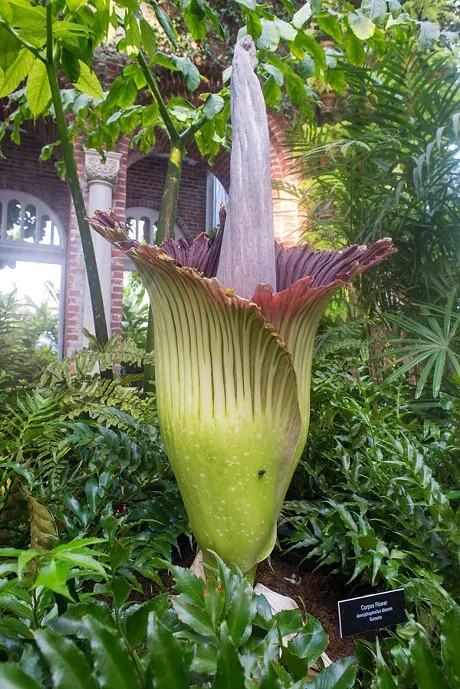 4. Phipps Conservatory
is gearing up for the
bloom of the smelly corpse flower
, which yes, smells like rotting flesh in order to attract the insects that pollinate it. The bloom is rare, happening only once every few years, and so starting this weekend Phipps will be open until 8 p.m. nightly (and 10 p.m. on Fridays) in anticipation of the flower's opening. Phipps even named its Sumatra-native Romero, as in the local filmmaker George Romero who made
Night of the Living Dead
.
—————————————
On our podcast: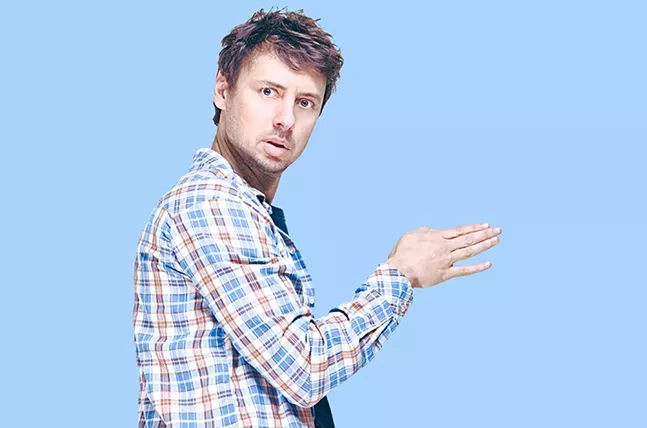 This week on the
City Paper Podcast
,
host Alex Gordon talks to comedian Kyle Dunnigan
about his multiple Emmy awards for his writing and original music on Comedy Central's
Inside Amy Schumer;
his former job as a balloon-delivery man; and his unrelenting commitment to satire. Dunnigan will be in Pittsburgh this Fri., June 3 at the Altar Bar.
—————————————


Behind-the-scenes:


Local artist Frank Harris illustrated a parody of Grant Wood's famous "American Gothic" painting for our cover this week, only his version featured Iceberg and Penguins captain Sidney Crosby. The parody is a nod to the Pens Stanley Cup-run converging with the start of the Dollar Bank Three Rivers Arts Festival.
We caught up with Harris for a Q&A
about his work and prediction for the Stanley Cup Final.
—————————————


From the pages of our print edition:


This week,
City Paper
's Ashley Murray writes
about the status of childhood lead testing in Pennsylvania
. Testing kids' blood for lead levels is not mandatory in the state, and so Homewood Children's Village, a nonprofit that operates in a neighborhood with older housing stock where lead paint is a risk, is coordinating lead testing for kids in the community. Meanwhile local health officials and lawmakers are pushing to make testing mandatory.
—————————————
This week in
City Paper
history:
City Paper
's Issue 22 should probably be known as the marriage-equality issue. On May 30, 2012, staff writer Lauren Daley began a multi-part series describing the difficulties that same-sex couples face when they try to get married, using her experience as the backdrop. Daley and her girlfriend were planning their wedding in New York (where same-sex nuptials were legal at the time; they were banned in Pennsylvania). But once they came back home, it was like their marriage wouldn't exist. Daley writes: "Pennsylvania lawmakers don't want my girlfriend and me to ever get married. But once we're married out of state, those same officials seem equally intent that we never, ever part. At least not without a lengthy court battle. Thanks to Pennsylvania's 'Defense of Marriage Act,' which defines marriage solely as being between a man and a woman, same-sex couples have a murky legal status — even if their union has been ratified in another state." Unfortunately, Daley and her wife had moved to New York before May 21, 2014, the day same-sex marriage was declared legal in Pennsylvania. And on May 28, 2014,
CP
ran just a photo on its cover of a woman, smiling and triumphantly thrusting her fist into the air. No words accompanied the image; words weren't necessary on this day.
Read more
about this week in
City Paper
history.