Everybody remembers their first one — the first story they report on when they're hired at a newspaper. At my university's paper, my first story was on the new Chick-Fil-A opening on campus. Here at the City Paper, it was a story on the Communication Workers of America and International Brotherhood of Electrical Workers' strike against their employer, Verizon. So, let's just call that an upgrade in terms of subject matter.
As reporters, we're expected to sprint after a story — pen and notebook in hand. We attempt to hurdle over other news organizations; grill corporate spokespersons for a quote; and take complicated ideas and put them in layman's terms. All the while, we slowly turn to dust waiting for the records we requested back when Jesus was in grade school.
Then we struggle to get our damn audio recorder on for an interview, and we end up spilling that day's 12th cup of coffee all over ourselves. (Full disclosure: I don't drink coffee, but hopefully you're picking up what I'm putting down.) It can be thankless work. And sometimes the story evolves. In the case of this CWA strike story, that's what happened.
This past weekend, after spending most of Friday afternoon walking the streets of Cleveland (yes, Cleveland. What of it?), I made my way to my favorite dive bar for what was going to be a weekend of loud, angry music. It was a great week so far. I was riding high on the anticipation of my first story, as a news intern, being published in the City Paper — my first reporting position outside of a university newspaper.
I was sitting at a booth on the back patio of said bar, catching up with a friend and talking about punk music. That's when I received a Google Alert about the strike. It stated that the unions and Verizon came to a tentative contract agreement. I slunk down a bit in my seat and thought about what that agreement could possibly mean for what I'd written earlier that week.
I thought about the workers on the sidewalk 24 hours a day outside the Verizon technical center next door to our office. I thought about the interviews and b-roll a coworker and I shot of said workers, as they shook pom-poms and blasted an air horn at passing traffic. I thought about the Verizon representative I spoke with who couldn't tell me anything about contract negotiations — as well as the union rep who couldn't say anything either. And, I thought about the union workers I met one Saturday afternoon, who rallied with friends and family members outside a call center in the pouring rain, cheering with a chorus of car horns — still jovial after a full month of picketing.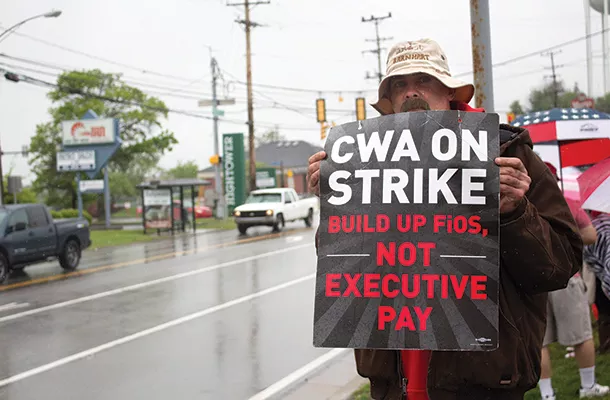 The following day, I checked my inbox again. I received yet another update: The unions were going back to work. After 45 days of picketing, the largest strike in recent U.S. history ended, thus nixing my story.
Prior to the contract agreement, there was silence on both sides of the strike, so I hadn't a clue when this was all going to end. The previous CWA strike in 2011 lasted 15 days, but contract negotiations carried on for months after. In this case, it seems that negotiations moved much faster.
Despite the whole triumph of the little guy over a corporation, I was disappointed finding out my story was pulled.





I was back in Pittsburgh after that weekend. I sat in my room — joints swollen, ears ringing — trying to cope with the heat. I moped around my apartment and attempted to achieve catharsis through eating a lot of pretzels and playing violent video games. But to no avail.




I'll avoid cliche as much as my vocabulary permits, but that's the way the news-cookie crumbles. One day, folks are standing outside of their employer's corporate offices, with torso-length signs tethered around their necks, marching up and down the sidewalk, demanding that their wages and benefits return to what they once were. Then the next day, they find out that they're returning to work.


Regardless of whether my story was printed or not, I put in the legwork. And I'm certain that something I report is bound to be published in the paper ... eventually.

My superiors at the City Paper suggested that I react to having my first full-fledged story pulled from publication by writing this blog post. And it also gives me the opportunity to show off some of the photos I shot between interviews. So, why not?